DF SPECIAL - FAMOUS FIRSTS FRIDAY!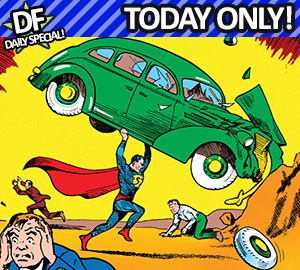 PRICE:


$193.80
It's FRIDAY and we've a HIGH END double shot for all you Superman fans out there!!! We're celebrating one of the most famous of firsts, the landmark key of all keys ACTION COMICS #1!!! Today, we're offering the closest thing you'll likely get to owning a piece of this four color history CGC GRADED!!! Sent to Earth as an infant to escape a dying planet and raised by humble farmers to uphold the values of truth, justice, and the American way, Superman is regarded by many as the greatest superhero in comics history. Now you can have your very own copy of the Man of Steel's first adventure with this handsome facsimile edition of Action Comics #1, featuring all the tales and ads from the original 1938 publication. You will believe that a man can fly. Now is your chance to own history with ACTION COMICS #1 FACSIMILE EDITION and we're presenting it today CGC GRADED AT A HIGH 9.9 GRADE and you know we can't just let a gem like this out the door without a BONUS UNGRADED READER COPY!!! All for the low price of $193.80 in honor of the year Superman first appeared in ACTION COMICS #1 back in 1938!!! Only 4 will be available today so get your orders in before they're gone!!!

* ACTION COMICS #1 FACSIMILE EDITION CGG GRADED 9.9!!! (Regular MSRP $399.99)

* ACTION COMICS #1 FACSIMILE EDITION UNGRADED READER COPY!!!