DF SPECIAL - STAR WARS STARTER SET SUNDAY!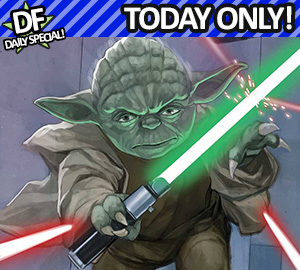 PRICE:
$77.77
It's SUNDAY the 2nd and today is your second chance at an OUT OF THIS WORLD Star Wars STARTER SET starring a PREMIERE Star Wars COLLECTIBLE ISSUE!!! 1 and 2 makes 3 and we are about to offer you, the most out of this world fans ever, a STELLAR TRIO of AWESOME Star Wars COLLECTIBLES including a CGC GRADED copy of Star Wars: YODA #1!!! ALL-NEW ADVENTURES FOR THE GREATEST JEDI OF ALL TIME! To some, he was a legend. To others, he was a teacher. Now Yoda is all but forgotten, living in exile and haunted by the past. As a strangely familiar voice echoes through the swamps of Dagobah, Yoda must revisit the many lessons he has given over the years, from the days of the High Republic to the chaos of the Clone Wars. In the first of three story arcs, a desperate cry for help reaches the Jedi Council on Coruscant and only Yoda can respond. But how far will he go to protect a community from attack? Combined, these gems come to a grand total value of well over $275.00 but it's all yours today for just $77.77! This amazing set is a great way to begin a collection or to add to an already impeccable one! But don't delay!!! Only a lucky 7 sets will be available today!!!

* Star Wars: YODA #1 CGC GRADED 9.6 OR HIGHER!!! (Regular MSRP $99.99)

* 1 RANDOMLY CHOSEN REMARKED Star Wars COMIC WITH AN ORIGINAL ONE-OF-A-KIND HAND-DRAWN SKETCH!!! (Regular MSRP value $89.99 or higher)

* 1 RANDOMLY CHOSEN RARE & OUT OF PRINT Marvel COMICS HIGH END RETAILER INCENTIVE Star Wars VARIANT EDITION COMIC!!! (Regular MSRP value $99.99 or higher)

* Please note: All items are RANDOMLY CHOSEN, and multiple orders may receive duplicate items.