DF SPECIAL - FLAT EARTH FRIDAY!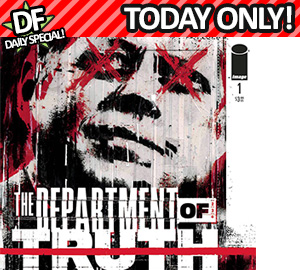 PRICE:
$19.63
HAPPY FRIDAY, FANS!!! Grab your tin foil hats, because we're taking a trip down the rabbit hole of conspiracy theories with the upcoming DEPARTMENT OF TRUTH #1!!! This ULTRA-LIMITED MYSTERY COLOR SIGNATURE SERIES EDITION will be SIGNED by the one and only JAMES TYNION IV!!! Cole Turner has studied conspiracy theories all his life, but he isn't prepared for what happens when he discovers that all of them are true, from the JFK assassination to flat Earth theory and reptilian shapeshifters. One organization has been covering them up for generations. What is the deep, dark secret behind the Department of Truth? Bestselling writer JAMES TYNION IV (Batman, Something is Killing the Children) debuts his first Image ONGOING SERIES alongside breakout artist MARTIN SIMMONDS (Dying is Easy)! Be sure to lock down your copy of this ULTRA-LIMITED SIGNATURE SERIED EDITION that will be SIGNED in a MYSTERY COLOR INK!!! This dual pack includes a bonus reader copy of DEPARTMENT OF TRUTH #1!!! All for the low, LOW intro EVENT price of $19.63!!! Get yours NOW!!!

* DEPARTMENT OF TRUTH #1 SIGNED BY JAMES TYNION IV ULTRA-LIMITED SIGNATURE SERIES EDITION SIGNED IN A MYSTERY COLOR INK!!! (Regular MSRP $49.99)

* DEPARTMENT OF TRUTH #1 READER COPY!!!