REVENGE OF COSMIC GHOST RIDER #1 - SIGNED BY DENNIS "HOPELESS" HALLUM DUAL PACK!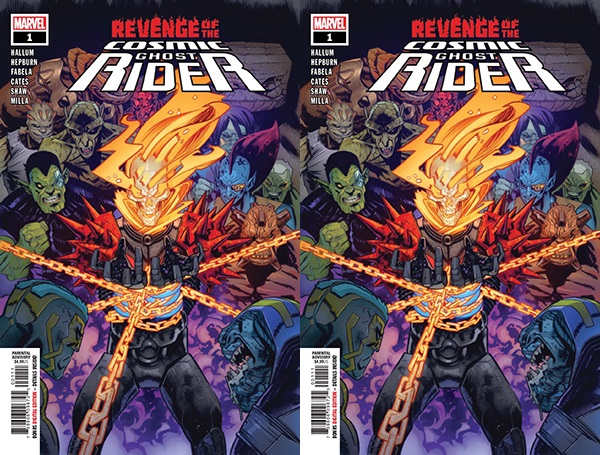 PRICE:
$19.72 MSRP: $49.99 YOU SAVE 60%
Offered at the dynamic price of $19.72 for a limited time!!! Returns to regular MSRP of $49.99 after March 28th!!!!! Cosmic Ghost Rider is back, baby! But with a reputation like his, it's only a matter of time before the law catches up to the future Frank Castle and tries to put him in chains - too bad for the law, chains are Castle's weapons of choice these days. Now in an intergalactic prison, the Rider is going to turn his cage into an all-out cage match! Who's going to be the last alien standing?! Find out in this all new miniseries from Dennis "Hopeless" Hallum (Marvel'S SPIDERMAN: CITY AT WAR) and Scott Hepburn (DEADPOOL)! Plus - Don't miss out on a brand-new short story from the guys who started it all, Donny Cates (ABSOLUTE CARNAGE) and Geoff Shaw (GUARDIANS OF THE GALAXY)! EVENT PRICED in honor of the FIRST APPEARANCE of Ghost Rider in Marvel SPOTLIGHT #5 (August 1972). FINAL COVER MAY VARY. ALLOCATIONS MAY OCCUR.