DF SPECIAL - STAN LEE LUCKY 13 SUNDAY SUPER SET!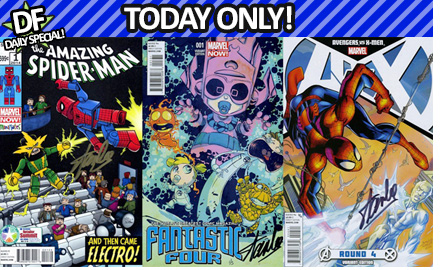 PRICE:


$269.10
It's the 13th and we're closing out the weekend with a LUCKY shot at a RARE VARIANT SIGNED BY STAN THE MAN LEE!!! It's been an amazing Stan Lee WEEKEND CELEBRATION and we wanted to finish things off with something REALLY special!!! Today's special features one FANTASTIC, INCREDIBLE, or otherwise AMAZING signed comic!!! This collectible gem comes signed by the one, the only, STAN "THE MAN" LEE!!! But this is not just any ordinary comic, true believer!!! With this Daily Special, you will receive an ULTRA-RARE and out of print VARIANT!!! Featuring some of the greatest Marvel heroes like Spider-Man, Fantastic Four, Hulk, Avengers, X-Men, and even villains like Thanos, Ultron, Galactus, Doctor Doom, and more!!! ULTRA-LIMITED!!! Some of these are as low as TWO IN EXISTENCE or even ONE OF A KIND!!! Just Imagine: An already rare Marvel variant comic numbered 1 OF 1 and signed by Stan Lee!!! Not only is it the NUMBER ONE certified copy, it's THE ONLY certified copy!!! BUT WAIT!!! THERE'S MORE!!! We're adding in 12 BONUS VARIANT Marvel COMICS!!! YES!!! These are IN HAND and ready to ship! Normally an ultra-rare collectible like ALONE this carries a minimum MSRP of $799.99 (or higher) but we're offering it today PLUS THE BONUS BOOKS for $269.10, which is a reverse tip of the hat to Spidey's first appearance in Amazing Fantasy #15 back in 1962!!! Do not delay!!!

* ONE RANDOMLY CHOSEN Marvel VARIANT EDITION COMIC SIGNED BY Stan Lee!!! (regular MSRP of $599.99 or higher!)

* 12 BONUS VARIANT Marvel COMICS!!!

* Please note: All items are RANDOMLY CHOSEN and multiple orders may receive duplicate items. Images shown are examples of the wide variety of books chosen and do not guarantee inclusion within this offering.