DF SPECIAL - SILVER SYMBIOTE SUNDAY!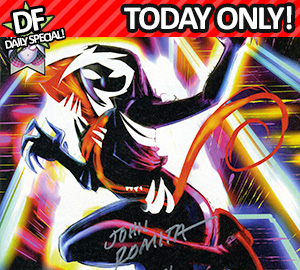 PRICE:


$165.00
We're closing out the weekend and kicking off the new week with a limited encore offering of the modern classic key issue SPIDER-GWEN #25 ULTRA-LIMITED signed edition!!! This rare issue is signed by none other than JOHN ROMITA SR and ULTRA-LIMITED to 25 copies worldwide!!! GWENOM Part 1! Gwen's life irrevocably changes as she bonds with her universe's version of the Venom symbiote. What does it mean for her relationship with crime kingpin MATT MURDOCK? With her father? With THE OSBORNS?! Is any relationship in Gwen's life safe? It's SPIDER-GWEN like you've never seen her before, and this time, there's no easy fix for her troubles! Signed in SYMBIOTE SILVER, this ULTRA-LIMITED edition will be available today and today ONLY for the event price of $65 in honor of the first appearance of GWEN STACY in AMAZING Spider-Man #31 (December, 1965). BUT WAIT!!! THERE!!! IS!!! MORE!!! For today's offering, yours will be chosen from the FIRST 10 NUMBERED!!! AND THAT'S NOT ALL!!! You'll also receive a copy of the RARE and OUT OF PRINT SPIDER-GWEN #25 LENTICULAR VARIANT COVER!!! WE'RE NOT DONE YET!! Topping off this 2 pack of SPIDER-GWEN goodness, we're adding in SIX BONUS SPIDEY UNIVERSE COMICS including 1 SIGNED and 1 RARE RETAILER EXCLUSIVE!!! Don't delay only 5 sets are available today!!!

* SPIDER-GWEN #25 FIRST PRINTING STANDARD COVER SIGNED IN SYMBIOTE SILVER BY JOHN ROMITA SR AND CHOSEN FROM THE FIRST 10 NUMBERED!!! (Regular MSRP $299.99)

* SPIDER-GWEN #25 FIRST PRINTING LENTICULAR VARIANT COVER!!! (Regular MSRP $9.99)

* A BONUS SUNDAY SIX PACK OF SPIDEY COLLECTIBLE COMICS INCLUDING 1 SIGNED SPIDEY UNIVERSE COMIC AND 1 RARE RETAILER EXCLUSIVE SPIDEY UNIVERSE VARIANT!!!