CLASSIC CREATORS TWO-BOOK FANTASTIC FOUR SET- SIGNED BY STAN LEE AND DICK AYERS!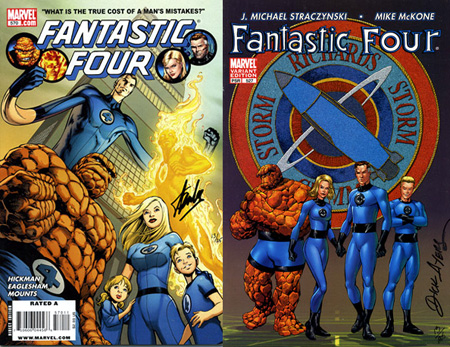 PRICE:
$499.99
This is an amazing two-book matching number set of Fantastic Four #570 - signed by Stan Lee! And Fantastic Four #527 signed by Dick Ayers! Stan Lee, the legendary co-creator of the Fantastic Four has signed this incredible comic with the full cosmic quartet on the cover! And helping Stan create the World's Greatest Comic Magazine, was artist Jack Kirby, and helping Jack Kirby ink countless pages of classic Marvel Comics, was inker Dick Ayers who has signed Fantastic Four #527!
Dick Ayers first teamed with penciler Jack Kirby at Atlas shortly before the company transitioned to become Marvel Comics. As the comic-book legend's second regular Marvel inker, following Christopher Rule, Ayers would ink countless Kirby covers and stories, including on such landmark comics as most of the earliest issues of The Fantastic Four, in addition to a slew of Western and "pre-superhero Marvel" monster stories in Amazing Adventures, Journey into Mystery, Strange Tales, Tales of Suspense, and Tales to Astonish.