AMAZING SPIDER-MAN #648 - WITH HUMAN TORCH COLOR SKETCH BY JOE RUBINSTEIN!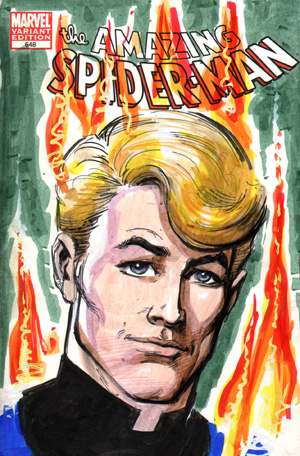 PRICE:
$149.99
ORIGINAL HAND-DRAWN AND COLORED SKETCH OF A THE HUMAN TORCH BY LEGNEDARY ARTIST JOE RUBINSTEIN! EACH IS AN ORIGINAL! AND EACH IS PURE Marvel-OUS! Each features an original pencil, ink and hand-colored drawing of Johnny Storm, the Human Torch! And each comes with a DF Certificate of Authenticity! For a limited time, you can add an ORIGINAL WORK OF ART to your collection!
*Please note: This item will require more time for Joe Rubinstein to hand draw each sketch, as they are all different and all ORIGINAL ART, and therefore will require separate shipping and handling charge of $7.99 each
JOE RUBINSTEIN: Joe Rubinstein is a comic book artist and inker, most often associated with the acclaimed 1982 four-issue limited series from Marvel Comics featuring Wolverine in his first solo series fighting in Japan. On this Wolverine series, Mr. Rubinstein joined writer Chris Claremont and penciler Frank Miller to create one of the greatest Wolverine stories of all time. Joe's talents are also found throughout Marvel's greatest books and characters, including the Avengers, X-Men, Mew Mutants and Ghost Rider. He has also worked on fan-favorite DC works featuring Superman, Batman, Green Lantern and a host of the world's greatest heroes.