INFINITE CRISIS #1 - SIGNED BY JIM LEE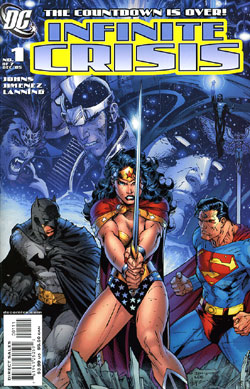 PRICE:


$15.00 MSRP: $29.99 YOU SAVE 49%
It's finally here - the comics event so massive that it was built over the first half of 2005 through Countdown Day Of Vengeance Rann/Thangar War Villains United and The OMAC Project!

Prepare for the dawn of the DCU's darkest day in Infinite Crisis a 7-issue mini-series written by Geoff Johns (Green Lantern JSA) with art by Phil Jimenez (Otherworld Uncanny X-Men) and covers by George P??rez (Crisis on Infinite Earths) and Jim Lee & Scott Williams (Batman Superman)! Surrounded by their most fearsome enemies the world's greatest heroes are divided within and without. DC's icons - Superman Batman Wonder Woman - are joined by Nightwing Supergirl Donna Troy Superboy Robin Wonder Girl Green Lantern the Flash and more as they face their most dire hour. What happens next will destroy friendships and lives dictating the direction of the universe for the next generation!

Available signed by Johns and Jimenez; by cover artist Lee; by cover artist Perez; or a complete set of all three signatures with matching numbers.