ABSOLUTE CRISIS ON INFINITE EARTHS HARDCOVER - SIGNED BY THE ENTIRE CREATIVE TEAM OF THIS EARTH SHATTERING SERIES - MARV WOLFMAN GEORGE PEREZ WITH DICK GIORDANO JERRY ORDWAY AND MIKE DE CARLO!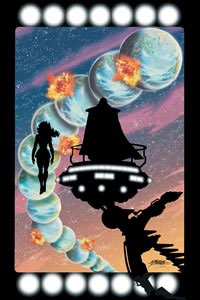 PRICE:


$499.99
Featuring the entire 12 issue maxi-series - in 464 page 2 volume slipcase - that changed the DC Universe forever! Villains United! Heroes Died! A Universe was changed!

Now thanks to DF each copy of this massive new Hardcover features all 5 all-star signatures, plus 2 head sketches featuring DC's greatest heroes (from Superman and Batman to Green Lantern and Wonder Woman the Flash Super-girl Batgirl and more!)

Each signed edition will also be numbered and sealed with a certificate of authenticity. Get yours today.