QUIXOTE NOVEL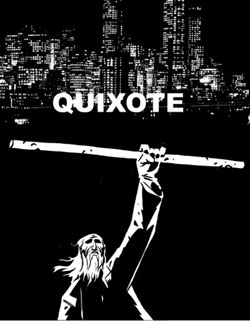 PRICE:
$6.96 MSRP: $9.95 YOU SAVE 30%
Written by Michael Avon Oeming & BRYAN J.L. GLASS; spot illustrations by Michael Avon Oeming
Could Don Quixote be real? Television reporter Dominique Angel uncovers the story of a crusading street vagrant she dubs "Quixote" due to his rambling discourses on morality and righteousness. This modern-day quixotic knight believes street punks are monsters, government agents are demons in disguise and Dom's own boss is the very Devil himself.
Soon he is wanted for murder and seems to be at the center of a vast shadowy conspiracy. But as Dom finds herself caught up in a world of intrigue and suspense, she realizes she's in danger of believing the truth as Quixote sees it, and that supernatural forces may be fighting for her very soul. Is Quixote merely a madman, or might he truly be an ancient mystical warrior reborn into the modern age?
This 300-page novel written by Michael Avon Oeming (Marvel's Thor and Powers) and playwright Bryan J.L. Glass is heavily illustrated with spot illos and full-page splashes, blurring the lines between comic and novel. 400 years in the making, the release of this modern-day retelling of Don Quixote coincides with the forth centennial anniversary of the classic Cervantes novel. Fighting on city rooftops with demons and monsters, the story and art deliver a punch to the gut and a light to the mind.
PRE-ORDER NOW! ITEM IS SCHEDULED TO SHIP IN DECEMBER, 2004!