DNAGENTS VOLUME 1: BORN ORPHANS TPB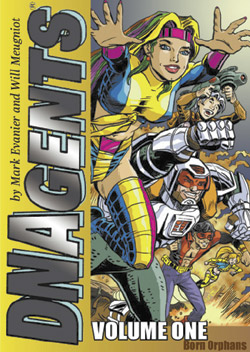 PRICE:
$7.96 MSRP: $9.95 YOU SAVE 20%
by Mark Evanier, Will Meugniot, & Al Gordon
Some heroes are born? but some are made. Meet the DNAgents, imbued by Matrix
Incorporated with the powers of gods, the bodies of teens, and the wisdom of newborn
babes. This affordable trade paperback collects the first six issues of this exciting, fun
series, including the first appearance of Crossfire!