SAVAGE DRAGON: WORLDS AT WAR TPB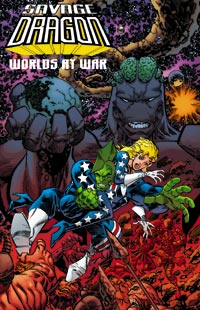 PRICE:


$13.56 MSRP: $16.95 YOU SAVE 20%
This book collects Savage Dragon #41-46 the first six issues of this bold
new direction! Erik Larsen pays homage to the work of the legendary Jack
Kirby as he reinvents the book once more! The deadly Darklord threatens to
wipe out the planet Earth by swapping his doomed planet for ours and only
the Dragon and the newly formed Special Operations Strikeforce can hope to
save our imperiled planet! The destruction of a planet hangs in the balance!
Plus the Dragon and Jennifer Murphy travel to Godworld and witness the
deadliest battle of all as the legendary God of Thunder Thor takes on
Hercules-and the winner gets Earth! All this and a guest star studded
wedding of Barbaric and Ricochet which included Hellboy Zot Bone
Vampirella Shadowhawk Flaming Carrot Cerebus the DNAgents and a host of
others! This critically acclaimed series is collected here for the first
time. A guaranteed high-octane blast!
Note: Please allow at least two weeks for processing (not including delivery time) from time of order.