MARVEL TO LAUNCH NEW ANIMATION FRANCHISE 'MARVEL RISING'
12/07/17 @ 5:22 pm EST
Source:
Marvel
| Categories:
Marvel
|
Comments
(0) |
E-mail Article
|
Add a Comment
Marvel Entertainment announced today, "Marvel Rising," a brand-new, multi-platform animation franchise starring the next generation of Marvel heroes set to launch in 2018. The program will launch with six, four-minute digital shorts that spotlight
Spider-Gwen
with her new secret moniker,
Ghost-Spider
, and introduce audiences to the world of "Marvel Rising." Following the shorts, a feature-length animated film, "Marvel Rising: Secret Warriors" will premiere later that year. Distribution partners for the content to be announced at a later date.
Meet the characters and all-star voice actors behind the all-new franchise "Marvel Rising" here:
https://youtu.be/6HTPCTtkWoA
The content features an all-star line-up of voice talent including Dove Cameron, Chloe Bennet, Tyler Posey, BooBoo Stewart, Kathreen Khavari, Milana Vayntrub, Cierra Ramirez, Kamil McFadden, Skai Jackson, Kim Raver, Ming-Na Wen, Steven Weber, and Dee Bradley Baker among others. Future stories and content are also being developed across Marvel's digital and publishing platforms and will be announced at a later date.
"Marvel Rising: Secret Warriors" is a long-anticipated event, bringing together Marvel's newest and beloved characters that have garnered major fan excitement over the last few years. Powered teens
Ms. Marvel, Squirrel Girl, Quake, Patriot, America Chavez,
and
Inferno
join forces as an unlikely, but formidable crew of aspiring heroes. When a threat no one could have expected bears down on the Marvel Universe, this ragtag, untrained band of teens have no choice but to rise together and prove to the world that sometimes the difference between a "hero" and "misfit" is just in the name.
"Marvel characters are so relatable because they live in our world and face the same challenges we do. So I'm very excited that our Marvel Rising team of heroes is so inclusive, reflecting characters with different backgrounds, particularly a set of strong female leads that our young audience can connect with," said Cort Lane, Marvel's Senior Vice President of Animation & Family Entertainment.
Sana Amanat, Marvel's Director of Content & Character Development, added, "This project is unlike anything we've done before—from featuring the rising and fan-favorite stars of the Marvel Universe, to a visually distinct animation style, this is a groundbreaking animated event. It's an action-packed adventure, full of comedy, heart and powerful messages for every kind of Marvel fan."
Meet the characters behind "Marvel Rising":
Gwen Stacy aka Ghost-Spider (formerly Spider Gwen)
voiced by
Dove Cameron
("Descendants," "Hairspray Live") – a free spirited teen who found her calling to be a super hero after being bitten by a radioactive spider and gaining spider-like powers. As Ghost-Spider, she aids those in need, but has to keep her alter-ego a secret from her father, Captain George Stacy, who sees Ghost-Spider as more of a menace than a hero.
Daisy Johnson aka Quake
voiced by
Chloe Bennet
("Marvel's Agents of S.H.I.E.L.D.," "Nashville") – a leading agent of S.H.I.E.L.D. whose tendency for rule-breaking gets her into trouble now and then. Daisy befriends the young group of heroes and through them discovers how to become a better leader. She can generate powerful vibrational waves, which produce effects similar to earthquakes.
Dante Pertuz aka Inferno
voiced by
Tyler Posey
("Teen Wolf," "Lincoln Heights") – a brooding, dark loner on the run. Dante has the power of pyrokinesis, which makes him capable of generating flames – however, he is not fully in control of his fiery abilities. It's a thin line between good guy and villain for the unpredictable Inferno.
Victor Kohl aka Exile
voiced by
BooBoo Stewart
("Descendants," "The Twilight Saga") – a charming, handsome, and troublesome young Inhuman whose quest for superiority places him into the wrong crowd. He can use Darkforce energy to create weapons and portals that allow him to teleport.
Kamala Khan aka Ms. Marvel
voiced by
Kathreen Khavari
("Marvel's Avengers Assemble," "Big Little Lies")
– a devoted fan of Super Heroes, especially of her mentor Captain Marvel; she is determined that she too can be a great hero! If only she'd be taken seriously. Kamala is equipped with metamorphic powers that allow her to stretch, enlarge, or shrink her overall size, parts of her body, or alter her physical appearance. She is especially fond of "embiggening" her fists.
Doreen Green aka Squirrel Girl
voiced by
Milana Vayntrub
("Marvel's New Warriors," "This Is Us") – the uber-positive, hilarious best friend and teammate of Ms. Marvel. With advanced computer skills, enhanced strength, agility, durability, and senses of a squirrel, Doreen (along with her squirrel partner, Tippy Toe!), is primed and ready to become a successful hero.
America Chavez
voiced by
Cierra Ramirez
("The Fosters," "The Secret Life of an America Teenager") – a strong, independent young hero whose painful past drives her to reject leadership and remain a loner. America's powers include superhuman strength, speed, and durability, plus the ability to fly.
Rayshaun Lucas aka Patriot
voiced by
Kamil McFadden
("K.C. Undercover," "Grown Ups 2") – a natural born leader who is quick to leap into action to impress his colleagues at S.H.I.E.L.D. Rayshaun strives to live up to Captain America's legacy with integrity, honesty, and order above all. His skills include heightened strength, speed, stamina, and durability.
Gloria "Glory" Grant
voiced by
Skai JacksFron
("Bunk'd," "Jessie") – Gloria, or 'Glory,' is Gwen Stacy's friend and member of their garage band "The Emm-Jays." Gloria is a smart, hard-working girl that genuinely cares for Gwen, but has felt a distance growing between them ever since their friend, Kevin, was murdered. When being casual, Gloria's known to be funny, sarcastic and sassy.
Carol Danvers aka Captain Marvel
voiced by
Kim Raver
("Grey's Anatomy," "24") – a bold leader who doesn't sugar-coat and is guided by a strong sense of duty and honor. She's the ultimate inspiration for our band of misfit heroes. She is equipped with superhuman strength, can fly at high speeds, and can project intense energy blasts.
Hala
voiced by
Ming-Na Wen
("Marvel's Agents of S.H.I.E.L.D.," "Mulan") – Hala is a Kree Accuser bent on galactic domination. She'll go to any length or treacherous means to achieve what she, and the entire Kree race, wants: Power. Hala is cold, cryptic and nefarious, often challenging those who try to oppose her.
Captain George Stacy
voiced by
Steven Weber
("13 Reasons Why," "NCIS: New Orleans") – Chief of the NYPD and Gwen Stacy's loving, but fiercely protective father. Captain Stacy is a very disciplined, hard-working man that will stop at nothing to obtain justice – who unfortunately sees Ghost-Spider as a menace and a threat to society.
Lockjaw
and
Tippy Toe
are voiced by
Dee Bradley Baker
("Star Wars Rebels," "Gravity Falls"). Two lovable and heroic sidekicks:
Lockjaw is Kamala's trusty, teleporting mutt and Tippy Toe is Doreen's partner in crime and best squirrel friend.
"Marvel Rising: Secret Warriors" is executive produced by Joe Quesada, Dan Buckley, Cort Lane, and Eric Radomski; co-executive produced by Stan Lee, Sana Amanat, and Marsha Griffin. The film and shorts were written by Mairghread Scott. Alfred Gimeno served as supervising director.
NEW 'VENOM' TV SPOT
09/25/18 @ 10:49 am EST
Source:
Sony
| Categories:
Marvel
|
Comments
(0) |
E-mail Article
|
Add a Comment
And he didn't even fill out a job application!
Sony
has released a twist on the ESPN celeb sportscaster in its new TV Spot for
Venom
.
The film hits theaters this Friday, Oct. 5!
TV Spot:
https://youtu.be/7DA9-ROw-PI
'STAR WARS RESISTANCE' REPORTEDLY GETTING COMPANION COMIC BOOK
09/25/18 @ 10:30 am EST
Source:
Jedi-Bibliothek
| Categories:
Star Wars
|
Comments
(0) |
E-mail Article
|
Add a Comment
The
Jedi-Bibliothek
site is reporting that frequent Star Wars artist Ingö Römling told audiences at Noris Force Con that he is working on a new comic book featuring characters to be introduced in a new Disney series.
The series in question is the animated
Star Wars Resistance
, which debuts this fall on Disney. In the series, Resistance fighter Poe Dameron tasks young pilot Kazuda (Kaz) Xiono with spying on the First Order.
The site noted, "Römling could not reveal much about the project yet, but was enthusiastic about the designs of the series and the work behind them. Especially the anime designs, as they contribute something new to the Star Wars saga. Incidentally, these comics will be different from the ones IDW Publishing will be bringing to
Star Wars Adventures
in November."
NEW 'FANTASTIC BEASTS: THE CRIMES OF GRINDELWALD' CHARACTER POSTERS RELEASED
09/25/18 @ 10:21 am EST
Source:
ComicBook
| Categories:
MIsc
|
Comments
(0) |
E-mail Article
|
Add a Comment
Several
Fantastic Beasts: The Crimes of Grindelwald
character posters have been released for the upcoming film.
Here are a few. (via
ComicBook
)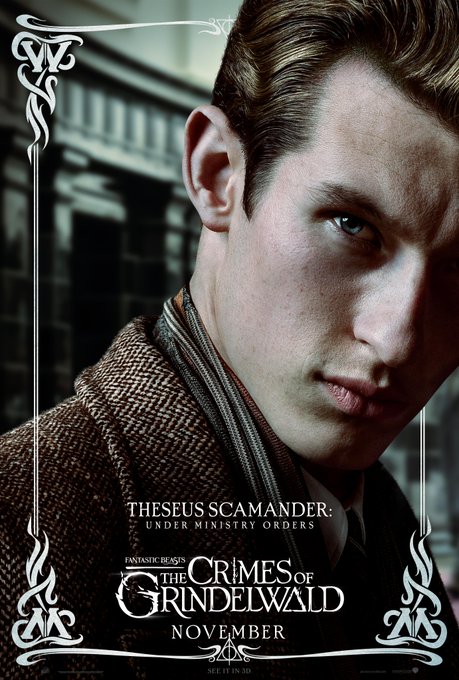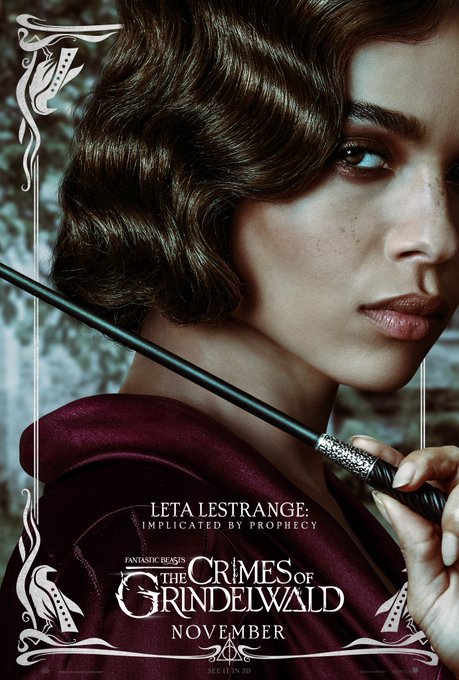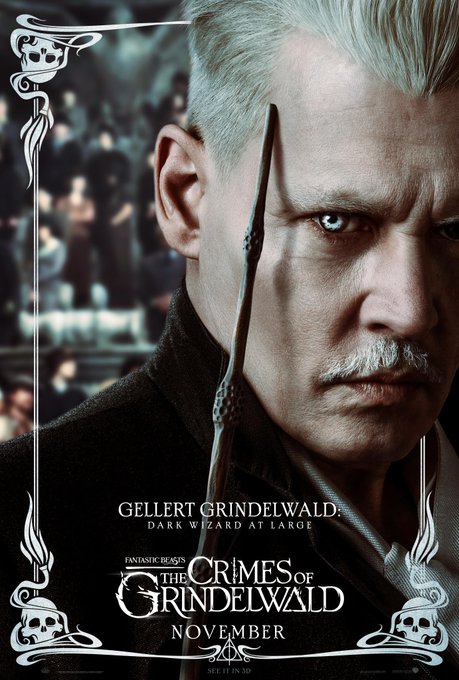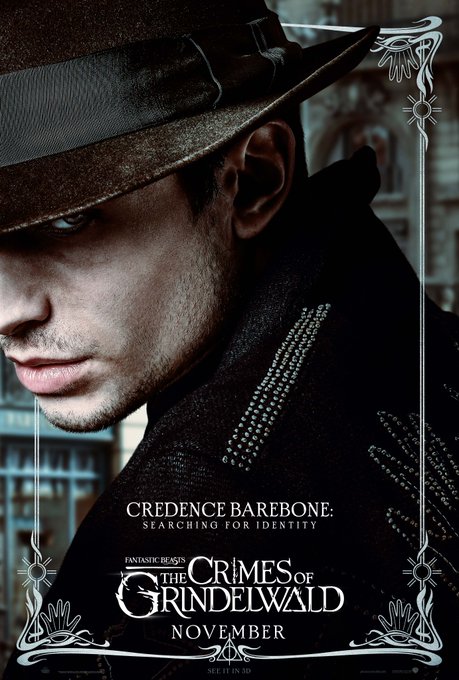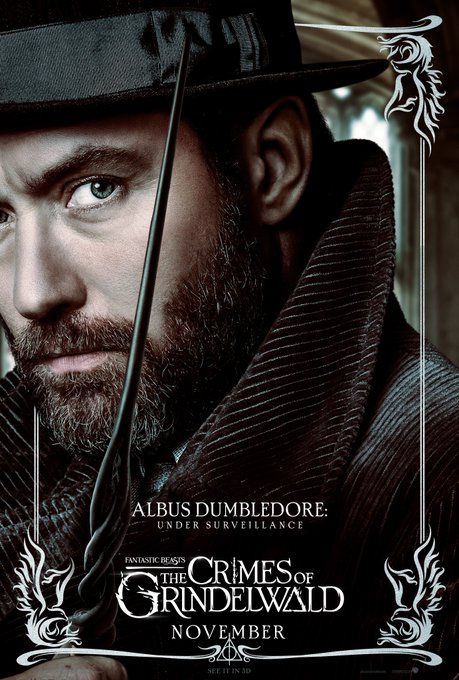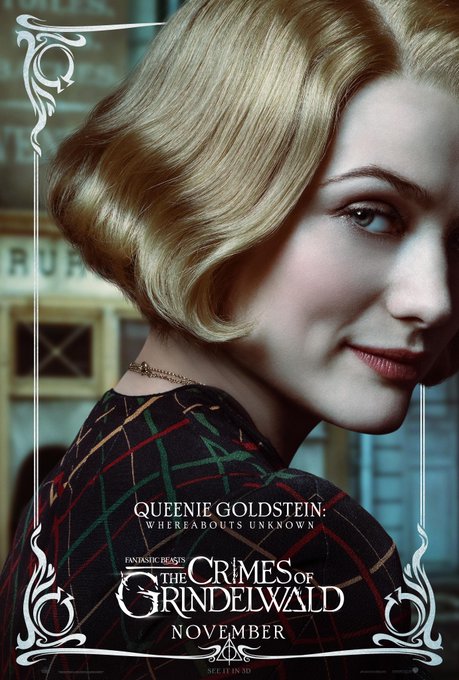 SOMETHING HUNTS PEOPLE ON THE OUTSKIRTS OF TOWN IN... LITTLE GIRLS
09/25/18 @ 10:05 am EST
Source:
Image
| Categories:
Image
|
Comments
(0) |
E-mail Article
|
Add a Comment
Image Comics is pleased to announce an eerie, hauntingly original graphic novel, LITTLE GIRLS, by debut creators Nicholas Aflleje and Sarah DeLaine, set to hit shelves in March 2019.
In LITTLE GIRLS, readers meet Sam, who has been an outsider all her life. That might have been the case even if her father hadn't dragged her all around the globe, but it sure didn't help. Every year, another school and another word for foreigner. Why would things be any different in Harar, Ethiopia? Well, for one thing, there's Lielet—an outspoken and rebellious local girl who has all the makings of a lifelong friend. Then there is the city itself—a crossroad of cultures and traditions woven together through time that make it feel like anything's possible. Also, there's something hunting people on the outskirts of town…
"At their age, Sam and Lielet are confronted with so many scary, new things that they don't have to stop and think about being brave, because they're brave all the time, even when facing down literal monsters together," said Aflleje.
"I think most people can relate to just not fitting in at some point in their lives, like you'll never meet someone you truly get along with," DeLaine added. "But if you somehow inexplicably do, you might suddenly realize you really want to make sure that person isn't eaten."
As the disappearances start piling up, Sam and Lielet decide they might be the only ones willing to do anything about it. But as these two young friends bravely strike out into the dark on an exciting new adventure, they soon find that the night has teeth.
LITTLE GIRLS, OGN (ISBN: 978-1-5343-1059-9) hits comics shops on Wednesday, March 26th and bookstores on Tuesday April 2nd. It can be pre-ordered via Amazon, Barnes & Noble, Books-A-Million, Indiebound, and Indigo.
NEW FANTASTIC BEASTS 2 TRAILER
09/25/18 @ 10:04 am EST
Source:
ComicBook
| Categories:
MIsc
|
Comments
(0) |
E-mail Article
|
Add a Comment
Warner Bros. has released a new trailer for
Fantastic Beasts: The Crimes of Grindelwald
. (via
ComicBook
)
Fantastic Beasts: The Crimes of Grindelwald
opens November 16, followed by the yet-to-be-named
Fantastic Beasts 3
on November 20, 2020.
Trailer:
https://youtu.be/4LrfTt3bPZs
DEBUT CREATIVE TEAM MAT GROOM & EDUARDO FERIGATO LAUNCH GROUNDBREAKING NEW SERIES IN SELF/MADE
09/25/18 @ 9:58 am EST
Source:
Image
| Categories:
Image
|
Comments
(0) |
E-mail Article
|
Add a Comment
Image Comics is pleased to introduce a creative team everyone will be talking about—superstar writer Mat Groom and artist Eduardo Ferigato—and their forthcoming series SELF/MADE. The all-new, ongoing series will launch this December.
SELF/MADE drops readers into a kingdom besieged by chaos, and at the center of it all is warrior Amala Citlali. Amala sees the upheaval as her chance to escape her clearly defined role within Arcadia—and to change her destiny. But she could never have predicted that it would also be her chance to confront her God.
"Obviously there's a lot of fantasy-inspired visuals here… we'll be hitting some sci-fi inspired worlds very soon… and after that, we're headed for what I guess I'd call 'non-traditional' fantasy," hinted Groom in an interview with io9. "So we'll be all over the sci-fi/fantasy spectrum. I mean, c'mon—look at Eduardo and Marcelo's work, and just try and tell me you don't want to see them render literally anything you can imagine."
In his debut editorial role, comics veteran Kyle Higgins (
Mighty Morphin Power Rangers
, THE DEAD HAND, C.O.W.L.) guides this intimate, worlds-spanning story of self-discovery perfect for fans of HBO's
Westworld
and Ernest Cline's
Ready Player One
.
Ferigato also told io9, "There's a bit of
Lord of the Rings
, a bit of
Game of Thrones
, a bit of
For Honor
, which I was playing a lot when I was first developing the series… but I drew upon pretty much all of the fantasy movies and games that I've watched or played in my life, in one way or another. But as we move past issue one, we'll be going to very different places… so we'll be exploring many different aesthetics. It's a huge universe that we are creating here, which has been a big challenge for me as an artist. Every issue demands a lot of research. But I can't get into details yet, or Mathew will kill me!"
SELF/MADE #1 (Diamond Code OCT180039) will hit stores on Wednesday, December 5th. The final order cutoff deadline for retailers is Monday, November 12th.
PATRICK STEWART'S FIRST STAR TREK REVIVAL PHOTO
09/24/18 @ 5:35 pm EST
Source:
Newsarama
| Categories:
Star Trek
|
Comments
(0) |
E-mail Article
|
Add a Comment
Make it so!
Patrick Stewart has tweeted a photo from the set of his still untitled
Star Trek
revival show, in which he'll reprise his role as Captain Jean-Luc Picard. (via
Newsarama
)
"The journey has begun. Kirsten Beyer, Michael Chabon, Akiva Goldsman, Diandra Pendleton-Thompson, James Duff, and yours truly," reads the message that accompanied the tweet, naming the Star Trek writers pictured in the room with Stewart.
The still untitled series is expected to debut in 2019.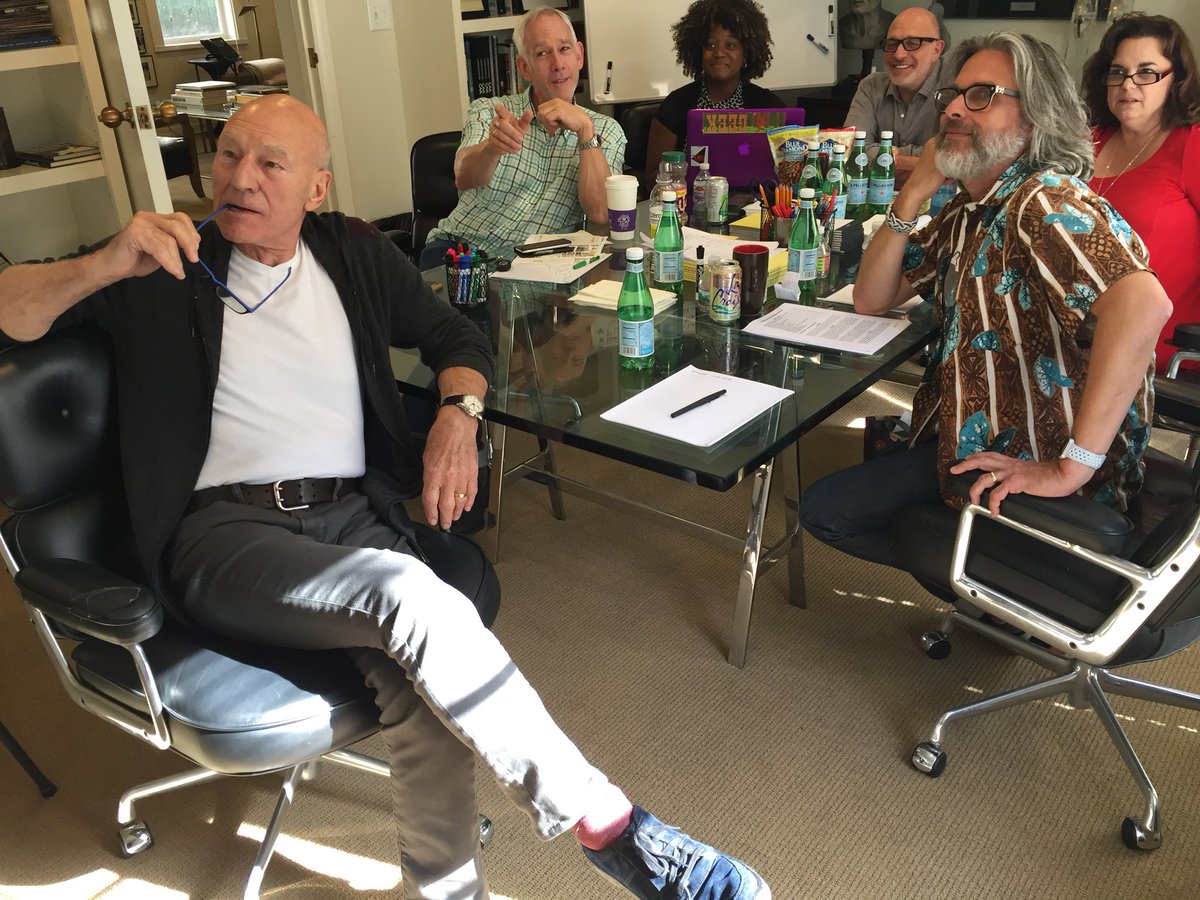 DENVER COMIC CON CHANGES NAME TO DENVER POP CULTURE CON FOR 2019
09/24/18 @ 4:27 pm EST
Source:
Bleeding Cool
| Categories:
MIsc
|
Comments
(0) |
E-mail Article
|
Add a Comment
Bleeding Cool
is reporting that Denver Comic Con, which takes place in the Colorado Convention Center every years in June, is changing its name to Denver Pop Culture Con.
This follows the success of San Diego Comic-Con in the courts regarding Salt Lake Comic Con's attempt to trademark their name, gaining $20,000 in damages and $4 million in legal fees (although that is being contested).
Denver's Pop Culture Classroom which creates the show will also launch the Reno Pop Culture Con, taking place at the Reno-Sparks Convention Center in Nov. 8-10, in 2019.
MARVEL REVEALS NEW UNCANNY X-MEN #1 COVER FROM JEN BARTEL
09/24/18 @ 4:19 pm EST
Source:
Marvel
| Categories:
Marvel
|
Comments
(0) |
E-mail Article
|
Add a Comment
This November, UNCANNY X-MEN returns with a new ongoing series, bringing together nearly every mutant left on earth in a story that threatens to destroy them. It's an epic tale of mystery and tragic disappearance, with an adventure so earth-shattering, it could very well be the X-Men's FINAL mission!
In celebration of the much-anticipated launch of UNCANNY X-MEN #1, Marvel is excited to reveal a variant cover from superstar artist Jen Bartel!
Don't miss UNCANNY X-MEN #1, coming this November to your local comic shop!
UNCANNY X-MEN #1 (SEP180791) Written by KELLY THOMPSON, ED BRISSON and MATTHEW ROSENBERG Art by MAHMUD ASRAR, MARK BAGLEY and MIRKO COLAK Cover by LEINIL FRANCIS YU
UNCANNY X-MEN BARTEL VAR (SEP180792)
On Sale 11/14/18
NYCC 2018: VALIANT REVEALS EXCLUSIVE COMICS, MORE FOR NEW YORK COMIC CON 2018
09/24/18 @ 3:29 pm EST
Source:
Valiant
| Categories:
MIsc
|
Comments
(0) |
E-mail Article
|
Add a Comment
In just two short weeks, Valiant is setting its sights on the concrete jungle of Manhattan with a brand-new lineup of con-exclusive collectibles, giveaways, and merchandise that will only be available at
New York Comic Con 2018!
From
Thursday, October 4th
to
Sunday, October 7th
, head to the
Javits Convention Center
in Manhattan and to Valiant's newly re-designed convention headquarters at
Booth #1635
for the latest that the industry's most critically acclaimed comic book publisher has to offer!
First: Dive into one of the biggest and most accessible shared comic universes around with an extensive selection from Valiant's slate of award-winning titles, including
BLOODSHOT SALVATION, BRITANNIA, ETERNITY, SHADOWMAN, FAITH, NINJA-K, SECRET WEAPONS, X-O MANOWAR
, and many more!
Make sure you arrive early to scope out Valiant's NYCC-only exclusives, available both at
Booth #1635
and at Reedpop's official New York Comic Con merchandise store – including a brand-new assemblage of Fanset's
VALIANT ENAMEL COLLECTOR'S HEAD PINS,
on an exclusive Raúl Albacker card and featuring a SHADOWMAN NYCC-only pin; a
X-O MANOWAR #19 NYCC 2018 Exclusive Variant
featuring artwork by
Walter Simonson
, and much more!
Plus: Skip the shipping costs of the online store and check out the rest of what Valiant has to offer at
Booth #1635
, including the
BLOODSHOT 1/6 SCALE ACTION FIGURE,
convention-exclusive T-shirts, and other amazing offerings!
We'll see you in the Big Apple!
FREE GIVEAWAYS
VALIANT BEYOND SNEAK PREVIEW
Get a first look at Valiant's most anticipated upcoming series with previews for BLOODSHOT RISING SPIRIT #1, LIVEWIRE #1, and 2019's THE LIFE AND DEATH OF TOYO HARADA #1!
--
THE LIFE AND DEATH OF TOYO HARADA #1: RETAILER-EXCLUSIVE ASHCAN EDITION
The entire first issue of Joshua Dysart's long-awaited prestige series, with black-and-white art by CAFU and Mico Suayan! Strictly limited to those who attend Diamond's Retailer Breakfast at New York Comic Con!
--
NYCC EXCLUSIVES:
VALIANT ENAMEL HEAD PINS COLLECTOR'S EDITION MASTER SET [$60]
Produced by FanSets
Limited to only 50 sets at Valiant Booth #1635, collect all five of Valiant's newest convention-exclusive pins at once – plus an extra SHADOWMAN pin exclusive only to this collection – on a limited-edition exclusive backer card that can't be found anywhere else!
--
X-O MANOWAR #19 NYCC 2018 EXCLUSIVE VARIANT [$10]
Available exclusively at Valiant Booth #1635, Matt Kindt and Juan José Ryp's descent into the Unknown begins with a brand-new arc in X-O MANOWAR #19 – featuring this transcendent cover by
comics legend Walter Simonson!
--
FAITH: DREAMSIDE #1 NYCC 2018 EXCLUSIVE VARIANT
Available exclusively via the Reedpop store at NYCC! Faith and Doctor Mirage take their team-up to the New York Public Library in this exclusive cover drawn by Becca Farrow (Ladycastle) for the next exciting miniseries by Jody Houser and MJ Kim!