VAMPIRELLA STRIKES! INTERVIEW WITH TOM SNIEGOSKI
11/26/12 @ 6:25 pm EST
Source:
Previews World
| Categories:
Vampirella
|
Comments
(0) |
E-mail Article
|
Add a Comment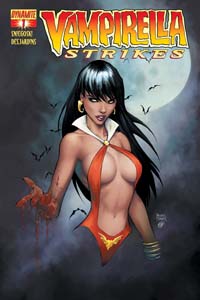 Tom Sniegoski has returned as scribe of Vampirella with Vampirella Strikes #1. Dynamite is so excited to have one of Vampirella's most important writers return to the charcter and he is joined by super hot artist Johnny D! Check out the recent video interview of Tom on Previews World website. Just follow the link to watch!
http://www.previewsworld.com/Home/1/1/71/977?articleID=127548
LION FORGE ADDS GREG TUMBARELLO AND JEREMY ATKINS TO STAFF
12/11/17 @ 4:06 pm EST
Source:
Lion Forge
| Categories:
MIsc
|
Comments
(0) |
E-mail Article
|
Add a Comment


Lion Forge announces four new hires in its editorial and marketing departments today, including industry veterans Greg Tumbarello and Jeremy Atkins. These two join the rapidly growing publisher alongside multiple hires in each department's junior staff. Grace Bornhoft joins as assistant editor and Madeline Roy as marketing associate.

"Greg's extensive industry experience, comics acumen, and talent connections will help position us to meet the future of Lion Forge—and the comics industry as a whole—head on," says Andrea Colvin, executive editor. "And adding Grace to our editorial support staff brings a level of publishing know-how and trade experience that will further help set us apart."

"I'm incredibly excited to join the team at Lion Forge, a company without creative boundaries whose mission is to bring forward-thinking comics to fans and retailers everywhere," said Tumbarello. "I look forward to my new home where I can continue to create thrilling new comics that tell deeply compelling and diverse stories while working with some of the most talented individuals in the industry today."

"I've had my eye on Lion Forge comics for a long time, and I'm excited to finally play a part in their work making comics for everyone," says Grace Bornhoft.

"I have admired the work Jeremy has done in his comics career and am excited that he is on board with Lion Forge," says Rich Johnson, VP of sales, marketing, and business development. "Greg and I worked together and I know that he will make a huge contribution to Lion Forge and the comics industry."

"Lion Forge boasts not only one of the most diverse and exciting publishing lines in comics today, but one of the hardest working teams of experienced and dedicated professionals in the business," says Atkins. "I have been lucky in my career to work with true visionaries and innovators, and I am thrilled to continue this tradition at Lion Forge; an organization which is truly evolving the medium of comic book storytelling Wednesday after Wednesday."

"I am so eager to start my journey with Lion Forge and the people who work there," says Madeline Roy. "It's an excellent team that I'm very excited to be a part of."

Greg Tumbarello has over fifteen years professional experience in the comics and entertainment industry, having previously worked as an editor, writer and producer for MTV Networks, Image Comics, The Comic Book Legal Defense Fund, and Tokyopop. For the past seven years he has been an editor at Legendary Entertainment after cofounding and structuring their successful comic book division with acclaimed editor Bob Schreck. During his tenure, he's worked on New York Times best-selling graphic novels such as Godzilla: Awakening and Pacific Rim: Tales from Year Zero. He was an integral part of the team that brought to life Grant Morrison and Frazer Irving's Annihilator, which garnered an Eisner Award nomination for Best Writer and Frank Miller's Holy Terror, which launched the division as a top ten comics publisher.

Grace Bornhoft has had a passion for books her whole life. Growing up with eight siblings, reading and writing was integral to her family's upbringing. She knew she wanted to work with books from a young age. She received her bachelor's in English from Rockhurst University in 2014 but didn't stop there. She immediately went on to get her master's in English from the University of Missouri-Kansas City, where her passion for publishing began to grow. During her time in graduate school, Grace also worked as an intern at Andrews McMeel Publishing where she was soon promoted to production editor, working on comics including Big Nate, Dilbert, Peanuts, Zits, and Doonesbury. Now Lion Forge's newest editorial assistant, Grace is eager to bring her passion and love of books to the new and growing comics world at Lion Forge.

Jeremy Atkins has nearly two decades of experience at the forefront of tastemaker pop culture publicity. His work earned him profiles in the Wall Street Journal and Ready Made. He began his career in PR as head of promotions for iconic indie label K Records (home to early releases by Beck and Modest Mouse), then entered the world of publishing as lead publicist for Dark Horse Comics. During his ten-year tenure, Atkins oversaw publicity for every title associated with the storied brand, including Hellboy and Sin City, as well as licensed properties like Star Wars and Buffy the Vampire Slayer. He worked as director of marketing for craft beer giant Rogue Ales and in recent years, founded Seen All Over Media, a boutique firm representing special projects and titles for Lion Forge, Heavy Metal, Dynamite Entertainment, Insight Editions, MAD Events, Vault Comics, and more.

Madeline Roy grew up in the suburbs of St. Louis and graduated from Southeast Missouri State University with a bachelor in public relations and a minor in theater. She got her start at a small software company where she learned the tools of the trade in marketing and coordinating trade shows. She comes to Lion Forge with five years of trade show experience and a love for cats, video games, and overall pop culture. A fun fact about her is that she's into voice acting in her free time.
MECH CADET YU BRINGS THE FIGHT IN JANUARY 2018
12/11/17 @ 4:02 pm EST
Source:
BOOM! Studios
| Categories:
MIsc
|
Comments
(0) |
E-mail Article
|
Add a Comment
BOOM! Studios is proud to present a new look at MECH CADET YU #5, kicking off a new story arc from the superstar dream team of writer Greg Pak (Hulk, Weapon X) and artist Takeshi Miyazawa (Ms. Marvel, Runaways) on January 3rd, 2018. The critically-acclaimed series follows the story of Stanford Yu, a young janitor who is unexpectedly chosen to join the storied ranks of the Mech Cadets of the Sky Corps Academy. Once a year, giant robots from outer space come to Earth to bond with the cadets to defend the world from terrifying aliens known as the Sharg. After he unintentionally bonds with an off-course robot, Yu is thrown into training, hoping to prove he is worthy of being there at all.

Exclusive to comic shops, MECH CADET YU VOL. 1 DISCOVER NOW EDITIONwill also arrive in stores on January 3rd, collecting the first four issues of the series. To celebrate this new arc of MECH CADET YU, series co-creator Greg Pak has debuted a new trailer for the series, which can be viewed right here.

"MECH CADET YU was originally going to be a four issue mini, but because of tremendous support from readers and retailers, we got upgraded to an ongoing. I'm hugely grateful—I love writing this book so much!" said Greg Pak. "So I'm thrilled that BOOM! Studios is giving retailers an exclusive window with the first trade collection. And I'm hoping the trailer will help us share the fun with new readers. Thanks so much to everyone—hope ya dig!"

"I am so grateful to be able to continue drawing the world of MECH CADET YU," said Miyazawa. "There is nothing more rewarding than having a passion project being supported by so many readers and retailers. Thank you so much for your continued interest and enthusiasm. I am so proud of this book!"

In May 2018, a standard edition of MECH CADET YU VOL. 1, featuring a different cover and including additional behind-the-scenes material, will be released to comic shops and bookstores worldwide, with the same MSRP of $14.99.

While the standard edition will remain in print, MECH CADET YU VOL. 1 DISCOVER NOW EDITION will be strictly limited to its initial print run and never reprinted.

"Fans of the first four issues of MECH CADET YU will be blown away by what Greg and Tak have in store for this new arc," said Cameron Chittock, Editor, BOOM! Studios. "The stakes have been raised for our heroes and as The Second Sharg War breaks out, the scope of the alien conflict and mankind's mech defenses reach unprecedented heights. Now's the perfect time for any fans of great mech and kaiju science fiction to jump on board."

MECH CADET YU is available for sale monthly at local comic book shops (use comicshoplocator.com to find the nearest one) or at the BOOM! Studios webstore. Digital copies are available to purchase on digital book marketplaces, including ComiXology, iBooks, Google Play, and the BOOM! Studios app.


THE DEATH OF THE MIGHTY THOR IN MIGHTY THOR #705
12/11/17 @ 3:59 pm EST
Source:
Marvel
| Categories:
Marvel
|
Comments
(0) |
E-mail Article
|
Add a Comment
THE DEATH OF THE MIGHTY THOR nears its end as the creative team of Jason Aaron and Russell Dauterman bring you an epic showdown that has been years in the making.
Since kicking things off with MIGHTY THOR #700, the Mangog has managed to wreak havoc on Thor's world, and he's shown no signs of stopping – even in a saga that has so far managed to include almost every Thor villain. On the heels of the action, MIGHTY THOR #705 will continue to up the ante, leaving the fate of Asgard in jeopardy…along with the fate of Jane Foster, who will make the ultimate heroic sacrifice in a conclusion that will rock the Marvel Universe, and the minds of readers everywhere!
"This is it, folks! The big showdown between Thor and Mangog. The penultimate chapter of 'The Death of the Mighty Thor,'" teases series editor Wil Moss. "Jason Aaron and Russell Dauterman have been building to this issue for over three years, and you absolutely do
not
want to miss this. You may think you know where things are going, but I promise you do not."
It's the issue you won't want to miss, and the beginning of a mind-shattering conclusion that will change the Thor story in explosive ways!
Find out if you're worthy enough to handle the pages of MIGHTY THOR #705, in comic shops this March!
MIGHTY THOR #705Written by JASON AARONArt by RUSSELL DAUTERMANFOC – 2/26/18, On-Sale – 3/21/18
CYBER FORCE RETURNS THIS MARCH
12/11/17 @ 3:52 pm EST
Source:
Image
| Categories:
Image
|
Comments
(0) |
E-mail Article
|
Add a Comment
Overseen by creator Marc Silvestri (WITCHBLADE), writers Matt Hawkins (WARFRAME, THINK TANK) and Bryan Hill (BONEHEAD, POSTAL) and artist Atilio Rojo (SAMARITAN) will relaunch the classic series CYBER FORCE this March.
To protect the future, what will we become?
In a modern world where humanity is defined by the technology it creates, a terrorist strikes at the heart of human progress. One of the few survivors of the attack is a man named Morgan Stryker.
Mortally wounded, Stryker's life is saved by his employers...but the price of his survival could be his humanity itself.
"I've always loved CYBER FORCE," said Hawkins. "These heroes are more technologically based, and we're very close to transhumanism as it is! This story has a philosophical slant to it that is very appropriate to the changing times we're in."
"CYBER FORCE is what first interested me in Top Cow," said Hill. "My first pitch to Matt was set in that universe. When Marc created it, concepts of transhumanism and its effect on society were just esoteric theory, but now we live in that reality. We're a species using technology to 'perfect' ourselves, but in what image? What happens when evolution stops being a natural process and becomes a mechanized one? What is the future of this new humanity? I hope to engage these ideas in CYBER FORCE...and blow a lot of things apart in flame and steel."
"It is a special honor and an enormous pleasure for me to participate in this project," added Rojo. "I will give my best, as always!"
CYBER FORCE will launch in March 2018.
SLOANE LEONG UNLEASHES PRISM STALKER THIS MARCH
12/11/17 @ 3:49 pm EST
Source:
Image
| Categories:
Image
|
Comments
(0) |
E-mail Article
|
Add a Comment
Writer/artist Sloane Leong (FROM UNDER MOUNTAINS) will launch PRISM STALKER, an all-new bio-punk series, this March from Image Comics.
The eye of opportunity is closing.
Vep is a young refugee, raised away from her devastated home planet as an indentured citizen in a foreign colony. She works tirelessly for her insectoid hosts, but there is no exit in sight in this viscous, dripping citynest. Her duty is to her family and her siblings, but what more can she do for them here? The answer appears faster than she is ready for.
"PRISM STALKER is a story that I've carried close to my heart for a long time," said Leong. "It's changed over time, as I have, and has become something that's given back to me, nurtured, surprised, and challenged me in different forms.
"In her 2014 National Book Award speech, Ursula Le Guin said: 'I think hard times are coming when we will be wanting the voices of writers who can see alternatives to how we live now…' This is what I love to read, and these are the kinds of comics I want to make: challenging the dominant paradigms and cultural hierarchies, letting differing visions of the future clash and play, creating endless potential, and threading the past into the present and future: a quantum indigenous futurism."
PRISM STALKER will launch in March 2018.
'WALKING DEAD' MIDSEASON PREMIERE RELEASED
12/11/17 @ 3:46 pm EST
Source:
ComicBook
| Categories:
Walking Dead
|
Comments
(0) |
E-mail Article
|
Add a Comment
A sneak peek of "The Walking Dead" midseason premiere is out from AMC. (via
ComicBook
)
The show returns for the premiere in February.
Sneak peek:
https://youtu.be/jBFfXoalIU8
BILL FINGER'S STREET SIGN GOES UP IN THE SPOT WHERE HE CO-CREATED BATMAN
12/11/17 @ 12:36 pm EST
Source:
Bleeding Cool
| Categories:
Batman
|
Comments
(0) |
E-mail Article
|
Add a Comment
It actually happened. After discussions and expectations, the much-unacclaimed co-creator of Batman has been honored with a street sign.
Bill Finger's
stepson Steve Simmons and granddaughter Athena Finger did the honors (see below, via
Bleeding Cool
).
The renaming was of a road at the intersection of East 192nd Street and Grand Concourse in the Bronx. The intersection is next to Poe Park, where Finger would work out ideas with Dark Knight co-creator Bob Kane.
The point where Batman was created now bears Finger's name!
COSPLAY FROM TOKYO COMIC CON 2017
12/11/17 @ 12:27 pm EST
Source:
Bleeding Cool
| Categories:
MIsc
|
Comments
(0) |
E-mail Article
|
Add a Comment
Cosplay seems alive and well at Tokyo Comic Con as seen below. (via
Bleeding Cool)
WARNER BROS. CONFIRMS DC FILM LINEUP
12/11/17 @ 12:22 pm EST
Source:
Bleeding Cool
| Categories:
DC
|
Comments
(0) |
E-mail Article
|
Add a Comment
While at the Comic Con Experience 2017 in Sao Paulo, Brazil, fans got a chance to see the lineup for the upcoming DCEU films from Warner Bros. With the less-than-hoped-for results of
Justice League
last month, a lot of questions have been bouncing around about the future of the current slate of films. But things seem to be moving forward for now. (via
Bleeding Cool
)
The presentation was mainly with title cards. The
Wonder Woman
logo was flanked by a pair of Roman columns, maybe symbolizing II. Then there was
Aquaman
,
Flashpoint
, then, surprisingly, a card for
Justice League Dark
. Then there was
Suicide Squad 2
,
Batgirl
,
Shazam
,
Green Lantern Corps
and
The Batman
.
Films that have been talked about that didn't get cards include
Cyborg
,
Justice League 2
, or any of the
Harley Quinn
/
Gotham Sirens
films. No mention of a
Black Adam
film either or any of the other rumored ones like
Deadshot
,
Deathstroke
or
Joker
.
'WALKING DEAD' BOSS ON FAN FAVE CHARACTER'S FATE
12/11/17 @ 12:16 pm EST
Source:
Hollywood Reporter
| Categories:
Walking Dead
|
Comments
(0) |
E-mail Article
|
Add a Comment
Spoilers ahoy!
Sunday's midseason finale for "The Walking Dead" is expected to take a big bite out of the ratings for AMC, but something else has apparently taken a bite out of a beloved character. (via
The Hollywood Reporter
)
Carl (Chandler Riggs), son of TWD's resident hero Rick (Andrew Lincoln) in the final moments of last night's midseason closer revealed that he had been bitten by a walker a few episodes ago and that he was indeed dying.
Riggs' final episode will be the Feb. 25 season eight midseason premiere in which Carl will take his final breaths.
Showrunner Scott M. Gimple said Sunday on AMC's post-show "
Talking Dead": "That is a bite on his side. … It will play out as bites play out on the show. It's very important to Carl's story and the entire story, what happens in the next episode. I'm just focused on the fact that Carl right now is alive and he has some business to attend to. That is a one-way ticket. But I'd like to think that the things we see in the next episode are so important to his life and the other characters' lives."

Some fans were shocked because the storyline move is a huge departure from comic book source material, and fans of the TV series have always seen Carl as Rick's heir and the show's future.

Yeah, about that ...