'SUPERGIRL': "TREMORS" PREVIEW
11/11/19 @ 10:59 am EST
Source:
The CW
| Categories:
DC
|
Comments
(0) |
E-mail Article
|
Add a Comment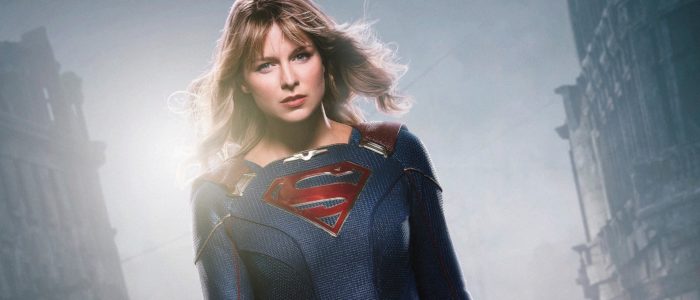 The CW
has released a preview for its coming episode of
Supergirl
, titled "Tremors".
Supergirl
airs Sundays at 9/8c on The CW. "Tremors" debuts November 17.
Preview:
https://youtu.be/Hl-a0_hlp00
'SHAZAM! 2' TO TAKE FLIGHT SPRING 2022, 'SESAME STREET' RELOCATES
12/12/19 @ 3:31 pm EST
Source:
Deadline
| Categories:
MIsc
|
Comments
(0) |
E-mail Article
|
Add a Comment
Deadline
reports that Warner Bros. had more release date changes and announcements today in the wake of yesterday's avalanche of news with dates for
Matrix 4
and
The Flash.
New Line's DC
Shazam! 2
will open on April 1, 2022 taking the place of an RSVP that the studio had for an untitled WB Event Film. There are no other major studio releases on that date and the date falls prior to Easter that year which is April 17.
In addition, the MGM co-produced
Sesame Street
film jumps from June 4, 2021 to Jan. 14, 2022, the MLK 4-day holiday weekend. The only other pic on that date is 20th Century Fox's
Nimona.
ANDY COHEN ANIMATED SERIES SET AT QUIBI
12/12/19 @ 3:47 pm EST
Source:
Hollywood Reporter
| Categories:
MIsc
|
Comments
(0) |
E-mail Article
|
Add a Comment
THR
reports that Andy Cohen is the latest big name to land a show at Quibi.
The short-form streaming platform has ordered six episodes of animated series
The Andy Cohen Diaries
, which will chronicle "iconic and untold moments" from the life of the
Watch What Happens Live
host and
Real Housewives
franchise executive producer.
'NATIONAL LAMPOON'S VACATION' SERIES IN DEVELOPMENT AT HBO MAX
12/12/19 @ 3:16 pm EST
Source:
Variety
| Categories:
MIsc
|
Comments
(0) |
E-mail Article
|
Add a Comment
Variety
reports that HBO Max is developing a series based on the Grisworld family from the
National Lampoon's Vacation
films.
Titled
The Griswolds
, the series will see the titular family home from vacation and explore their daily lives in the suburbs of modern-day Chicago. Tim Hobert is attached to write and executive produce the half-hour single-camera series. Johnny Galecki and Holly Brown will also executive produce under their Alcide Bava production banner. Cory Wood of Alcide Bava will produce. Warner Bros. Television will serve as the studio behind the project.
The project represents a homecoming of sorts for Galecki, who starred as Russ Griswold in the third film in the franchise,
National Lampoon's Christmas Vacation
. The other films are
National Lampoon's Vacation
,
National Lampoon's European Vacation
,
Vegas Vacation
, and
Vacation
. The last of those was released in 2015 and starred Ed Helms as an adult Russ as he takes his own family on a trip that does not go as planned.
ROBERT KIRKMAN & CHRIS SAMNEE TO LAUNCH NEW ONGOING COMIC BOOK SERIES 'FIRE POWER' THIS MAY
12/12/19 @ 3:49 pm EST
Source:
Image
| Categories:
Image
|
Comments
(0) |
E-mail Article
|
Add a Comment
The New York Times
bestselling, Eisner Award winning comics titan Robert Kirkman (
Oblivion Song, The Walking Dead
) is teaming with Eisner winning artist Chris Samnee (
Daredevil
), Eisner Award winning colorist Matt Wilson (
Paper Girls, The Wicked + The Divine
), and letterer Rus Wooton (
The Walking Dead
), to bring fans an all-new, full color, action-packed ongoing series—
Fire Power
—which will launch from Image/Skybound in May 2020.
"Getting to create a whole new world with its own mythology and rules is always the highlight of my life. Getting to do that with Chris Samnee is definitely a high water mark in this dusty old career of mine," said Kirkman. "With a massive cast of characters populating this sprawling globe-spanning epic Chris has proven more than adept at handling anything I've thrown at him in the time we've been toiling away on this series in secret. Kung Fu, Fireballs, Chris Samnee, crazy action, Chris Samnee, Chris Samnee. What more could I say to get you excited about this book?"
This is the first new project from Kirkman since the surprise conclusion to his pop culture phenomenon
The Walking Dead
.
Fire Power
will more than fill a walker-sized hole in your monthly pull list. This new series also marks Samnee's return to comics after wrapping up his bestselling run on
Captain America
that concluded in early 2018.
Owen Johnson's journey to China to learn about his birth parents eventually leads him to a mysterious Shaolin Temple. The students there study to rediscover the Fire Power, the lost art of throwing fireballs. A power they claim will be needed soon to save the world. Will Owen Johnson be the first person in a thousand years to wield the Fire Power?
BOX OFFICE PREVIEW: 'JUMANJI 2' TO LEAD EARLY CHRISTMAS CRUSH WITH $40M-$50M
12/12/19 @ 2:59 pm EST
Source:
Hollywood Reporter
| Categories:
MIsc
|
Comments
(0) |
E-mail Article
|
Add a Comment
THR
reports that, as the year-end holidays get underway in earnest this weekend with the debut of Sony's all-audience event sequel
Jumanji: The Next Level
, Clint Eastwood's drama
Richard Jewell
and the microbudgeted Blumhouse/Universal slasher remake
Black Christmas
.
Jumanji 2
is expected to top the chart with a debut in the $40 million to $50 million range, although Sony is being more conservative in suggesting $35 million.
Movies opening close to Christmas aren't traditionally known for big openings — outside of the recent
Star Wars
pics — but rather count on strong multiples during the final two weeks of the year.
This time out,
Jumanji 2
opted to open a week before
Star Wars: The Rise of Skywalker
, whereas the 2017
Jumanji
:
Welcome to the Jungle
rode into theaters Dec. 20 with a $36 million domestic debut a week after
Star Wars: The Last Jedi
launched to $220 million.
Despite competition from
The Last Jedi
and other titles,
Welcome to the Jungle
went on to earn $404.5 million in North America and $962.1 million globally. (The challenge for
Next Level —
which sees the return of stars Dwayne Johnson and Kevin Hart — is to avoid being infected by the sequelitis bug that has doomed a number of franchise installments this year.)
THE FUTURE IS NOW IN THE 'IRON MAN 2020' #1 TRAILER!
12/12/19 @ 2:52 pm EST
Source:
Marvel
| Categories:
Marvel
|
Comments
(0) |
E-mail Article
|
Add a Comment
Arno Stark is the new Iron Man for a new era! So get ready to meet the Iron Man of 2020 in this all-new trailer, featuring a sneak peek at exclusive artwork!

The time has come for machinekind to unite and demand equal rights! But not all humans think that A.I.s are worthy and Arno Stark – Iron Man 2020 – is one of them. Will he still fight with all he has against the robot revolution, even as other heroes begin to fill their ranks? Can Arno Stark truly be the Iron Man of the future if he's on the wrong side of history?

IRON MAN 2020 #1 by Dan Slott, Christos Gage, and Pete Woods hits stands on January 15th in comic shops, on the Marvel Comics App, and on Marvel.com! To find a comic shop near you, visit www.comicshoplocator.com or call 1-888-comicbook.

Trailer: https://www.youtube.com/embed/higbeSj2hqM





'THE DARK HALF' MOVIE: HER SMELL DIRECTOR ALEX ROSS PERRY BOARDS FOR MGM
12/11/19 @ 10:35 pm EST
Source:
Deadline
| Categories:
MIsc
|
Comments
(0) |
E-mail Article
|
Add a Comment
Deadline
reports that MGM has set Alex Ross Perry to adapt and direct
The Dark Half
, a new adaptation of the 1989 Stephen King bestseller.
Perry popped after writing, directing and producing
Her Smell
, the drama that premiered at the 2018 Toronto Film Festival, and for which Elisabeth Moss is Spirit Awards-nominated for her portrayal as a self-destructive rock star.
Perry plans a reinvention of a story first turned into a 1993 MGM film by the late zombie impresario George Romero. That film starred Timothy Hutton as an author whose books sell OK and have a literary vibe to them. They don't sell nearly as well as grisly crime thrillers he writes under an alter ego. Once his pseudonym is exposed, the author and his wife decide to give the other author a ceremonial burial. And then the people who were involved in doing that start turning up dead as it appears the alter ago has taken on a life of his own.
'RIVERDALE' GETS "VARSITY BLUES" IN NEW PREVIEW
12/11/19 @ 10:28 pm EST
Source:
The CW
| Categories:
Archie
|
Comments
(0) |
E-mail Article
|
Add a Comment
On Wednesday,
The CW
released a preview for "Varsity Blues", the tenth episode of
Riverdale's
fourth season.
"Varsity Blues" airs January 15 at 8 p.m. ET/7 p.m. CT on The CW.

Preview: https://youtu.be/10kzxE27HY8
PIERCE BROSNAN JOINS CAMILA CABELLO IN SONY'S 'CINDERELLA'
12/11/19 @ 10:17 pm EST
Source:
Hollywood Reporter
| Categories:
MIsc
|
Comments
(0) |
E-mail Article
|
Add a Comment
Pierce Brosnan is getting the royal treatment for Sony's
Cinderella
musical.
The actor has joined the growing cast of the retelling of the classic fairy tale from writer-director Kay Cannon as the musical comedy's resident king.
Camila Cabello tops a call sheet that includes Billy Porter as the fairy godmother and Idina Menzel as the evil stepmother, as well as U.K. actor Nicholas Galitzine as Prince Robert. Brosnan will play the latter's father.
The Columbia project reimagines the traditional
Cinderella
story in which our heroine is an ambitious young woman whose dreams are bigger than the world will allow. (via
THR
)
YOUR FIRST LOOK AT 'FIREFLY: THE OUTLAW MA REYNOLDS' #1
12/11/19 @ 10:12 pm EST
Source:
BOOM! Studios
| Categories:
MIsc
|
Comments
(0) |
E-mail Article
|
Add a Comment
​
BOOM! Studios, in partnership with 20th Century Fox, today revealed a first look at FIREFLY: THE OUTLAW MA REYNOLDS, an oversized special one-shot written by acclaimed writer Greg Pak (
Ronin Island
), artists Davide Gianfelice (
Nightwing
) and George Kambadais (
The Black Ghost
), colorist Joana Lafuente (Jim Henson's Labyrinth), and letterer Jim Campbell (
Abbott, Coda
), about the singular person who shaped Captain Malcolm Reynolds into the fearsome Browncoat and fearless leader he is today—his mother.
Captain Malcolm Reynolds—thief, smuggler, resistance fighter, and now captain of a crew of outcasts all the way on the farthest reaches of the 'verse—wasn't born an outlaw but he comes by it honestly. Turns out, his mother, the infamous Maude Reynolds, is at the top of the Alliance's Most Wanted, and if Mal doesn't get to her first, the Alliance will! Kicking off a new year of
Firefly
, discover the secret history of Mal and his mother, what that will mean for the rest of the 'verse...and a new brewing war to end all wars.
FIREFLY: THE OUTLAW MA REYNOLDS #1 features a main cover by award-winning artist Ethan Young (
Nanjing: The Burning City
) and variant covers by artists Ming Doyle (
The Kitchen
) and Michael Walsh (
Black Hammer/Justice League
).
Created by Whedon and set 500 years in the future in the wake of a universal civil war, FIREFLY centers on the crew of Serenity, a small transport spaceship that doesn't have a planet to call home. Captain Malcolm "Mal" Reynolds, a defeated soldier who opposed the unification of the planets by the totalitarian Alliance, will undertake any job — legal or not — to stay afloat and keep his crew fed. Thrust together by necessity but staying together out of loyalty, these disparate men and women are seeking adventure and the good life, but face constant challenges on the new frontier, such as avoiding capture by the Alliance, and evading the dangers you find on the fringes of the 'verse.
FIREFLY: THE OUTLAW MA REYNOLDS #1 is available January 15, 2020 exclusively in comic shops (use
comicshoplocator.com
to find the nearest one) or at the BOOM! Studios webstore. Digital copies can be purchased from content providers, including comiXology, iBooks, Google Play, and Madefire.
Available now,
Firefly: Legacy Edition Book One
collects previously released
Serenity
comics for the first time under one cover in a new value-priced format as Mal & the crew ride again in these official sequels to the critically acclaimed
Firefly
television series and
Serenity
film.
FIREFLY: THE OUTLAW MA REYNOLDS #1 is the newest release from BOOM! Studios' eponymous imprint, home to critically acclaimed original series, including
Once & Future
by Kieron Gillen and Dan Mora;
Faithless
by Brian Azzarello and Maria Llovet;
Abbott
by Saladin Ahmed and Sami Kivelä;
Bury The Lede
by Gaby Dunn and Claire Roe;
Something is Killing the Children
by James Tynion IV and Werther Dell 'Edera;
Klaus
by Grant Morrison and Dan Mora;
Folklords
by Matt Kindt and Matt Smith; and upcoming
The Red Mother
by Jeremy Haun and Danny Luckert. The imprint also publishes popular licensed properties including Joss Whedon's
Buffy the Vampire Slayer
from Jordie Bellaire and David López;
Angel
from Bryan Edward Hill and Gleb Melnikov; and
Mighty Morphin Power Rangers
from Ryan Parrott and Daniele Di Nicuolo.