'POWER RANGERS' SERIES MOVES TO NETFLIX AS STREAMER NABS EXCLUSIVE RIGHTS TO 'DINO FURY' SEASON 2
10/21/21 @ 12:56 pm EST
Source:
Deadline
| Categories:
Power Rangers
|
Comments
(0) |
E-mail Article
|
Add a Comment
The venerable
Power Rangers
TV series is on the move. Netflix will be the exclusive U.S. home for the upcoming second season of
Power Rangers Dino Fury
—
Power Rangers
' 29th season overall — which will debut on the streamer in spring 2022. Netflix has incensed the series from Entertainment One and Hasbro.
Power Rangers,
based on the Japanese tokusatsu franchise
Super Sentai,
has only had a handful of U.S. TV homes since its 1993 launch by Saban Entertainment. It started on Fox Kids, transitioning to ABC/Disney following the company's acquisition of Fox Family and moving to Nickelodeon in 2011 where it had been since.
The new season of
Power Rangers Dino Fury
will feature new characters, new weapons, new Zords (with unique Megazord combinations!), and new vehicles including the Dino Fury Cycle, a T-rex inspired motorcycle with blasters. Returning are the Dino Fury Power Rangers from season 1, Zayto (Red Ranger), Ollie (Blue Ranger), Izzy (Green Ranger), Javi (Black Ranger), Amelia (Pink Ranger), and the newest recruit, Aiyon (Gold Ranger).
The series will pick up right where season 1 left off, with the fate of Void Knight and Santaura revealed. (via
Deadline
)
'SHANG-CHI' SEQUEL IN THE WORKS WITH DIRECTOR DESTIN DANIEL CRETTON RETURNING
12/06/21 @ 1:42 pm EST
Source:
Variety
| Categories:
Marvel
|
Comments
(0) |
E-mail Article
|
Add a Comment
A sequel to "Shang-Chi and the Legend of the Ten Rings" is officially on the way with Destin Daniel Cretton returning to direct and write. He's also in development on a Marvel series for Disney+.
Cretton has signed an exclusive multi-year overall deal with Marvel Studios and Hulu's Onyx Collective. The new deal will allow Cretton to develop TV projects for both Marvel Studios on Disney+ and the Onyx Collective for Hulu and other platforms.
"Shang-Chi" released over Labor Day weekend and currently is the highest-grossing film at the domestic box office with $224.5 million. The film made history for the Marvel Cinematic Universe as the first to feature an Asian lead and mostly Asian cast, which included Simu Liu, Michelle Yeoh, Awkwafina and Tony Leung. At the worldwide box office, the film has made $431.9 million so far and stands as the eighth highest-grossing film.
Not much is known about Cretton's Marvel series on Disney+, but
Variety
reports it is a comedy.
'X-MEN UNLIMITED', MARVEL UNLIMITED'S ANTHOLOGY SERIES, IS BACK
12/06/21 @ 1:36 pm EST
Source:
Marvel
| Categories:
X-Men
|
Comments
(0) |
E-mail Article
|
Add a Comment
The fan-favorite
Marvel Unlimited anthology series is back! X-MEN UNLIMITED returns on today (December 6) in the exclusive Infinity Comic format. X-MEN UNLIMITED #13 kicks off the "X-MEN: PARADISE LOST" arc, an 8-part storyline set within current Krakoan continuity.

Writer Fabian Nicieza teams with artist Matt Horak for X-MEN UNLIMITED's latest saga. Read the first part of "X-MEN: PARADISE LOST" in the Marvel Unlimited app now, and read new chapters weekly every Monday.

The nation of Krakoa may be made up of 99.9% mutants, but not every problem is one an X-Gene is perfectly fit to handle. Thankfully, they still have friends out there in the larger world they can call on… friends like the Unstoppable Juggernaut. Oh, and Deadpool, if you can call him a friend.

On working in the new Infinity Comics format, artist Matt Horak says, "It's a very different style of storytelling that took some getting used to, but once I figured some things out I had a lot of fun! Being able to create long scrolling sequences that wouldn't be possible on a page was really exciting. There's an awesome new villain that was an absolute treat to design. It's a new spin on a classic bad guy that involved referencing a ton of obscure corners of the Marvel Universe."

Marvel Unlimited is a one-stop destination for over 29,000 comics spanning the entire Marvel Universe. The app available on For iPhone®, iPad®, Android devices™ and web.


HBO MAX RELEASES FIRST TRAILER FOR 'HARRY POTTER 20TH ANNIVERSARY: RETURN TO HOGWARTS'
12/06/21 @ 1:26 pm EST
Source:
We Got This Covered
| Categories:
MIsc
|
Comments
(0) |
E-mail Article
|
Add a Comment
Warner Bros and HBO Max are planning to ring in the New Year with a return to the Wizarding World.
Harry Potter 20th Anniversary: Return to Hogwarts
is a retrospective special marking the 20th anniversary of
Harry Potter and the Sorceror's Stone
's release and will feature many familiar faces.
Now we have our first look at the retrospective courtesy of a new trailer, which gives us some peeks at the franchise stars as they receive a letter inviting them to remember their time working in
Harry Potter
.
Daniel Radcliffe, Emma Watson, and Rupert Grint will all be making an appearance, but the new trailer also confirms that we'll see Helena Bonham Carter, Robbie Coltrane, Ralph Fiennes, Jason Isaacs, Gary Oldman, Tom Felton, James Phelps, Oliver Phelps, Mark Williams, Bonnie Wright, Alfred Enoch, Matthew Lewis, and Evanna Lynch contributing to the nostalgia. (via
We Got This Covered
)
Harry Potter 20th Anniversary: Return to Hogwarts
is set to make its debut on HBO Max on New Year's Day.
Trailer:
https://youtu.be/X2RzASP6cbA
'BATTLE CHASERS' TV SERIES FROM 'JOHN WICK' CREATOR DEREK KOLSTAD BASED ON COMICS IN THE WORKS
12/06/21 @ 1:44 pm EST
Source:
Deadline
| Categories:
John Wick
|
Comments
(0) |
E-mail Article
|
Add a Comment
Deadline
reports that Alcon Television Group has stepped up with a preemptive bid to snap up the rights to the
Battle Chasers
fantasy comic book series from prolific comic book artist Joe Madureira, which will be developed as a live-action TV series with
John Wick
creator Derek Kolstad attached to write and executive produce.
The pact comes on the heels of the recent announcement that the popular comic series will return with a 10th installment after a 20-year hiatus.
Set in an arcane punk world,
Battle Chasers
follows a ragtag group of heroes: a disgraced, heartbroken swordsman, a cynical thief, a cranky wizard, a war machine with a kind heart, and a young girl whose missing father left her a pair of powerful magic gloves well beyond her capabilities. They must come together, despite their many, many differences, to stop a dark force rising in the land.
"As a storyteller–as well as a super fan of unapologetic and unrelenting action–I can't wait for people to feel as giddy as I did when I first laid eyes on
Battle Chasers",
said Kolstad. "The world which Joe has created here, coupled with the characters therein, is both unique and yet familiar. Adapting this for the small screen is gonna be a joy."
'FEAR THE WALKING DEAD' RENEWED FOR SEASON 8, KIM DICKENS RETURNS AS SERIES REGULAR
12/06/21 @ 1:23 am EST
Source:
Deadline
| Categories:
Walking Dead
|
Comments
(0) |
E-mail Article
|
Add a Comment
Fear the Walking Dead
has been picked up for an eighth season, the network announced Sunday night on
Talking Dead
following the Season 7 fall finale of
The Walking Dead
spinoff.
Popular former cast member Kim Dickens, who played Madison Clark in Seasons 1 through 4 of
Fear the Walking Dead,
is set to return. She will make her first appearance in the second half of Season 7, which debuts April 17, and will continue as a series regular in Season 8.
"If there were a Mt. Deadmore, Kim Dickens' face would be on it. Madison Clark is a foundational character to TWDU — heroic, complex, an everyperson who becomes a warrior and then a force of benevolence," said Scott M. Gimple, Chief Content Officer of
The Walking Dead
Universe. "Kim Dickens' raw talent, strength, and brilliance will electrify TWDU once more and we couldn't be luckier to have her back." (via
Deadline
)
Check out this Season 7 Part 2 promo:
https://youtu.be/yDqcr4ZS5Bg
MARVEL BOSS KEVIN FEIGE CONFIRMS CHARLIE COX'S COMEBACK AS DAREDEVIL
12/06/21 @ 1:16 am EST
Source:
CinemaBlend
| Categories:
Marvel
|
Comments
(0) |
E-mail Article
|
Add a Comment
Over the years, certain actors have grown to become synonymous with the Marvel character they were hired to play. Robert Downey Jr. IS Tony Stark. Chris Evans has claimed the fabric of Steve Rogers. And so on.
This is how many MCU fans feel about Charlie Cox and his portrayal of the blind attorney Matt Murdock, aka Daredevil. There have been calls to bring Cox over to the MCU and allow him to keep playing the Man Without Fear… and it seems like Marvel Studios President Kevin Feige has been listening.
Feige sat down with
CinemaBlend
and fielded questions about Daredevil and the character's potential in the MCU now that his Netflix show has run its course. Surprisingly, the usually covert Feige confirmed the news that so many fans will want to hear when he told CinemaBlend: "If you were to see Daredevil in upcoming things, Charlie Cox, yes, would be the actor playing Daredevil. Where we see that, how we see that, when we see that, remains to be seen."
Feige still kept some cards close to his vest with regards to the future of Daredevil when it comes to a concrete timeline, but those who loved Charlie Cox's portrayal of the character can rejoice in knowing that he will return to Hell's Kitchen at some point and patrol the streets on behalf of the neighborhood's citizens.
'SHATNER IN SPACE': 'STAR TREK' ACTOR'S EPIC FLIGHT SUBJECT OF AMAZON DOC
12/05/21 @ 10:25 pm EST
Source:
Bleeding Cool
| Categories:
Star Trek
|
Comments
(0) |
E-mail Article
|
Add a Comment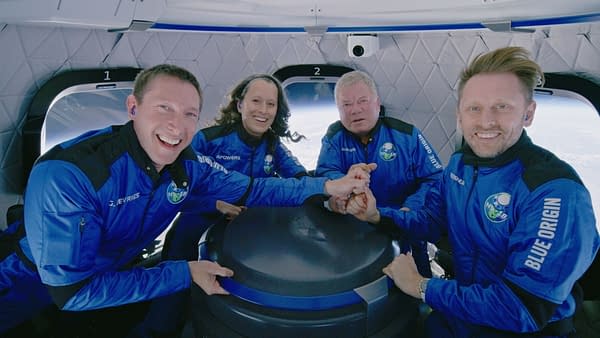 William Shatner completed his epic space journey 55 years since his debut as Captain James T. Kirk on the sci-fi series Star Trek, all thanks to Amazon conglomerate Jeff Bezos and Blue Origin. Now the epic flight will be shown to the world in the hour-long special called Shatner in Space that documents the flight, Bleeding Cool reports.

Shatner himself announced the coming documentary at a virtual panel for Brazil's CCXP on Sunday.The documentary will give views a look at before, during, and after his flight that made him the oldest person to ever travel to space. Shatner, who celebrated his 90th birthday in March, flew with Chris Boshuizen, Glen de Vries, and Audrey Powers on October 13th.

"My time in space was the most profound experience I could have ever imagined," said Shatner in a statement. "This special documenting my journey gives a dramatic view of that experience, and my hope is that it inspires the world to see we must go to space to save Earth."

Shatner in Space premieres on Amazon Prime Video on December 15 in the U.S., Canada, UK, Australia, and New Zealand.
NEW 'SCREAM' FEATURETTE ASKS WHAT MAKES A GOOD SCARY MOVIE
12/05/21 @ 10:09 pm EST
Source:
ComicBook
| Categories:
MIsc
|
Comments
(0) |
E-mail Article
|
Add a Comment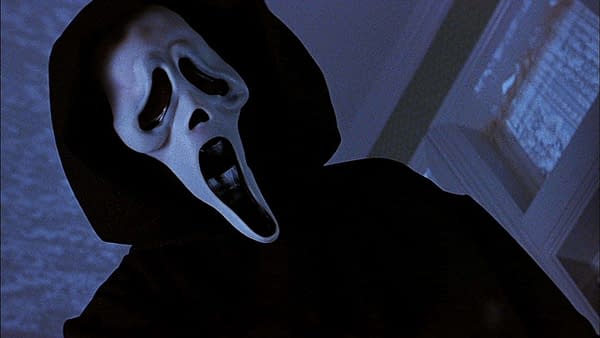 The long-awaited fifth
Scream
movie is finally hitting theaters next month, making it the first film of the franchise in over ten years. Neve Campbell, Courteney Cox, and David Arquette are all returning to their iconic roles, and directors Matt Bettinelli-Olpin & Tyler Gillett (
Ready or Not
) are taking over for the late, great Wes Craven,
ComicBook.com
reports.
A new featurette on the film, which is simply titled
Scream
, has been released as Arquette asks the question "What makes a good horror movie?"
The new
Scream
is set to hit theaters on January 14, 2022.
Featurette:
https://youtu.be/mP-ct-1kNn8
'THE BOYS' ANIMATED ANTHOLOGY SERIES OFFSHOOT 'DIABOLICAL' ORDERED BY PRIME VIDEO
12/05/21 @ 10:01 pm EST
Source:
Deadline
| Categories:
The-Boys
|
Comments
(0) |
E-mail Article
|
Add a Comment
The Boys
is receiving a wicked treatment.
At the Brazil Comic-Con, Prime Video announced
The Boys: Diabolical
, a new eight-episode animated anthology series set in the universe of the
The Boys,
Deadline
reports.
The new series, set to premiere in 2022, will reveal untold stories in the world of
The Boys.
The stories in it come from certain Hollywood big names including Awkwafina, Garth Ennis, Eliot Glazer and Ilana Glazer, Evan Goldberg and Seth Rogen, Simon Racioppa, Justin Roiland and Ben Bayouth, Andy Samberg, and Aisha Tyler.
"We're almost finished with eight episodes of our animated series,
Diabolical
. We gathered together some incredible creators and we gave them one rule…just kidding, there's no rules. They blew the doors off it,"
The Boys
executive producer/showrunner Eric Kripke said.
This is the second
The Boys
spinoff ordered by Prime Video, joining a YA superhero college series greenlighted in September.
The Boys
is based on
the
best-selling comic by Garth Ennis and Darick Robertson and was developed by Eric Kripke.
To see a video of the announcement,
click here
.
SPIDER-MAN: NO WAY HOME POISED FOR BIG BOX OFFICE
12/05/21 @ 12:54 pm EST
Source:
Deadline
|
Comments
(0) |
E-mail Article
|
Add a Comment
Will
Spider-Man: No Way Home
top
Avengers: Endgame
at the box office? With the film only ten days or more away, depending on where you are, early indications and pre-sales are that this film is going to be huge.
Deadline shared
some of the numbers this morning and execs at Sony and Marvel should be very happy. In Mexico, the film took in $7M in the first 24 hours that tickets were available, that's 40% above
Endgame
. Spain, Brazil and Central America all report the film has had the best-ever presale numbers and in the UK they're seeing numbers three times of what
No Time to Die
was getting at the same point. In Brazil, Australia and Turkey the pre-sale numbers are on par or above that of
Endgame
and in Portugal it sold more tickets than
No Tim to Die
in just three days. Poland hasn't seen presale numbers like this since
Star Wars: The Rise of Skywalker
. Here in the US, the film is coming in just behind the presales for
Endgame
even with crashing some of the theater websites. The previous film in the franchise, Spider-Man: Far from Home brought in $1.132 billion globally with $200 million coming from China, making it the Sony's top grossing pic of all-time. With all the hype surrounding this film, it has the potential to dethrone both
Endgame
and
Avatar
from the top slot on the box office lists.