'SPONGEBOB SQUAREPANTS' RENEWED FOR SEASON 13 BY NICKELODEON ON HEELS OF STRONG RATINGS FOR ANNIVERSARY SPECIAL
07/17/19 @ 3:46 pm EST
Source:
Deadline
| Categories:
MIsc
|
Comments
(0) |
E-mail Article
|
Add a Comment
Who lives in a pineapple under the sea? A mega-star!

Deadline reports that Spongebob SquarePants, the #1 kids animated TV series for the past 17 years, will keep going. Nickelodeon has ordered a 13-episode 13th season of the pop culture phenom.

The renewal comes on the heels of Spongebob's Big Birthday Blowout, a live-action and animated special, drawing 2.2 million total viewers in its simulcast Friday across Nickelodeon, TeenNick and Nicktoons. It also follows the Outstanding Short Form Animated Program Emmy nomination yesterday for SpongeBob SquarePants' episode "Plankton Paranoia" as Nick is preparing to commemorate 20 Years of the Iconic series with a 1800 square-foot booth at Comic-Con bringing Bikini Bottom to life.

SpongeBob SquarePants season 13 will reunite original voice cast members Tom Kenny (SpongeBob SquarePants), Bill Fagerbakke (Patrick Star), Rodger Bumpass (Squidward), Clancy Brown (Mr. Krabs), Carolyn Lawrence (Sandy Cheeks) and Mr. Lawrence (Plankton), and current show runners Vince Waller and Marc Ceccarelli.
NEW SURVIVAL HORROR GRAPHIC NOVEL—BOG BODIES—SET TO LAUNCH FROM IMAGE COMICS IN MARCH 2020
08/18/19 @ 8:32 pm EST
Source:
Image
| Categories:
Image
|
Comments
(0) |
E-mail Article
|
Add a Comment
Image Comics is pleased to announce an original graphic novel, Bog Bodies, by writer Declan Shalvey
(Injection, Savage Town), artist Gavin Fullerton (Bags [Or A Story Thereof]), colorist Rebecca Nalty (Xena, Glow), letterer Clayton Cowles (Die, Savage Town), and editor Heather Antos coming to Image Comics in March 2020.

A cold, poignant story of crime, survival, and regret, Bog Bodies follows an Irish gangster on the run after a job gone wrong who encounters a young woman lost in the Dublin mountains. Injured and unarmed, the unlikely pair must try to evade their pursuers and survive the desolate bog that has served as burial grounds for unspeakable murder throughout history.

Bog Bodies original graphic novel (ISBN: 978-1-5343-1330-9) will hit comic book shops on Wednesday, March 4 and bookstores on Tuesday, March 10. You can pre-order it on Amazon, Barnes & Noble, Books-a-Million, IndieBound, and Indigo.
MARVEL'S 'BLACK WIDOW' WILL FEATURE 7'2" ACTOR/BODYBUILDER OLIVIER RICHTERS
08/18/19 @ 8:20 pm EST
Source:
ComicBookMovie
| Categories:
Marvel
|
Comments
(0) |
E-mail Article
|
Add a Comment
Marvel Studios and director Cate Shortland have been shooting the solo
Black Widow
for weeks now, but supporting cast members continue to be revealed. This time, Dutch actor/bodybuilder/model Olivier Richters has announced that he'll appear in the film via social media.
In his Instagram post, Richters reveals that he's already shot his scenes in the UK, and shares his excitement about being part of the project.
Richters writes: "I can finally tell you guys! For the last 3 weeks, I have been in the UK filming my part for the movie: Black Widow (Marvel Studios). This year in January, for the first time in my life I started to join castings for movies, who would have thought that I got to start with ''The King's Man'', then of to ''Gangs of London (HBO)'' and now Black Widow (Marvel). If someone in 2018 told me my career in the movie industry would start like this, I would have called an ambulance for him. It has always been my dream to do something with my size. Can't wait for all the releases in 2020."
Black Widow
is set to hit theaters on May 1, 2020. (via
ComicBookMovie
)
FAN EXPO BOSTON: STEPHEN AMELL CONFIRMS JOHN BARROWMAN'S RETURN IN 'ARROW' SEASON 8
08/18/19 @ 8:08 pm EST
Source:
We Got This Covered
| Categories:
DC
|
Comments
(0) |
E-mail Article
|
Add a Comment
Arrow
season 8 seems to be less of a typical final run and more of a victory lap that'll celebrate how far The CW has come over the years.
There will also be some notable reappearances, including Colin Donnell, Josh Segarra, Rila Fukushima and Susanna Thompson.
And here's one more major figure from
Arrow
's past who's been confirmed to show up: John Barrowman AKA the Green Arrow's original nemesis, Malcolm Merlyn/the Dark Archer. Stephen Amell was the one to let this slip during a convention appearance at Fan Expo Boston. (via
We Got This Covered
)
POWER-CON: KEVIN SMITH UNVEILS PLANS FOR 'MASTERS OF THE UNIVERSE: REVELATION' ANIME SERIES
08/18/19 @ 7:56 pm EST
Source:
Deadline
| Categories:
Masters of The Universe
|
Comments
(0) |
E-mail Article
|
Add a Comment
Deadline
reports that Kevin Smith has taken a metaphorical Power Sword to help bring about a new animated series based on He-Man.
The
Jay and Silent Bob Reboot
director surprised fans at Power-Con in Anaheim on Sunday and shared the news of his new Netflix anime series,
Masters of the Universe: Revelation
, which will be an original story based on the world of Mattel's classic '80s era He-Man toy franchise.
Smith will serve as the executive producer and showrunner of
Masters of the Universe: Revelation,
a limited series which focuses on the unresolved storylines of the classic series, picking up many of the characters' journeys where they left off decades ago.
Netflix is also home to
She-Ra and the Princesses of Power
.
SUPERGIRL WELCOMES KATE MICUCCI TO NATIONAL CITY IN SEASON 5 PREMIERE
08/18/19 @ 8:43 pm EST
Source:
TV Line
| Categories:
DC
|
Comments
(0) |
E-mail Article
|
Add a Comment
TV Line
is reporting that Kate Micucci, whose recent TV credits include roles on
Another Period
and
The Big Bang Theory
, will pop up in
Supergirl
's fifth season premiere (Oct. 6, 9/8c)
In other casting news, Julie Gonzalo (
Veronica Mars
) is joining Supergirl in the series-regular role of Andrea Rojas (aka Acrata), the new owner of CatCo Worldwide Media. Her character is described as a "polished businesswoman and heir to a Central American tech empire [who is] now making a hostile advance into the world of media. Unapologetic and unafraid to make waves, she also holds a mystical secret."
Staz Nair (
Game of Thrones
) is also joining the show as a series regular, slipping into the newly created role of William Dey, a "hardened reporter" with connections to National City's criminal underworld.
Jennifer Cheon Garcia (
Van Helsing
) will guest-star in the premiere as the murderous villain Midnight, who has been released from an otherworldly prison to enact revenge. And
Supergirl
Season 5 will also witness the departure of Mehcad Brooks, as well as the long-awaited return of Jeremy Jordan.
A THIRD VILLAIN MAY'VE BEEN REVEALED FOR 'THOR: LOVE AND THUNDER'
08/18/19 @ 7:22 pm EST
Source:
We Got This Covered
| Categories:
Marvel
|
Comments
(0) |
E-mail Article
|
Add a Comment
Thor: Love and Thunder
is set to not only bring back Chris Hemsworth's Son of Odin and Tessa Thompson's Valkyrie, but also Natalie Portman as Jane Foster, who'll get a major upgrade in the movie, as Thor's ex will become Thor herself. So, with three Asgardian avengers out to protect the galaxy, it makes sense that a trio of fearsome foes will be waiting for them in Taika Waititi's follow-up to
Thor: Ragnarok
as well.
Even before
Love and Thunder
had officially been announced,
We Got This Covered
brought you the news that Enchantress would serve as the main villain of
Thor 4.
We were then informed that Gorr the God Butcher will also feature in the movie as a secondary antagonist. Now, our latest intel points to yet another villain putting in an appearance.
Specifically, a third antagonist MIGHT be Mangog. Emphasis on the "might", at this time, the site warned.
For those not familiar with the character, Mangog's a creation of Stan Lee and Jack Kirby from 1968 and is such a powerful enemy that he's actually a living prison for his whole race. As such, he has the strength, endurance and stamina of a billion, billion beings.
Stay tuned!
TOM HIDDLESTON TEASES "FORMIDABLE OPPONENTS" FOR 'LOKI' DISNEY+ SERIES
08/18/19 @ 7:10 pm EST
Source:
MTV News
| Categories:
Marvel
|
Comments
(0) |
E-mail Article
|
Add a Comment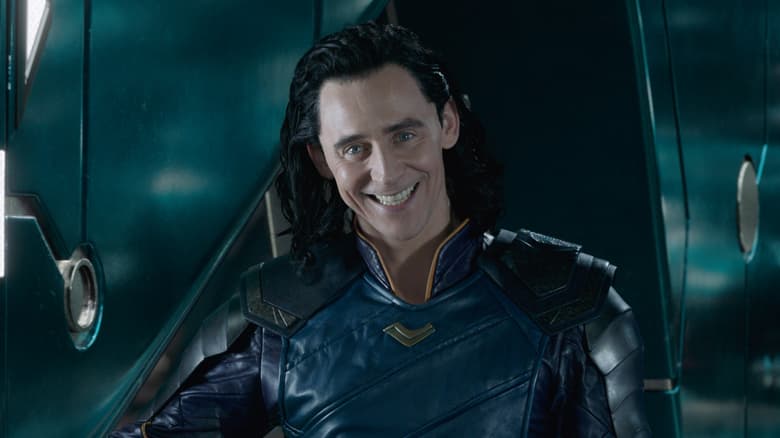 In an interview with
MTV News
, actor Tom Hiddleston sat down to discuss his coming
Loki
Disney+ series and hinted at some of his future (or past, it IS a time-travel show) opponents.
"You've got his (Loki's) very specific gifts. His intelligence, treachery, his mischief, his magic, and then seeing him come up against more formidable opponents, the like of which he has never seen or known. I wish I could tell you what happens, but I can't," Hiddleston said.
Loki
is set to premiere on Disney+ in the Spring of 2021.
'KRYPTON' CANCELED AFTER TWO SEASONS, SPINOFF 'LOBO' NOT MOVING FORWARD ON SYFY
08/16/19 @ 10:01 pm EST
Source:
Deadline
| Categories:
DC
|
Comments
(0) |
E-mail Article
|
Add a Comment
Deadline
reports that there will be no more
Krypton
on Syfy.
The network has opted not to renew the Superman origin drama series, and the recent Season 2 finale August 14 was a series finale on the NBCUniversal cable network. With the mothership series getting canceled, Syfy also won't be proceeding with the previously announced
Lobo
spinoff, which had been in development.
There are reports that
Krypton
producer Warner Horizon Scripted Television is in conversations with other outlets, exploring ways to continue the franchise based on DC characters elsewhere. Siblings DC Universe and the upcoming HBO Max streaming platform are considered the most logical options as DC content has been a focus for both. Past seasons of
Krypton
already run on DC Universe. Season 1 is currently streaming on DC Universe, with Season 2 coming in 2020.
Krypton
was set two generations before the destruction of Superman's home planet. The series followed Seg-El (Cameron Cuffe), the legendary Man of Steel's grandfather, as a young man who is faced with a life-and-death conflict – save his home planet or let it be destroyed to restore the fate of his future grandson.
HOT NEW FANTASY REAVER RUSHED BACK TO PRINT TO KEEP UP WITH DEMAND
08/16/19 @ 9:55 pm EST
Source:
Image
| Categories:
Image
|
Comments
(0) |
E-mail Article
|
Add a Comment
Image/Skybound Entertainment is pleased to announce that
Reaver #2
by Justin Jordan (
Luther Strode
) and Rebekah Isaacs (
Buffy the Vampire Slayer
) is being rushed back to print in order to keep up with the growing demand for the hot new series.
The continent of Madaras once promised a new start for settlers, but 200 years after its discovery, the war rages on. Deep within this savage and untamed land, a darkness builds at that must be stopped at all costs.
To do so, the Imperials assemble six of its most despicable prisoners—a turncoat, a skin eater, a sorcerer and his bodyguard, a serial killer, and the Devil's Son—the only ones who can stop the end of the new world. They are Hell's Half-Dozen.
In
Reaver #2
, Hell's Half-Dozen's suicide mission to the Anvil leads them straight through Rael territory, home to the many nations of skin eaters. Five of these dangerous convicts are prepared to fight for their freedom—but which one is working on a secret agenda of their own?
Reaver #2, second printing
(Diamond Code JUL198216) will hit stores on Wednesday, September 11. The final order cutoff deadline for retailers is Monday, August 19.
Reaver
will also be available for purchase across many digital platforms, including the official Image Comics iOS app, Amazon Kindle, Apple Books, comiXology, and Google Play.
TREES RETURNS WITH "THREE FATES" STORY ARC & TEASES INTERIOR PAGES AHEAD OF SEPTEMBER RELEASE
08/16/19 @ 9:53 pm EST
Source:
Image
| Categories:
Image
|
Comments
(0) |
E-mail Article
|
Add a Comment
Image Comics is pleased to reveal interior pages from the upcoming return of bestselling science-fiction series,
Trees
, by Warren Ellis and Jason Howard and in stores this September.
The five issue story arc, "Three Fates", is set in the remote Russian village of Toska. There's a dead body by the leg of the Tree that landed eleven years ago. Police sergeant Klara Voranova, still haunted by that day, has no idea how this murder will change everything—nor what awaits her in the Tree's shadow.
Trees: Three Fates #1
(Diamond Code JUL190094) hits stores on Wednesday, September 11. The final order cutoff deadline for comic shop retailers is Monday, August 19.