LAST CHANCE ON VAMPIRELLA STATUE KICKSTARTER!!
05/16/19 @ 1:53 pm EST
Source:
Dynamite
| Categories:
Dynamite
|
Comments
(0) |
E-mail Article
|
Add a Comment
Tick! Tick! Tick! Tock! The Jose Gonzalez Vampirella statue Kickstarter celebrating the iconic heroine's 50th Anniversary ends tonight! You have just hours left to support the campaign or increase your pledge to get even more awesome rewards!
The campaign ends at 11 PM EST!
Pledge Now!
Thanks to all who have pledged already and continued to unlock stretch goal after stretch goal! Last night tons of new backers joined in and now every statue box will include a promo trading card depicting how the original Gonzalez/Torres masterpiece has translated to the third dimension!
Don't forget all the amazing options for rewards beyond the central statue! Enamel pins, deluxe art books, graphic novels, the hardcover Vampirella archives! And any combination - message us on Kickstarter and we can arrange add-ons and special personalized reward packages!
Front Back
LAST CHANCE TO JOIN THE CAMPAIGN!
MARVEL CONFIRMS KIT HARINGTON FOR 'ETERNALS'
08/24/19 @ 4:14 pm EST
Source:
Hollywood Reporter
| Categories:
Marvel
|
Comments
(0) |
E-mail Article
|
Add a Comment
Marvel Studios president Kevin Feige at D23 has revealed that Kit Harington, who played Jon Snow for eight seasons on
Game of Thrones
, has joined
The
Eternals
.
Harington will play Dane Whitman, who in the comics is the superhero Black Knight.
Harington is nominated for outstanding lead actor Emmy for the final season of
Thrones
, which wrapped in May, and his former
Thrones
co-star Richard Madden is among the cast of
The Eternals
.
Feige brought out the cast of
Eternals
, with Angelina Jolie getting a standing ovation. He confirmed Gemma Chan was joining the cast as Sersi. Chan appeared in the MCU earlier this year in
Captain Marvel
as the Kree warrior Minn-Erva. (via
THR
)
To see a look at the
Eternals
cast on the D23 stage and in costume in stills behind them, click
here
.
'BLACK PANTHER' SEQUEL FILM SET FOR 2022 RELEASE
08/24/19 @ 4:04 pm EST
Source:
Variety
| Categories:
Marvel
|
Comments
(0) |
E-mail Article
|
Add a Comment
Black Panther
director Ryan Coogler announced the release date of the much-anticipated follow-up film at D23 in Anaheim, Calif. Saturday.
Black Panther 2
will hit theaters May 6, 2022.
"We're not taking our time, we're really trying to get it right," Coogler said of the production schedule.
Marvel Studios chief Kevin Feige said Coogler has delivered a treatment, complete with a villain and new title, though neither would give up those details.
The date will place
Black Panther 2
as the furthest out announced Marvel film, between
Thor: Love and Thunder
(Nov. 5, 2021) and an unannounced film slated for July 29, 2022 — although whether Marvel will keep that date, just two months after
Black Panther 2
, is up in the air. (via
Variety
)
'STAR WARS: THE RISE OF SKYWALKER' CAST AT D23; NEW POSTER!
08/24/19 @ 4:00 pm EST
Source:
Hollywood Reporter
| Categories:
Star Wars
|
Comments
(0) |
E-mail Article
|
Add a Comment
The cast of
Star Wars: The Rise of Skywalker
received a standing ovation as they took the stage at D23 in Anaheim Saturday. Filmmaker J.J. Abrams said the team was hard at work on a new trailer, but weren't quite ready, so they showed off a sizzle reel.
The footage included a fleet of dozens of star destroyers in the atmosphere of a planet. Rey (Daisey Ridley) and Kylo Ren (Adam Driver) appeared in a later scene, fighting on a downed ship in the middle of the ocean as waves crashed around them. The biggest crowd pleasing shot occurred at the end of the reel, with Rey wearing a dark hood, sporting a double lightsaber. The footage hasn't been released online.
The presentation also gave a first look at Keri Russell's mysterious character, who sports a helmet and a red suit. "She's very cool and a little bit shady. She's kind of a criminal, and an old friend of Poe's," Russell said.
Oscar Isaac, who plays Poe, pretended to comfort his co-star John Boyega. (Online, fans have expressed a desire for the two to have a romantic relationship.) "We were young. Everyone was experimenting," said Isaac to Boyega, who pretended to be upset.
Abrams also spoke about the late Carrie Fisher, who will appear as Leia one last time via unused footage he shot while directing 2015's
The Force Awakens
. He initially was not on board to direct
Rise of Skywalker
, and after her death he noted she had thanked him in her 2016 book
The Princess Diarist
for putting up with her "twice" as director. Abrams noted it must have been an intentional joke, as they had only worked together once. (via
THR
)
New
Rise of Skywalker
poster!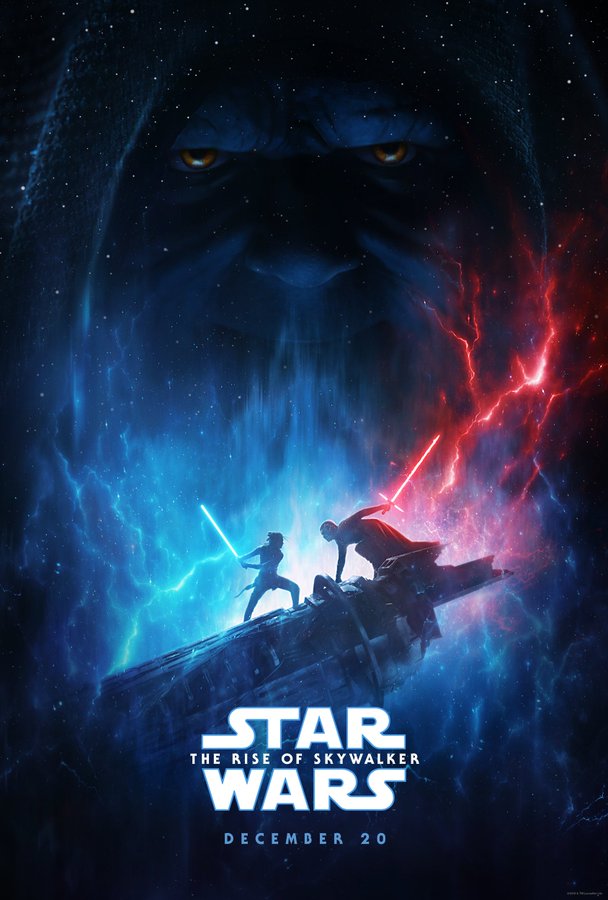 COMEDIAN STEVE AGEE JOINING JAMES GUNN'S 'SUICIDE SQUAD' GANG
08/24/19 @ 3:51 pm EST
Source:
Deadline
| Categories:
DC
|
Comments
(0) |
E-mail Article
|
Add a Comment
Deadline
reports that comedian Steve Agee is boarding Warner Bros.' James Gunn-directed sequel
The Suicide Squad.
Agee will reportedly provide the voiceover to super-villain King Shark, who is a humanoid. King Shark was created by Karl Kesel and made a brief cameo in
Superboy
vol. 3, #0 (Oct. 1994) before making his first full appearance in
Superboy
vol. 3, #9 (Nov. 1994). In the comics, when Superboy is assigned to the Suicide Squad to destroy the Silicon Dragons, King Shark gets hooked in to help.
Agee starred in Gunn's
Guardians of the Galaxy Vol. 2
as Gef, one of the members of the Ravagers.
'THE CLONE WARS': REVIVAL OF 'STAR WARS' ANIMATED SERIES GETS 2020 RELEASE ON DISNEY+
08/24/19 @ 12:25 pm EST
Source:
The Wrap
| Categories:
Star Wars
|
Comments
(0) |
E-mail Article
|
Add a Comment
The Wrap
reports that the revival of
Star Wars: The Clone Wars
has a premiere date: The animated series about the adventures of young Obi-Wan Kenobi and Anakin Skywalker will launch on Disney+ in February 2020.
The news was announced during Disney's biennial D23 Expo in Anaheim, Calif.
Originally running for six seasons from 2008-2014,
Star Wars: The Clone Wars
filled in the gaps of what happened to the characters of the Star Wars prequels between
Episode II: Attack of the Clones
and
Episode III: Revenge of the Sith
. It heavily featured the exploits of Anakin Skywalker (Matt Lanter), his Padawan apprentice Ahsoka Tano (Ashley Eckstein) and Obi-Wan Kenobi (James Arnold Taylor), as well as a group of the Republic clone troopers fighting in the war against the Separatists.
The series was canceled after Disney's purchase of Lucasfilm.
The seventh season of
Clone Wars
was announced during the show's 10th anniversary panel at San Diego Comic-Con 2018. The 12-episode revival will be exclusive to Disney+.
DISNEY UNVEILS 'NOELLE' TRAILER STARRING ANNA KENDRICK, BILL HADER
08/24/19 @ 12:12 pm EST
Source:
Variety
| Categories:
Disney
|
Comments
(0) |
E-mail Article
|
Add a Comment
Among the many announcements at the D23 Expo, Disney debuted the first look at holiday feature
Noelle
, which is set to premiere exclusively on Disney+ this fall.
"It isn't Christmas without Santa's Sister," Walt Disney Studios said of the film. Starring Anna Kendrick and Bill Hader, the Christmas flick tells the story of Santa Claus' daughter (Kendrick) who finds herself having to take over the family business after her Dad retires and her brother (Hader) is reluctant to take over.
Shirley MacLaine and Billy Eichner also star in the pic.
"My name is Noelle Kringle," Kendrick says in the trailer, which opens with the "Pitch Perfect" star singing for her reindeer. "Christmas runs in my family." (via
Variety
)
Trailer:
https://youtu.be/DBDnQkQUTGU
DISNEY+'S 'WANDAVISION' TO COSTAR DARCY FROM 'THOR', AND 'ANT-MAN'S FBI BABYSITTER
08/24/19 @ 12:04 pm EST
Source:
Polygon
| Categories:
Marvel
|
Comments
(0) |
E-mail Article
|
Add a Comment
Polygon
reports that Marvel Studios' coming Disney+ series
WandaVision
may be the most far-out, lore-breaking experiment Kevin Feige and his team of creatives has ever conceived.
Formally announced for spring of 2021, the series will bring Elizabeth Olsen's Scarlet Witch and Paul Bettany's Vision back into the Marvel Cinematic Universe fold — despite the latter being killed off by Thanos in
Avengers: Infinity War.
Feige took to the stage at the D23 Expo's Disney+ Showcase panel to dig a little deeper into
WandaVision
, describing it as heavily inspired by
The Dick Van Dyke Show
, while glitchy footage of Wanda and the Vision from past
Avengers
movies played over the stream. Knowing that it'll directly connect to
Doctor Strange and the Multiverse of Madness
, there's plenty of reason to think the series will dabble in the history of
House of M
and Tom King's iconic run on
The Vision
in ways no one thought possible.
Feige also announced additional cast for the series: Kat Dennings' Darcy will return to the MCU after her last appearance in
Thor: The Dark World
, while Randall Park's FBI goon Jimmy Woo from
Ant-Man and the Wasp
will be a series regular. It was also confirmed, at San Diego Comic-Con 2019, that a grown-up Monica Rambeau — last seen as a precocious kid in
Captain Marvel
— will also appear.
ANTHONY MACKIE WON'T BE CALLED CAPTAIN AMERICA, HE'S STILL FALCON
08/24/19 @ 11:43 am EST
Source:
Screen Rant
| Categories:
Marvel
|
Comments
(0) |
E-mail Article
|
Add a Comment
Anthony Mackie's Sam Wilson was handed the symbolic Vibranium Captain America shield from an elderly Steve Rogers (Chris Evans) at the conclusion of
Avengers: Endgame
, effectively becoming the next Captain America himself. Fans of comics know that it's actually Bucky Barnes (Sebastian Stan) who took up that mantle first in Marvel Comics, but stories and character arcs of the Marvel Cinematic Universe played out different -- and the directors, the Russo brothers, explained why that is by saying his mind is too damaged.
What's interesting then is the fact that Anthony Mackie is consistently telling the media that he's "not Captain America," that he's still -- and always will be -- the Falcon, in the upcoming
Falcon and The Winter Soldier
miniseries. He said it right after appearing with Sebastian Stan last month at Comic-Con International in San Diego, and he said it Friday at the D23 Expo after again appearing on stage to promote the series during the Disney+ presentation. (via
Screen Rant
)
But Sam Wilson is Captain America, or will probably be soon. Stay tuned.
MARVEL ANNOUNCES NEW SPIDER-MAN ANIMATED SERIES FOR DISNEY JUNIOR AMID RIFT WITH SONY OVER FILM FRANCHISE
08/24/19 @ 11:29 am EST
Source:
Deadline
| Categories:
Spider-Man
|
Comments
(0) |
E-mail Article
|
Add a Comment
Well, this is awkward timing.
During Marvel Animation & Family Entertainment's panel at Disney's D23 Expo, the company announced a new original preschool animated series for Disney Junior,
Marvel's Spidey and His Amazing Friends
. Set to debut in 2021, it marks the first full-length Marvel series for Disney Junior.
The news comes at the end of a tumultuous week for the Spider-Man live-action movie franchise. As
Deadline
first reported, a standoff between Sony and Marvel/Disney has led to Marvel chief Kevin Feige exiting the Sony's
Spider-Man
franchise and a looming exit of Spider-Man from the Marvel Cinematic Universe.
In
Marvel's Spidey and His Amazing Friends,
Peter Parker, who is used to working solo, must discover what it takes to become a truly amazing super hero: being a spider friend who works well with others. Together with his friends Miles Morales and Gwen AKA Ghost-Spider, they will team up with heroes such as Hulk, Black Panther and Ms. Marvel, to defeat evil foes and learn that teamwork is the best way to save the day.
THE FIRST APPEARANCE OF CHARLES GUNN IN ANGEL #4
08/23/19 @ 9:21 pm EST
Source:
BOOM! Studios
| Categories:
Angel
|
Comments
(0) |
E-mail Article
|
Add a Comment
BOOM! Studios, in partnership with 20th Century Fox, revealed today Charles Gunn, the iconic vampire hunter, will make his first full appearance in the next issue of the hit series,
ANGEL #4
, reimagining the pop culture phenomenon by acclaimed writer Bryan Edward Hill (
Batman, American Carnage
), artist Gleb Melnikov (
Saban's Go Go Power Rangers
), along with visionary writer and director Joss Whedon (
Buffy the Vampire Slayer, Marvel's The Avengers
), available August 28, 2019.
After saving the mysterious and troubled Fred from the demon stalking her in Sunnydale, Angel gets sucked into a twisted realm where he is tortured by visions of past atrocities and a mysterious figure with a stake aimed straight for his heart! In order to escape an eternity under the demon's power, Angel must battle its insidious illusions and defeat his own fears. But little does he know, a much greater evil is on the horizon and he'll need every resource and ally he can find to help him save the world, starting with Fred, who's somehow connected to the dark forces surrounding Angel, and the first appearance of a familiar face from the streets of Los Angeles—vampire hunter Charles Gunn—but is he here to help the vampire with a soul or dust him once and for all?
ANGEL #4
features a main cover by artist Dan Panosian (
Slots
), as well as variant covers by artists Scott Buoncristiano (
Buffy the Vampire Slayer
), Gabriel Hernandez Walta (
Vision
), and series artist Gleb Melnikov.
Created by visionary writer and director Joss Whedon (
Marvel's The Avengers
film franchise),
Angel
premiered on the WB Network on October 5th, 1999 and was a spin-off from Buffy the Vampire Slayer. The series ran for five seasons from 1999–2004, starring David Boreanaz as Angel, the tortured vampire destined to walk the earth with a soul who moved to LA to set up shop as a supernatural private investigator. Despite Angel's best efforts to deal with the sins of his past all by himself, Angel Investigations soon became home to other lost souls searching for redemption and willing to fight by his side.
ANGEL
is the newest release from BOOM! Studios' eponymous imprint, home to critically acclaimed original series, including
Once & Future
by Kieron Gillen and Dan Mora;
Faithless
by Brian Azzarello and Maria Llovet;
Abbott
by Saladin Ahmed and Sami Kivelä;
Bury The Lede
by Gaby Dunn and Claire Roe;
Klaus
by Grant Morrison and Dan Mora; and
Folklords
by Matt Kindt and Matt Smith. The imprint also publishes popular licensed properties including Joss Whedon's
Firefly
from Greg Pak and Dan McDaid;
Buffy The Vampire Slayer
from Jordie Bellaire and David López;
Angel
from Bryan Edward Hill and Gleb Melnikov; and
Mighty Morphin Power Rangers
from Ryan Parrott and Daniele Di Nicuolo.
Print copies of
ANGEL #4
will be available for sale on August 28, 2019 exclusively at local comic book shops (use
comicshoplocator.com
to find the nearest one). Digital copies can be purchased from content providers, including comiXology, iBooks, Google Play, and the BOOM! Studios app.