TV REVIEW: ARROW S7 E18
04/19/19 @ 3:48 pm EST
Source:
Dan Wickline
|
Comments
(0) |
E-mail Article
|
Add a Comment


With the knowledge that there are only fourteen episodes left in the series after this one, fans are going to be watching each night with added importance. Which is kind of funny that this seemed like a side / filler episode focusing on Black Siren / Laurel Lance from Earth 2. The set up for this had been building as Laurel discovered the truth about Emiko before anyone else, and Emiko went after her, causing her to lose her job and become wanted for murder. This pushed Laurel back into her evil ways as she teamed up with an ex-partner, Shadow Thief.

Laurel's activities cause Dinah and Felicity to team up. Dinah believe Laurel has gone back to her evil ways and wants to bring her in while Felicity believes Laurel had changed and feels abandoned by her friends. As they try to stop her, Felicity enlists the aide of Sara Lance, who isn't Laurel's sister, but she knows how much Quentin tried to help Laurel. The story is pretty straightforward, and Shadow Thief looks to be working for the Ninth Circle gaining some kind of weapon for them. The Canaries plus Felicity team to stop them and convince Laurel to change sides. They go against Shadow Thief and stop her plans. Of course, there is more to it in the episode, a lot of Laurel telling Felicity that their friendship was a lie, etc… but it all works out to Laurel being saved.

While all this is happening, Oliver and Diggle track down a lead the takes them to Kodiak of the Longbow Hunters who gives up the information rather easily. I figured they were trained better, but he did appear to be the weak link of the team. Also, we had flash forwards to find out that the Canary Network is being attacked by Cyber-One and while Dinah and Felicity want them to stand down and regroup, Mia wants to take the fight directly to them. This leads her to take off on her own after Cyber-One's helmeted assassin.

The episode has Laurel deciding she needs to go back to Earth 2 and make amends. Felicity gives her Earth-1 Laurel's Black Canary costume. I'm assuming she is going to call up Cisco and ask for a portal home, but they don't mention that. And while we don't see her leave, the episode switches to the future where Mia tries to take out the helmeted assassin, but as she is losing, Laurel pops up as the Black Canary and takes the killer out. This tells us that at some point she returns to Earth-1 and takes up the Canary mantle.

This felt like a goodbye to Katie Cassidy and if you follow her social media, she has been away from the set for a while and even cut her hair short. I'm not sure what the plans are for the final season, but this could be the last we see of her. She is one of the original cast members and deserves a send off like this and with the vague ending and the fact she has redeemed herself, there is always the chance of the comic book connection of Green Arrow and Black Canary… but damn that would be weird.
'MARVEL'S HERO PROJECT' HEADING TO DISNEY+ ON NOVEMBER 12
08/25/19 @ 6:37 pm EST
Source:
Marvel
| Categories:
Marvel
|
Comments
(0) |
E-mail Article
|
Add a Comment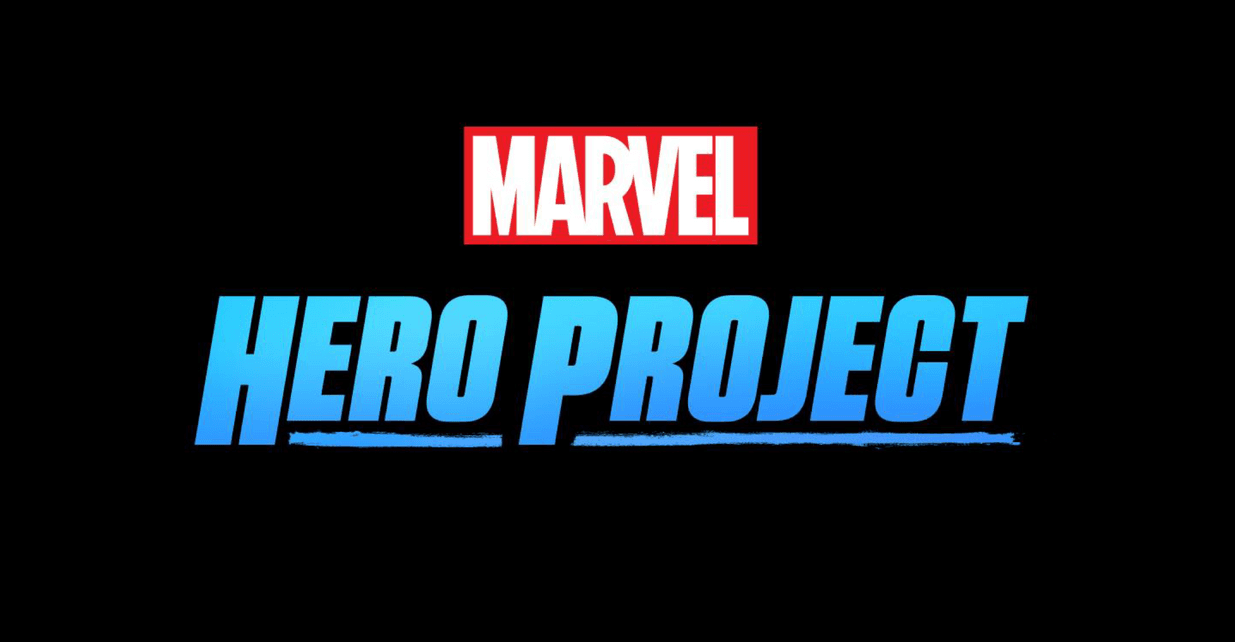 During the D23 Expo, Marvel announced more details on the
previously announced
non-scripted
Marvel's Hero Project
series heading to Disney+!The first-produced non-fiction, unscripted series by Marvel New Media,
Marvel's Hero Project
, will premiere with the launch of
Disney+
on Tuesday, November 12. The remaining episodes will be released weekly on Fridays, starting with Episode 2 on Friday, November 15.In life, it doesn't take wearing a suit of iron, carrying a mythical hammer or swinging from spider webs to be a real hero. Sometimes the person who can make a positive difference in the world is the person who simply sees a problem and has the passion to find a creative solution. The first of its kind for Marvel Entertainment, the 20-episode series shares the remarkable, positive change several young heroes are making in their own communities across the country. These inspiring kids have dedicated their lives to selfless acts of bravery and kindness, and now, Marvel celebrates them as the true Super Heroes they are by welcoming them into
Marvel's Hero Project
.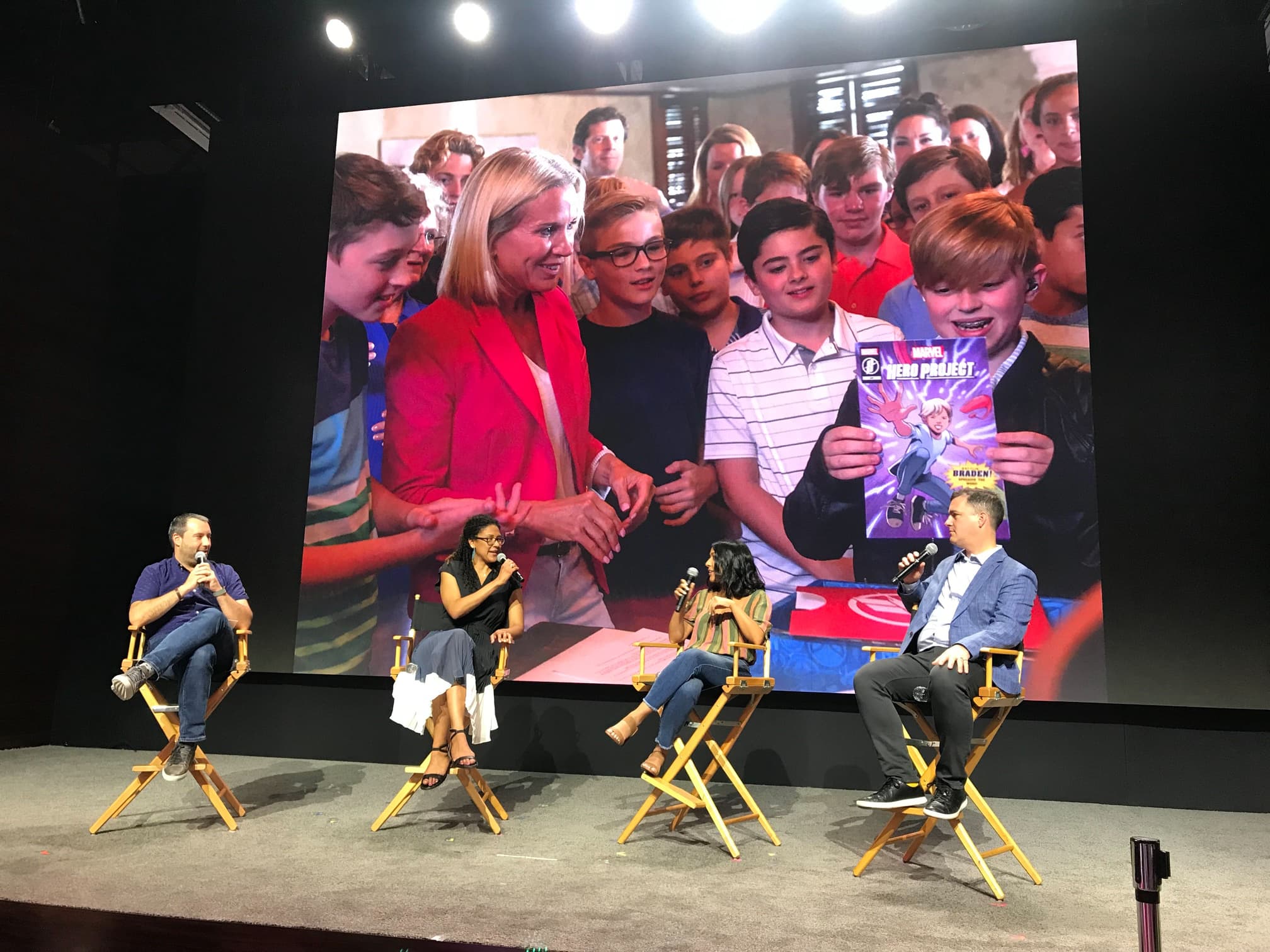 L to R: Dan Silver, Sarah Amos, Sana Amanat, Stephen Wacker"There's so much of what Marvel is, what it stands for. These kids are changing the world in simple ways. Doing great work, and not letting their age be a deterrent," said series executive producer Sana Amanat. During the panel, the producers all agreed that these stories were important to share on a platform like Disney+ because these individuals embodied the spirit of our Marvel characters in that we can all overcome challenges to do good in the world. Stephen Wacker added, "Taking the story of a normal kid who is living their life and now having them face these hurdles. That's what we do. We find out what all these kids' powers are." These special kids that were highlighted to prove that heroes and inspirations are everywhere around us, and you don't have to have any special powers to become a hero yourself.ADVERTISINGThe series will tackle subjects such as Hailey who helps loved ones with Alzheimer's make connections through puzzles to a young boy who grows an urban garden to feed the hungry despite his own family's financial hardships. Sarah Amos, series producer shared on the panel, "Anyone can watch this show and feel like they can go out and do something. It helps families talk about difficult issues."Before wrapping up the panel, the creatives behind the series revealed that not only will each young Hero will receive their very own personalized comic book starring them. Steve Wacker explained, "Marvel Comics is the heart of what we do, and to see yourself on one of those covers is truly one of the coolest surprise for these kids." And viewers can expect some very special guests surprising them as well. Sana Amanat added about the kids featured on the show, "They are truly Marvel Super Heroes now, and they deserve to be."
Marvel's Hero Project
is produced by Marvel New Media in partnership with Maggievision Productions. Executive Produced by Sana Amanat, Sarah Amos, Joe Quesada, Shane Rahmani, Stephen Wacker, and Liza Wyles for Marvel and Maura Mandt and John Hirsch for MaggieVision Productions.Disney+ launches on November 12.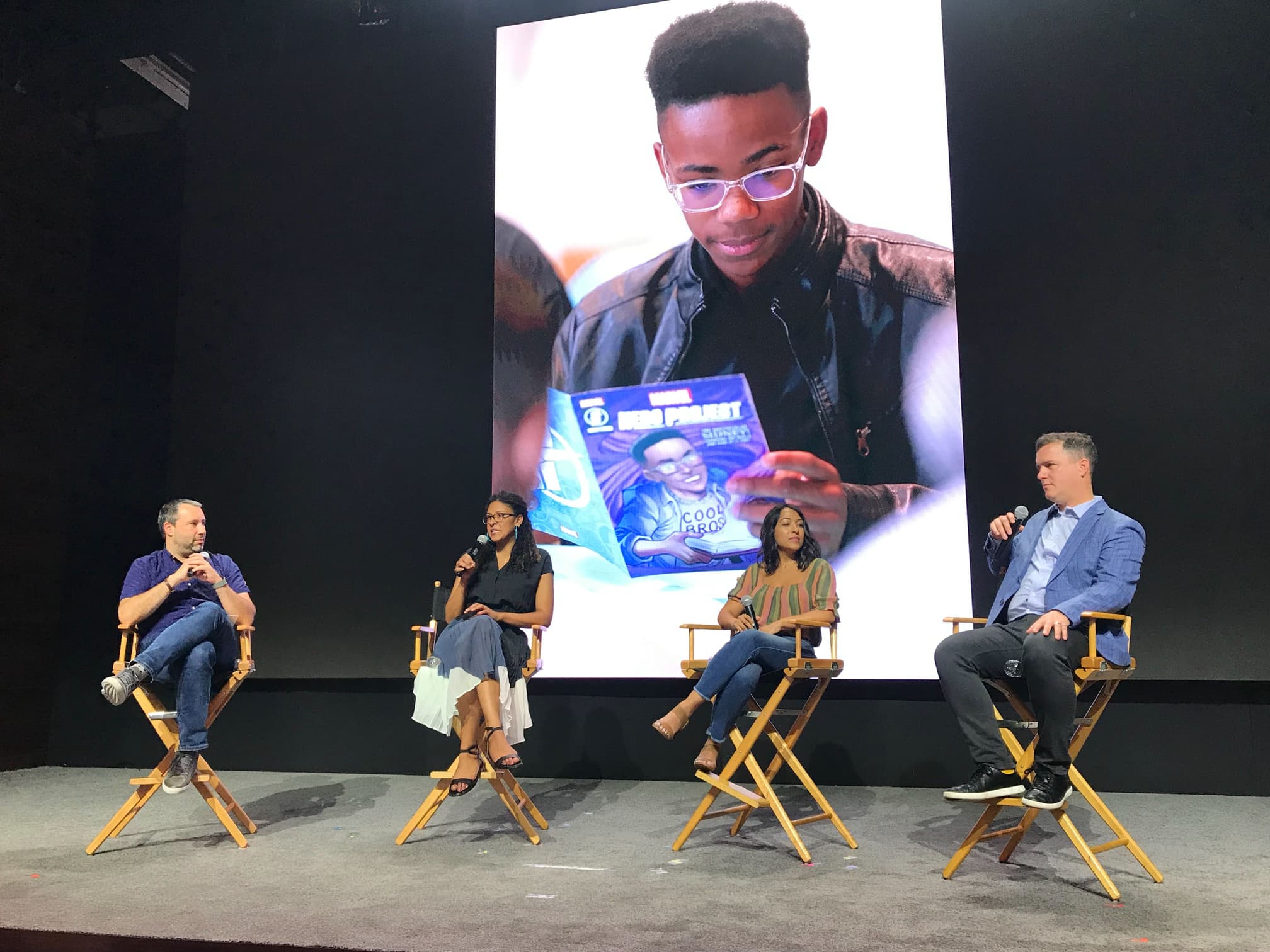 NATHAN FILLION BOARDING JAMES GUNN'S 'THE SUICIDE SQUAD'
08/25/19 @ 6:34 pm EST
Source:
Deadline
| Categories:
DC
|
Comments
(0) |
E-mail Article
|
Add a Comment
Deadline
reports that Nathan Fillion will be starring in James Gunn's
The Suicide Squad
at Warner Bros.
The actor's role is being kept under wraps.
Fillion has a long history of working with Gunn: He played the voice of a monstrous inmate in
Guardians of the Galaxy,
Bill Pardy in Gunn's 2006 horror comedy
Slither,
and the Holy Avenger in the filmmaker's 2010 pic
Super.
The actor is no stranger to DC, playing the voice of the Green Lantern in a number of DC animated features, including
Reign of the Superman
and
Justice League: Doom. The Suicide Squad
opens on Aug. 6, 2021. Production starts on Sept. 23.
DISNEY CHANNEL GREENLIGHTS 'MARVEL'S MOON GIRL AND DEVIL DINOSAUR', ANIMATED SERIES FROM EXEC PRODUCER LAURENCE FISHBURNE – D23
08/25/19 @ 6:28 pm EST
Source:
Deadline
| Categories:
Marvel
|
Comments
(0) |
E-mail Article
|
Add a Comment
Deadline
reports that Disney Channel has ordered
Marvel's Moon Girl and Devil Dinosaur,
an original animated series based on Marvel's comic book series, from Disney Television Animation. Laurence Fishburne and Helen Sugland's Cinema Gypsy Productions (ABC's
Black-ish
), Marvel Animation & Family Entertainment, and Emmy winner Steve Loter (Disney's
Kim Possible)
will executive produce.
EP Fishburne is known to MCU fans as
Ant-Man and the Wasp's
Dr. Bill Foster, who in the comics later became Goliath and Giant-Man. The news was announced by Fishburne during Disney Television Animation's panel at Disney's D23 Expo.
The series follows the adventures of 13-year-old super-genius Lunella Lafayette and her ten-ton T-Rex, Devil Dinosaur. After Lunella accidentally brings Devil Dinosaur into present-day New York City via a time vortex, the duo works together to protect the city's Lower East Side from danger.
NEW 'FROZEN 2' POSTER REVEALED AT D23
08/25/19 @ 6:09 pm EST
Source:
Disney
| Categories:
Disney
|
Comments
(0) |
E-mail Article
|
Add a Comment
During
Disney
's D23 this weekend, new footage of the highly-anticipated
Frozen 2
was revealed as well as a brand new poster.
Frozen 2
hits theaters on November 22nd.
Here's the poster!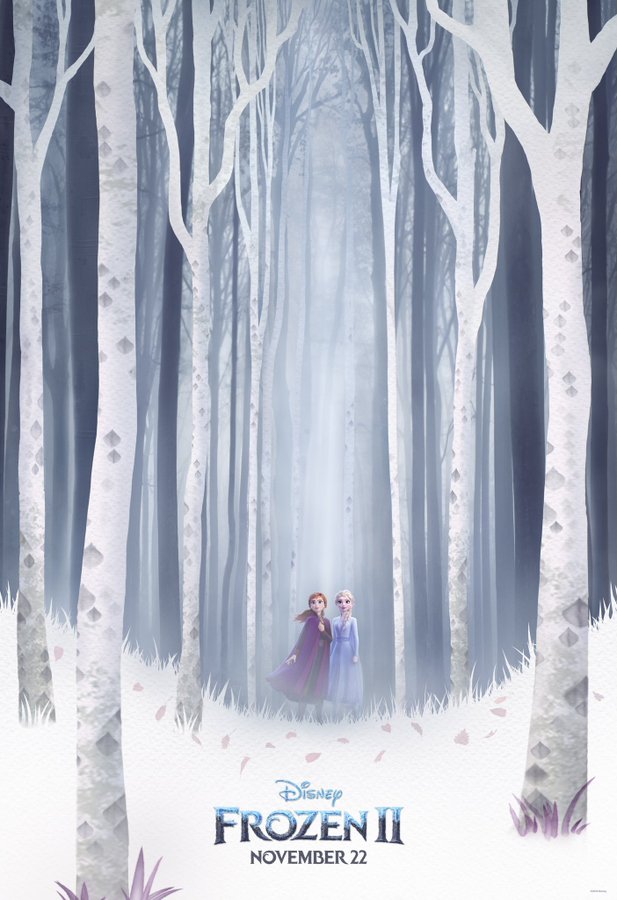 WEREWOLF BY NIGHT TO APPEAR IN AN UPCOMING MARVEL STUDIOS PROJECT?
08/25/19 @ 5:59 pm EST
Source:
Geeks WorldWide
| Categories:
Marvel
|
Comments
(0) |
E-mail Article
|
Add a Comment
Geeks WorldWide
is reporting that Marvel's classic shape-shifting anti-hero Werewolf by Night, aka Jack Russell, will soon make his debut in the Marvel Cinematic Universe.
The site's sources weren't clear on where Werewolf will first appear, but the freshly-announced Disney+
Moon Knight
series is a possibility since Moon Knight made his comics debut in
Werewolf by Night
#32 and they have had strong ties ever since.
Werewolf also has major connections to Blade and Dracula, and with the former due to get his own solo MCU film soon, it wouldn't be shocking to see him show up there.
GWW also reports a spin-off for Werewolf is a possibility, but whether as a TV series or film is unknown.
D23: 'BLACK MIRROR' STAR WYATT RUSSELL WILL PLAY U.S. AGENT IN 'FALCON & THE WINTER SOLDIER'
08/25/19 @ 5:49 pm EST
Source:
MCU Exchange
| Categories:
Marvel
|
Comments
(0) |
E-mail Article
|
Add a Comment
MCU Exchange
reports that Sam Wilson and Bucky Barnes will soon face a threat unlike any other in their upcoming Disney+ series
The Falcon & the Winter Soldier
in the form of John Walker aka the U.S. Agent.
Black Mirror
star and Kurt Russell's son Wyatt Russell will play the not-so-evil version of Captain America.
This isn't the first time we've heard of U.S. Agent possibly appearing in the MCU. Just a few weeks back, a leak surfaced online saying that the character would appear in this very show.
This confirmation gives us an indication of just what the story might be. In the wake of Cap's relinquishing of the shield and mantle formerly owned by the government, the powers that be are likely not too happy that they weren't consulted on the matter. Their response? To create another Cap in their image.
'MARVEL'S AGENTS OF S.H.I.E.L.D.' UNLEASHES FINAL SEASON TRAILER
08/25/19 @ 5:42 pm EST
Source:
Disney
| Categories:
Marvel
|
Comments
(0) |
E-mail Article
|
Add a Comment
The final season trailer of
Marvel's Agents of S.H.I.E.L.D.
was unveiled at
Disney
's D23 exhibition this weekend, with a guarantee for some action-packed moments for fans.
The Marvel television flagship, seen on ABC, will end after its upcoming seventh season.
Trailer:
https://youtu.be/YBkq79ACDEU
DISNEY+ SERIES 'LOKI' FINDS DIRECTOR IN 'SEX EDUCATION' HELMER KATE HERRON
08/25/19 @ 5:32 pm EST
Source:
Collider
| Categories:
Marvel
|
Comments
(0) |
E-mail Article
|
Add a Comment
Collider
reports that forthcoming Disney+ series
Loki
has found its director.
The series will see Tom Hiddleston reprising his role as Loki, the God of Mischief and baby brother of Thor (Chris Hemsworth), after he escaped from the Battle of New York in
Avengers: Endgame
.
Director Kate Herron finally revealed in a tweet that she would be directing
Loki.
"Secret is out! So happy to say I'm directing #Loki for@MarvelStudios," Herron wrote. "It's a privilege to continue his story, working with the superb @twhiddleston & @michaelwaldron. Also sorry to pals who guessed this was the secret job and I lied to your faces. Think Loki would approve though."
Herron skimped on providing any other details about her involvement with the show, but that's pretty much par for the course.
TOM HOLLAND HITS DISNEY'S D23 EXPO DAYS AFTER MARVEL'S 'SPIDER-MAN' SPLIT: "IT'S BEEN A CRAZY WEEK"
08/24/19 @ 4:36 pm EST
Source:
Deadline
| Categories:
Spider-Man
|
Comments
(0) |
E-mail Article
|
Add a Comment
Spider-Man: Far From Home
star Tom Holland made an appearance at Disney's D23 Expo in Anaheim today, just days after Disney and Sony's standoff over the Spider-Man film franchise ended with Marvel Studios and Kevin Feige no longer being involved in it.
"It's been a crazy week," Holland said from the stage, "but I want you to know I am grateful from the bottom of my heart and I love you 3,000."
Holland was there to promote Disney and Pixar's
Onward,
the upcoming animated film in which he stars with
Jurassic World
and
Guardians of the Galaxy
's Chris Pratt as teenage elf brothers who embark on a quest to discover if there is still a little magic left out there. Julia Louis-Dreyfus and Octavia Spencer also star. (via
Deadline
)
JAMIE FOXX AND TINA FEY TO LEAD PIXAR'S 'SOUL' AS CAST REVEALED
08/24/19 @ 4:29 pm EST
Source:
Deadline
| Categories:
Disney
|
Comments
(0) |
E-mail Article
|
Add a Comment
Deadline
reports that Pixar revealed Saturday at the D23 Expo that the animation studio's new film
Soul
will be toplined by Jamie Foxx and Tina Fey. The pic is set to be the second original Pixar film for 2020 after March's
Onward
, and it has a June 19, 2020 release date.
Directed by two-time Oscar winner Pete Docter, the film takes place between New York City and the cosmic realms. The tagline: Ever wonder where your passion, your dreams and your interests come from? What is it that makes you … you?"
The voice cast will also include Daveed Diggs, Phylicia Rashad and Questlove. The original score will come from Trent Reznor and Atticus Ross, with new music from Jon Batiste.