JOSEPH MICHAEL LINSNER AND KRISTINA DEAK-LINSNER LAUNCH VAMPIRELLA EVENT MINI-SERIES, ROSES FOR THE DEAD
03/19/18 @ 2:40 pm EST
Source:
Dynamite
| Categories:
Dynamite
|
Comments
(0) |
E-mail Article
|
Add a Comment
With the 50th anniversary of Vampirella fast approaching next year, Dynamite Entertainment is proud to announce the first plans leading into their year-long celebration of a comic book icon: the
Vampirella: Roses for the Dead
miniseries, plus the
Vampirella
50th Anniversary 2019 Wall Calendar.
Roses for the Dead
, by the husband-and-wife team of writer Kristina Deak-Linsner and artist Joseph Michael Linsner (of
Dawn
fame) will be a four-issue series slated for June release, and brings the beloved heroine back to basics, in attitude and with classic look! In additino, the calendar, highlighting the superstar artists that have defined her look over five decades, will ship in September and deliver twelve months of alluring imagery for Vampirella's legion of fans.
Vampirella: Roses for the Dead
#1, by Linsner and Linsner, reintroduces a cunning and captivating from the past: Evily, Vampirella's cousin and a practitioner of magic. First introduced in
Vampirella Magazine
#2 way back in 1969 and making rare but impactful appearances in the years since, Evily's reappearance in
Roses for the Dead
-- interrupting her cousin's hunt for a sexual predator through a Philadelphia nightclub -- is the first in a shocking chain of events destined to blow the minds of longtime fans and curious newcomers alike!
"Vampirella is an iconic classic," says Kristina Deak-Linsner. "I have loved her since I was five and first saw her on the 'life-size' six-foot Warren poster. She's been through a lot since September of 1969, though! Forrest J. Ackerman launched her just fresh off the face of great social changes and massive upheaval within the era. There's the remnants of the summer of love too, and the explosion of the sexual revolution. So, much due to that climate, she's definitely a product of her time... and yet she's still timeless. It's been an honor to take her on in a feature length story."
Joseph Michael Linsner, whose previous work at Dynamite teamed the vampire heroine with his best-known creation in
Dawn / Vampirella
, says, "Vampirella is one of the coolest looking comic characters of all time. Designed by Frank Frazetta and Trina Robbins, you just can't beat her classic look. I'm going to be giving the art my best shot on this series. The last time I got to draw Vampi was in the crossover, which I wrote as well as drew. This time, I am only the artist, so I can focus on that. My fans know me for rendering beautiful ladies, and this series is full of them!"Dynamite Executive Editor Joseph Rybandt says, "I'm beyond thrilled that Joe and Kristina are collaborating on this special
Vampi
miniseries. We've done a lot of experimenting with Vampirella over the last year or so, and while the tone and subject here get quite heavy, I think long-time fans will appreciate the return to form here."
Regarding that return to form, Deak-Linsner adds, "Vampi's proven again and again to be intelligent, witty, emotional, passionate, sarcastic, and primal. I have taken a mix of the classic elements of Vampirella, and put them together with a more recent focus on important events happening within the media right now. It's something that I have long wanted to explore, and while it might seem like the story is inspired by today's headlines, the seed ideas were actually in place and written back in September. I also wanted to portray her as sexy but strong, and comfortable within her own sexual identity. To me, a huge part of feminism is owning your own sexuality. Vampirella walks freely within that world. I know a lot of women, men, and transgender people who find the character very sexually empowering. I certainly think that the fans will enjoy that she's back in her classic outfit. Without her classic red one-piece, it's like heavy metal music without guitars! It is what it is, and the people who really love it embrace it for that reason. That said, she needs a story with some substance and I would like to think that we have seriously attempted to do that. I certainly hope the fans embrace it."
Vampirella: Roses for the Dead
#1 will be available with two variant covers: Cover A by series artist Joseph Michael Linsner, and Cover B by industry legend Billy Tucci (
Shi
,
Heroes for Hire
,
Sgt. Rock
).
Vampirella is a raven-haired heroine who remains, even after five decades of publication, one of the comic industry's most well-known characters. Since the character's very healthy resurgence in 2010, Dynamite has published four volumes of a monthly series, several miniseries and one-shot specials, and crossovers with multimedia brands and comic book peers (
Army of Darkness
,
KISS
,
Aliens
, and more). The
Vampirella
franchise is a haven for writers and artists with a penchant for the macabre. An icon of horror, Vampirella has an appeal that transcends the printed page, becoming a favorite facet of merchandising including apparel, barware, statues, jewelry, tarot cards, and more.
Vampirella: Roses for the Dead
#1 and the
Vampirella
50th Anniversary 2019 Wall Calendar will be solicited in Diamond Comic Distributors' June 2018
Previews
catalog, the premier source of merchandise for the comic book specialty market. Comic book fans are encouraged to reserve copies with their local comic book retailers. The new
Vampirella
series will also be available for individual customer purchase through digital platforms courtesy of Comixology, Kindle, iBooks, Google Play, Dynamite Digital, iVerse, Madefire, and Dark Horse Digital.
NETFLIX ORIGINAL SERIES GLOW DAZZLES AS UPCOMING IDW COMIC BOOK
12/17/18 @ 7:57 pm EST
Source:
IDW
| Categories:
IDW
|
Comments
(0) |
E-mail Article
|
Add a Comment
IDW Publishing enters the world of hairspray and headlocks with the announcement of a four-issue comic book miniseries based on
GLOW
, the acclaimed Netflix Original comedy series.
Debuting in March, the
GLOW
comic is written by Tini Howard (
Euthanauts
,
WWE
,
Rick & Morty
) and drawn by Hannah Templer (
Jem and the Holograms: Dimensions
). Liz Flahiveand Carly Mensch, the co-creators of the show, will officially serve as executive producers of the original comics, overseeing their creative development.
"We're thrilled to work with IDW to bring new stories to life on the page and in the ring. Can we smoosh 14 women into a little frame? Only time will tell... but we couldn't be more excited!" say Liz Flahive and Carly Mensch.
Starring Alison Brie, Betty Gilpin, and Marc Maron,
GLOW
shines the spotlight on a crew of misfits in mid-1980s Los Angeles who reinvent themselves as the Gorgeous Ladies Of Wrestling. IDW's
GLOW
miniseries provides a glimpse into the action between-the-scenes, as the less-than-prepared ladies are conned into a fundraising match… against
real
lady wrestlers!
"I'm more than just a
GLOW
fan, I'm a wrestling fan, too. I've written wrestling comics before, and I adore it," says Tini Howard. "Wrestling and comic books are a natural fit for more than just tights and fights. Each of the gorgeous ladies has either developed her own character or adapted to one thrust upon her, and making that identity her own is not dissimilar to, say, putting on a bat costume."
Hannah Templer says, "I'm absolutely thrilled about the visual opportunities a
GLOW
comic offers – there is a wealth of inspiration to be drawn from '80s animation, fashion, and even wrestling magazines. I also think
GLOW
, which takes real-world conflicts and settles them within the fantasy of the wrestling ring, provides a really fun arena for expressiveness and visual play!"
For information on how to secure copies of the
GLOW
miniseries, please contact your local comic shop or visit www.comicshoplocator.com to find a store near you.
ORIGINAL 'RIVERDALE' STORY FEATURED IN 2019'S FREE COMIC BOOK DAY CELEBRATION
12/17/18 @ 7:55 pm EST
Source:
Archie Comics
| Categories:
Archie
|
Comments
(0) |
E-mail Article
|
Add a Comment
As a prelude to a brand-new series of original comics based on The CW's hit TV series,
Riverdale,
Archie Comics will be releasing a special one-shot comic book for Free Comic Book Day 2019. The event, falling on May 4, 2019, is an annual tradition at comic shops throughout North America where fans can pick up a wide array of comic books for free.
The special FCBD issue will feature a new comic by novelist Micol Ostow and longtime RIVERDALE artist Thomas Pitilli, along with a special preview of Ostow's prequel novel,
Riverdale: The Day Before,
which goes on-sale this month.
In FCBD RIVERDALE SEASON 3, it's picture day at Riverdale High, and the student council has opened the polls for class superlatives. As the gang preps for their closeups the ballot box goes missing . . . and everyone's a suspect!
"We're extremely excited to have Micol on board as the writer for the new RIVERDALE series, so it made perfect sense to give fans an exclusive, original story to stoke the flames of what's to come," said Archie Comics Co-President Alex Segura. "Micol's no stranger to Riverdale, having penned the upcoming
Riverdale
novels for Scholastic, and she's working closely with the show's writers' room to make sure the comic and show are not only in sync, but complementing each other in a meaningful way. So, if you're looking to consume more tales from the world of the show, we've got the perfect book for you."
The CW's
Riverdale
returns Jan. 16th at 8/7c on The CW. Visit a participating comic book store for Free Comic Book Day on May 4th.
TIM SEELEY AND DAN ABNETT MAKE THEIR VALIANT DEBUT IN 2019 FREE COMIC BOOK DAY GOLD BOOK
12/17/18 @ 3:31 pm EST
Source:
Valiant
| Categories:
MIsc
|
Comments
(0) |
E-mail Article
|
Add a Comment
VALIANT FCBD 2019 BLOODSHOT SPECIAL cover by Dan Brereton
Valiant Entertainment is excited to announce that it has been selected as one of only 12 Gold Sponsors of 2019's Free Comic Book Day, which will take place on May 4, 2019 at participating comic book shops everywhere.
The Valiant FCBD 2019 Bloodshot Special features two original stories exclusive to Free Comic Book Day 2019 and welcomes legendary writers Tim Seeley (
Nightwing
,
Batman Eternal
) and Dan Abnett (
Guardians of the Galaxy, The Punisher
) to the Valiant Universe!
Valiant's FCBD offering boasts a cover illustrated by sensational painter, Dan Brereton (
The Nocturnals
) and launches the publisher forward into its ambitious plans for the second half of the year. Before Sony's blockbuster live-action BLOODSHOT film takes the world by storm in 2020, discover a brutal new tale of Valiant's one-man army by Tim Seeley and groundbreaking artist Tomás Giorello (X-O MANOWAR). Then, enter the 41st century with RAI, the formidable, sword-wielding protector of a future Earth, in a pulse-pounding prologue to the upcoming event series FALLEN WORLD by Dan Abnett and incendiary artist Juan José Ryp (BRITANNIA), which will debut just days before Free Comic Book Day! FALLEN WORLD #1, by Abnett and extraordinary artist Adam Pollina, will release on May 1st, 2019.
"We are absolutely thrilled to be selected as a Gold Sponsor by the Free Comic Book Day Selection Committee," said Valiant Publisher Fred Pierce. "The fans will love the brand-spanking-new BLOODSHOT and FALLEN WORLD stories. Since it's a Free Comic Book Day book, we'll be happy to refund any fan's money who's not satisfied."
Free Comic Book Day is an annual event founded on the belief that every person can discover a comic book they'll love. Every year, on the first Saturday in May, the comic book industry comes together to give away free comics and encourage comics readers of all kinds to visit their local comic shops. Local comic shops are some of the most important places in the comics community, where fans can discuss their favorite books, discover new must-read comics, and even make lifelong friends. For more information about Free Comic Book Day, visit www.freecomicbookday.com.
MARVEL'S SPIDER-MAN SWINGS INTO THE PAGES OF MARVEL COMICS
12/17/18 @ 3:26 pm EST
Source:
Marvel
| Categories:
Marvel
|
Comments
(0) |
E-mail Article
|
Add a Comment
The fan-favorite and critically acclaimed
Marvel's Spider-Man
has taken the world by storm - and now the video game's web-slinger is leaping into the pages of Marvel comics! Starting this March, all your favorite Spidey characters are presented in new and surprising scenarios as Peter Parker's civilian and superhuman worlds collide in the game's original, action-packed story!
After protecting his beloved New York City for eight years, Spidey finally has the opportunity to put Wilson Fisk behind bars for good. But removing the Kingpin from the mean streets of Manhattan has its own repercussions…as a new threat, the mysterious crime lord called Mister Negative, rises to fill the vacuum and threaten all that Peter holds dear, including the lives of not only his beloved Aunt May but also his former girlfriend, and current Daily Bugle investigative reporter, Mary Jane Watson.
"While creating the game, the writing team's goal was to pay homage to Spider-Man's rich history while also shaking things up to keep players on the edge of their seats," said Marvel Games executive creative director Bill Rosemann. "Now we're thrilled to see our game's original story swing full circle and come to life in the pages of this all-new comic book series in the Mighty Marvel Manner!"
Including all-new story moments never before seen in the game as well as bonus behind the scenes content, MARVEL'S SPIDER-MAN: CITY OF WAR #1 is the first in a series of new stories from the growing Marvel Gamerverse as we press start on a brand-new Marvel Universe this March!
MARVEL'S SPIDER-MAN: CITY AT WAR #1 (of 6) Written by DENNIS HOPELESS Art by MICHELE BANDINI Cover by CLAYTON CRAIN Marvel Games Variant Cover by TIM TSANG Sinister Six Variant Cover by DAVID NAKAYAMA Variant Cover by GERARDO SANDOVAL Variant Cover by ADI GRANOV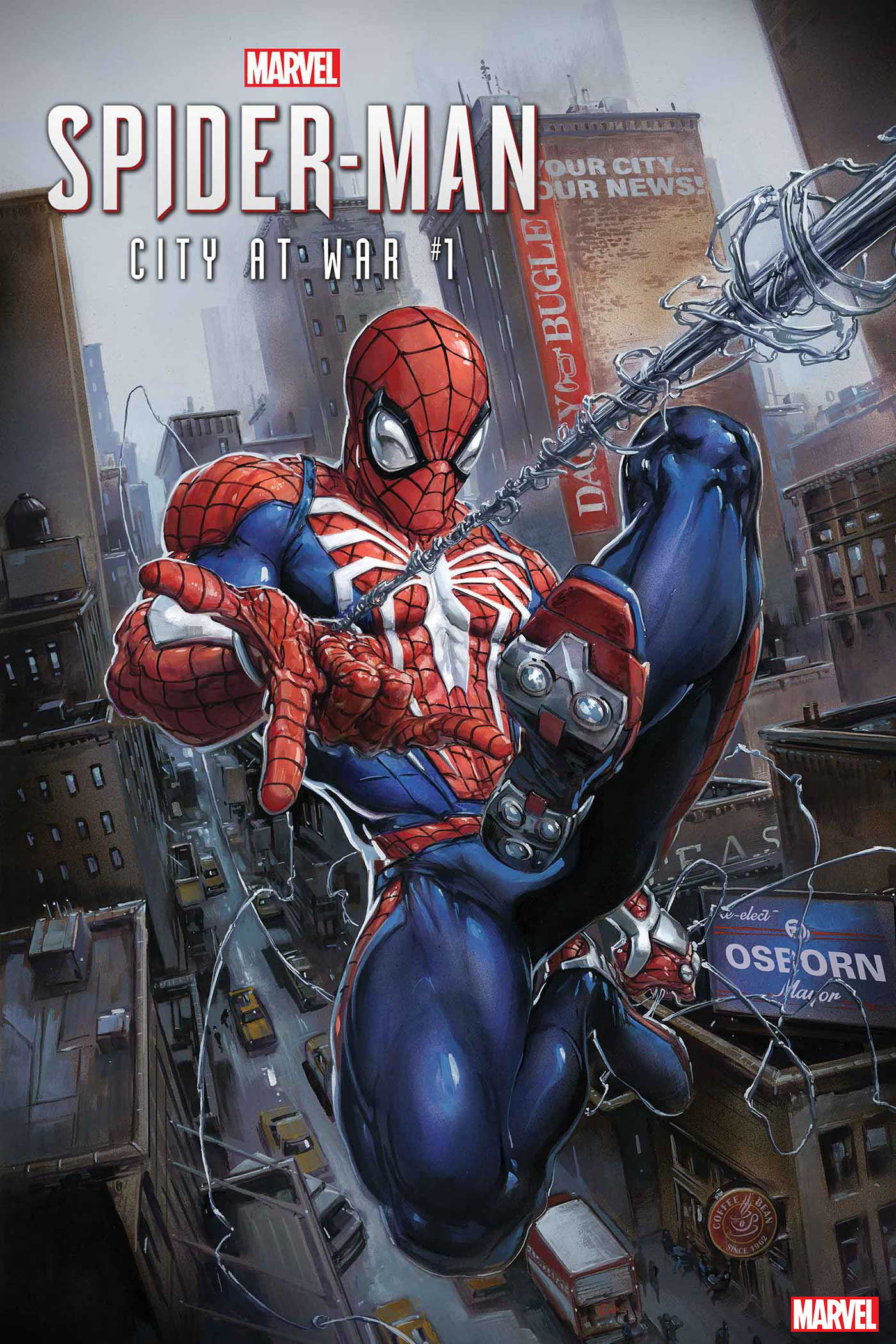 A DEMONIC FORCE DESCENDS ON RIVERDALE IN THIS PREVIEW OF BLOSSOMS 666 #1!
12/17/18 @ 3:21 pm EST
Source:
Archie Comics
| Categories:
Archie
|
Comments
(0) |
E-mail Article
|
Add a Comment
BLOSSOMS 666 #1 (of 5)
BRAND NEW SERIES! Cheryl and Jason Blossom are a pair of seemingly normal kids in Riverdale. They're wealthy, popular and likeable—but they also harbor a deep, dark secret—one of the Blossom Twins is the Anti-Christ. Both want the title, and no one in Riverdale is safe.
Script: Cullen Bunn
Art: Laura Braga, Matt Herms, Jack Morelli
Cover: Laura Braga
Variant Covers: Joe Eisma, Francesco Francavilla, Robert Hack, Vic Malhotra
On Sale Date: 1/23
32-page, full color comic
$3.99 U.S.
Cover by Laura Braga
Artwork by Laura Braga and Matt Herms
'DARK CRYSTAL: AGE OF RESISTANCE' SETS TARON EGERTON, ANYA-TAYLOR JOY, NATHALIE EMMANUEL TO LEAD ALL-STAR VOICE CAST
12/17/18 @ 3:16 pm EST
Source:
Deadline
| Categories:
MIsc
|
Comments
(0) |
E-mail Article
|
Add a Comment
Deadline
reports that children of the '80s chomping at the bit for Netflix's forthcoming
Dark Crystal: Age of Resistance
will find good tidings in the recent announcement of an all-star voice cast!
Taron Egerton (the
Kingsman
films), Anya Taylor-Joy (
The Witch
) and Nathalie Emmanuel(
Game of Thrones
) have been set as respective Gefling heroes Rian, Brea and Deet, while actors including Helena Bonham-Carter, Toby Jones, Alicia Vikander, Simon Pegg, Andy Samberg will also lend their voices to the return of Jim Henson's classic that will launch globally in 2019.
The Dark Crystal: Age of Resistance
is based on Henson's 1982 feature
The Dark Crystal.
The series tells a new epic story, set many years before the events of the movie and realized using classic puppetry with cutting-edge visual effects. We find that the world of Thra is dying. At the heart of Thra is the Crystal of Truth, a source of untold power. But it is damaged, corrupted by the evil Skeksis, and a sickness spreads across the land. When three Gelflings uncover the horrific truth behind the power of the Skeksis, an adventure unfolds as the fires of rebellion are lit and an epic battle for the planet begins.
VALIANT ENTERTAINMENT PROMOTES DAVID MENCHEL TO ASSOCIATE EDITOR
12/17/18 @ 3:10 pm EST
Source:
Valiant
| Categories:
MIsc
|
Comments
(0) |
E-mail Article
|
Add a Comment
Valiant Entertainment is happy to announce that Assistant Editor David Menchel has been promoted to Associate Editor. In his new role, Menchel will work closely with writers, artists, and other comic creators to continue to develop the best stories for Valiant's iconic characters and dedicated fans. Menchel also played a critical role in helping to develop Valiant's recently announced BREAKTHROUGHlineup of titles.
"Since joining the team almost two years ago, David has proven himself to be a vital part of the Valiant family," said Senior Editorial Director Robert Meyers. "As the Assistant Editor across the Valiant line, David proved he has a deep understanding of the Valiant Universe and that he possessed a genuine excitement for our characters. An impeccable storyteller in his own right, David is ready to take this next step in his career, and I'm thrilled to see him grow."
"I'm ecstatic to further my career at Valiant as I step into the role of Associate Editor," said Menchel. "Valiant boasts an incredibly creative and unique environment, full of the best creators and artists in the industry. I am proud to be a member of their editorial team, and look forward to helping in the expansion of the Valiant Universe through new and exciting adventures."
ADRIA ARJONA IN TALKS FOR FEMALE LEAD IN SONY'S 'MORBIUS'
12/14/18 @ 7:49 pm EST
Source:
Deadline
| Categories:
Marvel
|
Comments
(0) |
E-mail Article
|
Add a Comment
Deadline
reports that Adria Arjona is in talks to play Martine, the female lead in Sony's
Morbius
feature film which has Jared Leto starring.
Daniel Espinosa is directing the
Spider-Man
universe spinoff based on Marvel Comics' antihero, Morbius the Living Vampire.
Created by writer Roy Thomas and artist Gil Kane, the renowned biochemist Dr. Michael Morbius first debuted in the 1970s in
Amazing Spider-Man
#101. He attempts to cure a fatal blood disease by injecting himself with a treatment serum derived from bats, which transforms him into a being with all the qualities of a vampire, including a taste for human blood.
In the comics, Martine, who is engaged to Morbius, becomes a potential victim to his bloodlust as he grapples with the transformation that has made him a weird laboratory version of the supernatural vampires of lore.
YOUR FIRST LOOK AT PLATE TECTONICS: AN ILLUSTRATED MEMOIR
12/14/18 @ 7:43 pm EST
Source:
BOOM! Studios
| Categories:
MIsc
|
Comments
(0) |
E-mail Article
|
Add a Comment
BOOM! Studios today revealed a first look at
PLATE TECTONICS: AN ILLUSTRATED MEMOIR
, an original graphic novel that depicts a modern approach to life, romance, and motherhood after divorce from the popular French cartoonist and illustrator, Margaux Motin (
But I Really Wanted to Be an Anthropologist
), arriving in stores June 2019.
At age thirty-five, Margaux's life is full of upheaval and unexpected twists and turns. She's divorced, raising a child on her own, and trying to get back on her feet in today's fast-paced world. Thankfully, she's got her family, friends, and daughter to tell her exactly what they think at every turn. And when romance eventually returns it takes on the most unexpected shape . . . in that of her best friend! Could her life possibly get more complicated?!
"Margaux's unapologetic portrayal of herself as a single parent suddenly set adrift in the modern world is at once charming, hilarious, and brutally honest," said Sierra Hahn, Executive Editor, BOOM! Studios. "
PLATE TECTONICS
is Margaux's love letter to relearning the lines of who you are and how those lines get redrawn after life-shaking events but inevitably for the better."
PLATE TECTONICS
is the latest release from BOOM! Studios' ambitious Archaia imprint, home to graphic novels such as
Mouse Guard
by David Petersen;
Rust
by Royden Lepp;
Bolivar
by Sean Rubin;
Jane
by Aline Brosh McKenna and Ramón Pérez;
About Betty's Boob
by Vero Cazot and Julie Rocheleau;
Waves
by Ingrid Chabbert and Carole Maurel; and licensed series like
Jim Henson's The Power of the Dark Crystal
and
Jim Henson's Labyrinth: Coronation
.
Print copies of
PLATE TECTONICS: AN ILLUSTRATED MEMOIR
will be available for sale on June 26, 2019 at local comic book shops (use
comicshoplocator.com
to find the nearest one), and July 2, 2019 at bookstores or at the BOOM! Studios webstore. Digital copies can be purchased from content providers, including comiXology, iBooks, Google Play, and the BOOM! Studios app.
AL EWING TEASES DEFENDERS: THE BEST DEFENSE
12/14/18 @ 7:39 pm EST
Source:
Marvel
| Categories:
Marvel
|
Comments
(0) |
E-mail Article
|
Add a Comment
Doctor Strange. The Immortal Hulk. Namor the Sub-Mariner. The Silver Surfer. You know their names and you know their powers…and you know them as the DEFENDERS! This month, Marvel's favorite non-team – the original Defenders – returned in all-new stories! With an assembly of stellar creative teams, lead writer Al Ewing is joined by writers and artists such as Chip Zdarsky (
Marvel 2-In-One
), Gerry Duggan (
Deadpool
), Jason Latour (
Spider-Gwen
), Simone Di Meo (
Old Man Logan Annual
), Carlos Magno (
Thunderbolts
), Greg Smallwood (
Moon Knight
), and Joe Bennett (
The Immortal Hulk
), who have spun five interconnected specials that tell a unique and captivating story for each original Defender.
Marvel is proud to present this
behind-the-scenes video
for DEFENDERS: THE BEST DEFENSE, featuring SVP and Executive Editor Tom Brevoort, Editor-In-Chief C.B. Cebulski, and
Immortal Hulk
writer Al Ewing!
"Not only are we assembling one of the classic rosters of The Defenders, but we're also putting together a phenomenal cast of creators to bring these adventures to life," shared C.B. Cebulski.
"All of it kind of fits together in a massive, kind of cosmic shebang," teased Al Ewing.
The story culminates next week in DEFENDERS: THE BEST DEFENSE #1! Don't miss the other chapters – IMMORTAL HULK, NAMOR, DOCTOR STRANGE, and SILVER SURFER – all on sale now in comic shops, on the Marvel Comics App, and on Marvel.com! To find a comic shop near you, visit
www.comicshoplocator.com
or call 1-888-comicbook.