WAR OF THE REALMS: MARVEL HEROES AS ASGARDIANS
02/15/19 @ 3:26 pm EST
Source:
Marvel
| Categories:
Marvel
|
Comments
(0) |
E-mail Article
|
Add a Comment
This April, all hel will break loose as Marvel's epic event from the award-winning creative team of Jason Aaron, Russell Dauterman, and Matthew Wilson usher in an event of unparalleled scale! To celebrate WAR OF THE REALMS, Marvel is releasing a series of variant covers that reimagine some of Marvel's most iconic heroes in the style of Asgardian warriors!
Look for Marvel's ASGARDIAN variants on these select titles this April:
1. ASGARDIANS OF THE GALAXY #8 by Phil Noto
2. AVENGERS #18 by Paolo Rivera
3. BLACK PANTHER #11 by Rahzzah
4. CAPTAIN AMERICA #10 by Dave Johnson
5. CAPTAIN MARVEL #4 by Gerald Parel
6. CHAMPIONS #4 by Khoi Pham
7. CONAN THE BARBARIAN #5 by Butch Guice
8. DEADPOOL #11 by David Nakayama
9. DOCTOR STRANGE #13 by Declan Shalvey
10. FANTASTIC FOUR #9 by Terry Dodson
11. GUARDIANS OF THE GALAXY #4 by Tom Raney
12. IMMORTAL HULK #16 by Mike McKone
13. SPIDER-GWEN: GHOST SPIDER #7 by Jorge Molina
14. SUPERIOR SPIDER-MAN #5 by Carlos Pacheco
15. THOR #12 by Olivier Coipel
16. TONY STARK: IRON MAN #11 by Pasqual Ferry
17. UNCANNY X-MEN #15 by Patrick Zircher
18. UNCANNY X-MEN #16 by Will Sliney
19. VENOM #13 by Inhyuk Lee
20. X-23 #11 by Siya Oum
21. X-FORCE #6 by Riccardo Federici
NEW POSTER FOR DISNEY'S LIVE-ACTION 'ALADDIN'
03/25/19 @ 5:54 pm EST
Source:
Disney
| Categories:
Disney
|
Comments
(0) |
E-mail Article
|
Add a Comment
Disney
has released a new poster of the live-action
Aladdin
film for the Japanese market. Pretty cool.
Aladdin
hits theaters on May 24th.
'GODZILLA: KING OF THE MONSTERS': NEW JAPANESE POSTER
03/25/19 @ 5:40 pm EST
Source:
Legendary
| Categories:
Godzilla
|
Comments
(0) |
E-mail Article
|
Add a Comment
Legendary
has released a rather monstrous poster for its Japanese market on the coming
Godzilla: King of the Monsters
.
Godzilla and his monster mash roar into theaters May 31st.
AWARD WINNING PLAYWRIGHT SEAN LEWIS TEAMS WITH AWARD WINNING ARTIST HAYDEN SHERMAN FOR NEW TECH THRILLER COMIC SERIES THUMBS
03/25/19 @ 5:28 pm EST
Source:
Image
| Categories:
Image
|
Comments
(0) |
E-mail Article
|
Add a Comment
Award winning playwright and comics writer Sean Lewis (
Coyotes, Saints, The Few
) teams up with award winning artist Hayden Sherman (
The Few
) for a new technology thriller series in
Thumbs
. The rapid-paced, science-fiction maxi-series will be five issues—each issue a total of 40 pages—and will launch from Image Comics this June.
Imagine someone like, say, Mark Zuckerberg created his own army of tech-obsessed teens and directed them to take on the government. What would the fall-out be?
Thumbs
explores a high-stakes world where that—and much worse—can unfold. Charley "Thumbs" Fellows is a member of just such an army. Poor and raised by the influential MOM™ app, he finds himself in the center of a war.
"I was watching a kid play with his phone and how anxious he was waiting for a message back from a friend and it made me think about how anxious all the people I know are," said Lewis. "I started thinking about the internet and our obsession and reliance on it and the realities of who controls the flow and embedding of information. Was our anxiety planted? Has tech become such an obsession for us that we'd go to war to keep it? Just watching that kid and all the emotions that three dots on a screen were creating made me wonder—do we actually control the tech, even at its smallest levels?"
Best described as
The Social Network
meets
Black Mirror
,
Thumbs
is a must-read book from the team behind the hit series
The Few
and is perfect for readers of Christopher Sebela, Ro Stein, and Ted Brandt's
Crowded
.
Sherman added: "
Thumbs
is as much a story about technology as it is about loss, time, and learning your place in the world. With the great range of themes and locales that play into these five issues, I've taken the chance to expand and really push myself with how a story can be told. The hope is for it to be between storybook and comic book, where it could be either at any given moment."
Thumbs #1
(Diamond Code APR190011) will be available on Wednesday, June 5. The final order cutoff deadline for comics retailers is Monday, May 13.
Thumbs #1
will also be available for purchase across many digital platforms, including the official Image Comics iOS app, Amazon Kindle, Apple Books, comiXology, and Google Play.
TV REVIEW: SUPERGIRL S4 E16
03/25/19 @ 5:40 pm EST
Source:
Dan Wickline
|
Comments
(0) |
E-mail Article
|
Add a Comment


When I was first getting into writing comics, I met James Hudnall at a convention in Pomona, CA. He gave me a few pieces of advice, but the one that stuck out the most to me was that the audience loves to watch a character lie if they're in on it. That is what made last nights episode of Supergirl so good. My favorite version of Lex Luthor has been Michael Rosenbaum's portrayal of young Lex on Smallville. What made it work was watching him go from good to evil. From Clark's friend to enemy. And all the while we knew the end result. Jon Cryer is quickly becoming my second favorite Lex and this episode was why. He doesn't portray Lex as evil. There's no mustache twirling. There is just a brilliant mind at work, like an amazing game of chess.

The episode gave us everything we could want from a Lex Luthor focused story including a play on the House of El title. We start with Supergirl confronting Lex, we see his battlesuit in action (Yes, it's green and purple) and we see he has super powers thanks to the black kryptonite. Then we jump back three years to just before the series began and watch Lex get convicted and kill the judge, jury and prosecutors. We see him make friend with Miss Teschmacher (Andrea Brooks) and him slowly take control of the prison. We also see that Otis (Robert Baker) is already working for him.

From there we see how Lex got involved with the Supergirl clone (Melissa Benoist) and how he manipulated her training to make her work for him. The clever use of the name Alex played a factor here. Lex has been pulling strings for years, getting Teschmacher in at CatCo and then eventually have her working for Lena (Katie McGrath). He orchestrated the rise of Ben Lockwood (Sam Witwer) and even gave himself cancer to make his plan work. If this has been in the works since Teschmacher was introduced in the first episode of season two, then it's some brilliant writing.

The episode put most of the main cast aside, focusing on Lex and the clone. You can really see what the writers had in mind for the character and why Cryer jumped at the role. This is how Lex is supposed to be written, as the manipulative narcissist that's always ten steps ahead. Not as the comical megalomaniac who is focused on real estate scams. They've taken the villain team from the Superman movie and made them formidable. And they even gave Otis a heart as he decided to save the young boy instead of allowing him to die in the missile attack. That could be important later.

While I haven't been the biggest fan of this season so far, the last two episodes are quickly turning me around on it.
'ARROW': NEW "INHERITANCE" PREVIEW
03/25/19 @ 2:12 pm EST
Source:
The CW
| Categories:
DC
|
Comments
(0) |
E-mail Article
|
Add a Comment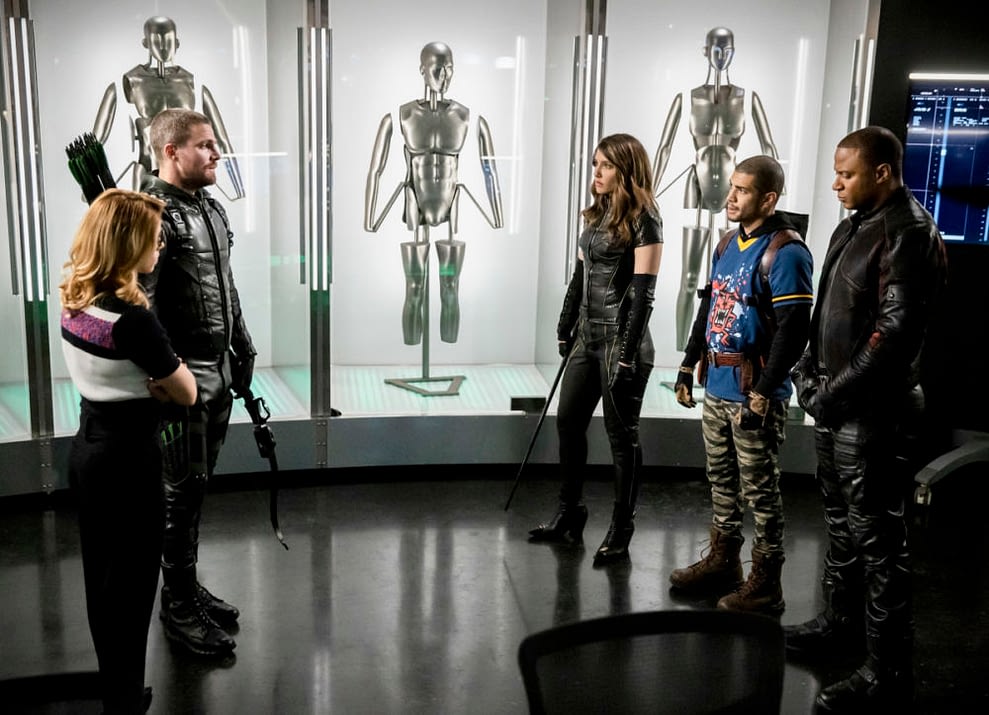 The CW
has released a preview of tonight's (Monday, 3/25) episode of
Arrow
.
The episode is titled "Inheritance" and airs at 8 p.m. ET / 7 p.m. CT.
Preview:
https://youtu.be/GuhVFsyzmIc
NEW 'SPIDER-MAN: FAR FROM HOME' INTERNATIONAL POSTERS
03/25/19 @ 1:46 pm EST
Source:
Sony
| Categories:
Marvel
|
Comments
(0) |
E-mail Article
|
Add a Comment
Sony
has released three new
Spider-Man: Far From Home
posters featuring Your Friendly Neighborhood Wallcrawler in his new darker suit, abroad in various European hotspots.
Spider-Man: Far From Home
opens in theaters July 5th.
NEW 'DETECTIVE PIKACHU' TV SPOT
03/25/19 @ 1:16 pm EST
Source:
Warner Bros.
| Categories:
Pokemon
|
Comments
(0) |
E-mail Article
|
Add a Comment
Warner Bros.
has released a new
Detective Pikachu
TV spot that intros several new characters.
Detective Pikachu
will be released in theaters on May 10th.
TV Spot:
https://youtu.be/bl_JNgEJKWs
NEW 'SUPERGIRL' PROMO: RED DAUGHTER ARRIVES
03/25/19 @ 12:46 pm EST
Source:
The CW
| Categories:
DC
|
Comments
(0) |
E-mail Article
|
Add a Comment
The CW
has released a new promo for next week's
Supergirl
.
The episode, titled "All About Eve," airs at 8 p.m. ET/PT Sunday, March 31st. In the sneak peek, we see the arrival of Red Daughter, a storyline fans are anxious to see come to fruition.
And Lex Luthor is around too, just for fun!
Promo:
https://youtu.be/ezneg3J85is
'RUNAWAYS' SEASON 3 TEASER VIDEO RELEASED
03/25/19 @ 9:52 am EST
Source:
Hulu
| Categories:
Marvel
|
Comments
(0) |
E-mail Article
|
Add a Comment
Shortly after it had confirmed
Marvel's Runaways
would be renewed for a third season,
Hulu
over the weekend released this little bit of video.
Third season teaser:
https://youtu.be/otPHlnx538I
FIRST LOOK AT 'WALKING DEAD' SEASON 9 FINALE
03/25/19 @ 9:41 am EST
Source:
AMC
| Categories:
Walking Dead
|
Comments
(0) |
E-mail Article
|
Add a Comment
AMC
has released a sneak peek at the finale of this season's
The Walking Dead
.
The Season 9 finale, "The Storm," airs Sunday, March 31, at 9/8c on AMC.
Preview:
https://youtu.be/ddjF2p4XYfU