MARVEL WELCOMES ARTIST DAVID BALDEON TO DOMINO
01/16/18 @ 5:19 pm EST
Source:
Marvel
| Categories:
Marvel
|
Comments
(0) |
E-mail Article
|
Add a Comment
Marvel's femme fatale returns to comic books this spring – and so does superstar comic writer Gail Simone! DOMINO will unleash her risqué, hard-core action on the Marvel Universe in an all-new story, and Marvel can now announce the full creative team that will help to bring the soldier of fortune to life.
Joining Simone in crafting Domino's journey is rising star David Baldeon (
Spirits of Vengeance, Nova
), who will bring his unique style to the pages of Simone's story.
"I am so very thrilled to be a part of Team Domino! I am a fan of Gail's work, and I've been wanting to work with her for a long time now. The fact that it is with a character like Domino is the icing on the cake!" said Baldeon. "She's strong, she's tough, she´s fun and she´s thrilling, and hopefully the art will bring through all of that. We've given her a new, sleek look that plays on all of her strengths, her history, and who she is as a character. Plus, this book is a completely different animal from my previous work style-wise, and therefore a chance to go into new grounds. This is going to be an exciting ride!"
"Since Marvel first asked me to write Domino, I knew there was one element that attracted me SO MUCH to her, but for some reason, I couldn't quite name the exact word," added Simone. "Was it stubbornness? Snarkiness? Other characters have those traits, too, but with Domino, there was this THING that represents her, but the word escaped me, and it was vexing. Wonderful editor Chris Robinson had someone in mind for the book, bless him! We immediately started getting the sketches and designs from David Baldeon Gonzalez, and I knew instantly the concept I had been trying to name, because he drew it right into her eyes. It's MISCHIEF. Domino has a sense of mischief, of high-stakes play, even in the roughest times. She's lethal and she KNOWS it."
With Simone's excitement and Baldeon's explosive design, DOMINO's creative team is officially ready to blast off this April.
"That really sealed the deal for me," continued Simone. "David was our guy and I could not be happier. He draws gorgeous people doing dirty deeds, and it's just exactly the roller-coaster ride I had hoped for. He's adding so much heart and fire. I just love him."
With gunplay and glitz galore, DOMINO brings you action, adventure, and antics like you've never seen before. Join Gail Simone and David Baldeon this spring when DOMINO hits your local comic shop!
DOMINO #1Written by GAIL SIMONEArt by DAVID BALDEONCover by GREG LAND & FRANK D'ARMATAVariant Cover by DAVID BALDEON & JESUS ABURTOVOn-Sale 4/11/18
NETFLIX, SANDRA BULLOCK & 'IT' PRODUCER VERTIGO TEAM ON MILLARWORLD SCI-FI-FANTASY 'REBORN', CHRIS MCKAY TO DIRECT
01/23/19 @ 4:02 pm EST
Source:
Deadline
| Categories:
Reborn
|
Comments
(0) |
E-mail Article
|
Add a Comment
Deadline
is reporting that
Lego Batman
filmmaker Chris McKay will direct Millarworld comic book adaptation
Reborn
for Netflix, Sandra Bullock and
It
producer Vertigo Entertainment.
The sci-fi fantasy comic series by Mark Millar and Greg Capullo tells the story of an eighty year-old woman, Bonnie Black, who dies in a Manhattan hospital only to find herself reborn in the prime of life in the afterlife world of Adystria, a magical land of monsters and dragons where good and evil are waging an eternal war. There, she finds old friends and loved ones waiting, except the husband who died before her. Armed with a sword and partnered with her late father, she sets off through the battle-torn landscape on a quest to find out where he is.
Rumors are circulating that Bullock could potentially lead cast in the movie, which is currently in development.
FROM WAKANDA TO HOLLYWOOD: OSCAR!
01/23/19 @ 3:31 pm EST
Source:
EW
| Categories:
Black Panther
|
Comments
(0) |
E-mail Article
|
Add a Comment
It's hard to discuss Oscars without hearing, in the back of the brain, Billy Crystal's wonderful "Oscar. Oscar, Oscar!" song he did each year at the beginning of the Academy Awards.
This year, everyone will be singing "T'Challa."
On Tuesday, Marvel Studios'
Black Panther
earned the first-ever Best Picture nomintation for a superhero movie. And six more noms to boot!
Considering that it was the highest grossing film in the United States in 2018, it's no surprise
Entertainment Weekly
has deemed
Panther
cover-worthy for their upcoming Oscars 2019 issue.
And here it is: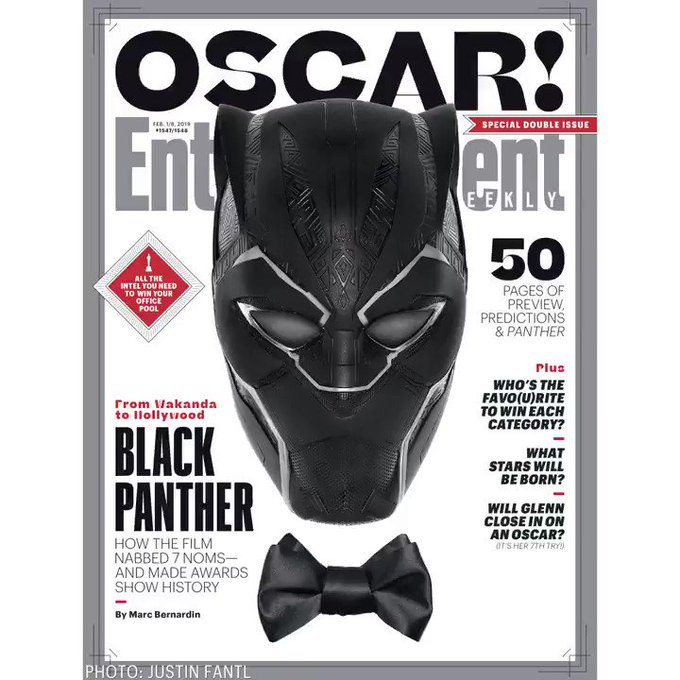 The issue is on newsstands starting Jan 25.
FIRST LOOK AT JON CRYER AS LEX LUTHOR
01/23/19 @ 3:19 pm EST
Source:
The CW
| Categories:
DC
|
Comments
(0) |
E-mail Article
|
Add a Comment
Superman's greatest foe is coming to his cousin's TV show.
Yeah, yeah, you know that, but here is an eyeful to the
Supergirl
news.
The CW
has released a first-look image of actor Jon Cryer's version of ... Lex Luthor!
For those eager to see Cryer's take on the iconic baddie, Luthor will join
Supergirl
on March 17.
BETTIE PAGE GETS UNBOUND THIS APRIL
01/23/19 @ 3:11 pm EST
Source:
Dynamite
| Categories:
Dynamite
|
Comments
(0) |
E-mail Article
|
Add a Comment
Everyone's favorite pin-up queen and icon of femininity, Bettie Page, continues her classified adventures this April with a new series from Dynamite Entertainment and a deluxe set of Bettie cards for collectors!


Welcome to Bettie Page: Unbound aka the Crisis on Infinite Betties! The Lovecraftian Great Old One Yog-Sothoth has established himself as an inter-dimensional archnemesis for everyone's favorite super model/spy (see the fan favorite Bettie Page Halloween Special!). The monstrous being is opening a dimensional gate to kick off an invasion of Earth, collapsing reality itself in the process. Bettie takes the initiative, as always, to run right into the eye of the storm. Suddenly she finds herself a barbarian queen in the ancient past and will stumble into other multiversal freaky Friday situations. Every Bettie Page issue to this point has been leading to this epic climax.

David Avallone (Elvira, Doc Savage: Ring of Fire) brings the whole gang back for this exciting new chapter. Joining their ingenious writer ringleader are artist Julius Ohta (Sherlock Holmes: Vanishing Man), colorist Ellie Wright (Sherlock Holmes: Vanishing Man) and letterer Taylor Esposito (Batman, Aquaman, Elvira). The team cannot wait to continue uncovering Bettie's secret sagas for fans.

On the cover art front, Bettie is "unbound" from the attitudes of her time and free to express herself in a way she would surely enjoy - cosplay! The Queen of Curves dons a certain Dynamite flagship hero's iconic chainmail armor for a main cover by John Royle (Project Superpowers, G.I. Joe). Fans of Bettie and other Dynamite heroines can look out for a Vampirella variant and possibly more... Scott Chantler (Northwest Passage) returns with his cute take on Bettie's timeless appeal as well. David Williams (Justice League of America) and Julius Ohta round out the options. Of course no Bettie Page comic book is complete without photo variants highlighting her incomparable looks and charm.




Avallone will not shut up about the new series, so without further ado, here is what he had to say, "I never imagined going quite this 'big' with Bettie… but this 'Crisis' idea sounded like so much fun, I really wanted to write it. Having passed that hurdle, my first question was… do I get to keep my amazing team? And the answer, thankfully, was yes."

Proceeding to gush over his team, Avallone said, "Julius Ohta is a dream collaborator: he has a true gift for likeness (his Bettie IS Bettie), a great sense of pace and drama, and he shares my obsession with period detail, costumes, props, settings, etc. On top of all that, the art itself is, objectively, beautiful to look at. Colorist Ellie Wright is relatively new, but I think her work on Bettie so far demonstrates world-class talent and if she's this good so early in her career I can't even imagine how astonishing she'll be down the road. Taylor Esposito is – to quote Warren Ellis just the other day – 'one of the best letterers of his generation' – and I couldn't agree more. Who am I to argue with Warren?"


"Bettie Page will not be bound by the human constructs of time and space. Not even a little! She's going to get out there and give it 110% and make sure there is a multiverse safe for you and me," said editor Kevin Ketner in a far more concise manner.

The Bettie Page legacy is coming up on 70 years of inspiring and appealing to men and women alike. The perfect way to celebrate in addition to the new comic series is the Bettie Page Ultra-Premium Deluxe Trading Cards. Bettie's timeless All-American sensuality and playfulness is captured expertly by top of the line artists included in this set including Joseph Michael Linsner, David Williams, John Royle, Scott Chantler and more! Also included are some of the most iconic photographs of the beauty legend. Dynamite will also be bringing in the hottest sketch card artists for one-of-a-kind exclusive pieces. Every individual foil pack includes 2 Base Cards, 2 Sketch Cards, 1 special black & white card, 1 puzzle card, and 1 autographed card.




Bettie Page Unbound #1 and the Bettie Page Ultra-Premium Deluxe Trading Cards will be solicited in Diamond Comic Distributors' February 2019 Previews catalog, the premier source of merchandise for the comic book specialty market, and slated for release in April 2019. Comic book fans are encouraged to preorder copies with their local comic book retailers. It will also be available for individual customer purchase through digital platforms courtesy of Comixology, Kindle, iBooks, Google Play, Dynamite Digital, ComicsPlus, and more!
MARVEL TEAM-UP RETURNS THIS APRIL WITH EVE EWING AND JOEY VAZQUEZ
01/22/19 @ 7:49 pm EST
Source:
Marvel
| Categories:
Marvel
|
Comments
(0) |
E-mail Article
|
Add a Comment
Marvel is excited to announce that this April, award-winning author and
Ironheart
writer Eve Ewing will helm the first arc of MARVEL TEAM-UP #1 along with artist Joey Vazquez (
Spider-Geddon
), with covers by Stefano Caselli! Announced today on The Chicago Tribune, the first story of the thrilling new series will see Ms. Marvel and Spider-Man undertaking an epic adventure together.
"I don't want to reveal too much, but my goal with the story is to have maximum fun with two characters that are both really sweet and really cool people who are fan favorites (and faves of mine), and to put them both in some delightful awkward and uncomfortable situations where they have to stretch to the limits of their abilities," Ewing teased to the Tribune.
MARVEL TEAM-UP #1Written by EVE EWINGArt by JOEY VAZQUEZCover by STEFANO CASELLIVariant Cover by PACO MEDINAVariant Cover by TODD NAUCK
IDW ASSEMBLES A WRITER'S ROOM OF COMIC BOOK VISIONARIES FOR BRAND-NEW STAR TREK: YEAR FIVE SERIES
01/22/19 @ 7:44 pm EST
Source:
IDW
| Categories:
IDW
|
Comments
(0) |
E-mail Article
|
Add a Comment
IDW Publishing proudly embarks on the U.S.S. Enterprise'shomeward journey with Star Trek: Year Five, a monthly comic book series debuting in April 2019. A sweeping space odyssey developed by a brain trust of exceptional writers, Year Five welcomes co-writers Jackson Lanzing, Collin Kelly, and artist Stephen Thompson for its opening story arc, and – painting Star Trek for the first time in all his 60 years of professional illustration – Greg Hildebrandt as cover artist for the debut issue.


In Star Trek: Year Five, the crew of the Enterprise have traveled to strange new worlds, defeated impossible foes, and made universe-changing decisions. But with the end in sight, they'll have to face their biggest challenge yet. Step aboard the Enterprise with Kirk, Spock, Bones, and Uhura on a voyage towards an uncertain future!

"Year Five will be a vital, hard-hitting, character-focused look at Captain Kirk on his last year in command," says Jackson Lanzing. "His actions will have huge ripple effects, from the outbreak of war in the Alpha Quadrant to an unprecedented strain of trust with Spock. We'll turn a mirror on our modern society, just as Trekdid in the 1960s, and go boldly towards meaningful, heartfelt stories."

IDW's continuing Star Trek: Year Five series, under license by CBS Consumer Products, will be nurtured by a collaborative writer's room (including Brandon Easton, Jody Houser, Jim McCann, and the aforementioned Lanzing and Kelly), working together to craft the overall journey while swapping writing chores specific to each story arc. As Lanzing explains, "We'll tell an ongoing narrative with a beginning, a game-changing middle, and a definite end… and do so with some of the best writers in comics contributing their unique, diverse voices and ideas."

"The opportunity to be a part of this monumental legacy is an unbelievable trust. With Year Five, we don't just want to thrill – we want to channel the power of Roddenberry's original vision, to tell a story about the future that illuminates our present," says Collin Kelly. "It's time for the Enterprise to come home… but first, they'll have to face an enemy that's been waiting in the shadows since 1968."

"I have been a fan of Star Trek right from the beginning in 1966," says Greg Hildebrandt. "I admired the social, moral, and political statements that were obvious in Gene Roddenberry's plot lines. I feel that the original was and is one of the best shows ever on TV, and clearly the inspiration for all the Space Operas that have followed. It was an honor to paint this cover art of the original cast. Having never painted Trekbefore, it was a kick for me at 80 years old."

Reinforcing the importance of Hildebrandt's first-ever contribution to the iconic Star Trek franchise, IDW will also proudly showcase this impactful illustration as the cover to the April 2019 edition of Previews, the internationally-distributed catalog that serves as the premier source of merchandise for the comic book specialty market.
THIRTEEN IMAGE COMICS TITLES MAKE YALSA'S 2019 GREAT GRAPHIC NOVELS FOR TEENS LIST AHEAD OF THIS WEEKEND'S ALA MIDWINTER PROGRAMMING
01/22/19 @ 7:43 pm EST
Source:
Image
| Categories:
Image
|
Comments
(0) |
E-mail Article
|
Add a Comment
Image Comics is pleased to announce a total of 13 titles listed on
YALSA's 2019 Great Graphic Novels for Teens list—a new record for the publisher. The list includes:
Bingo Love, Vol. 1
by Tee Franklin
Coyotes, Vol. 1
by Sean Lewis & Caitlin Yarsky
Descender, Vol. 5: Rise of the Robots
by Jeff Lemire & Dustin Nguyen
Descender, Vol. 6: The Machine War
by Jeff Lemire & Dustin Nguyen
Monstress, Vol. 3
by Marjorie Liu & Sana Takeda
Motor Crush, Vol. 2
by Brenden Fletcher, Cameron Stewart & Babs Tarr
Paper Girls, Vol. 4
by Brian K. Vaughan & Cliff Chiang
Royal City, Vol. 2: Sonic Youth
by Jeff Lemire
Royal City, Vol. 3: We All Float On
by Jeff Lemire
Scales & Scoundrels, Vol. 1: Into the Dragon's Maw
by Sebastian Girner & Galaad
Skyward, Vol. 1: My Low-G Life
by Joe Henderson & Lee Garbett
Sleepless, Vol. 1
by Leila del Duca & Sarah Vaughn
Son of Shaolin
by Jay Longino & Caanan White
To read the full list of titles,
click here
. The Young Adult Library Services Association (YALSA) is a division of the American Library Association (ALA).
Librarians and bookstore retailers attending this weekend's ALA Midwinter Conference are invited to learn more about these excellent graphic novels by visiting the Image Comics booth (#2048) for exciting creator signings, free samples, books, swag, special-edition librarian-only T-shirts, and the chance to talk to your favorite comics writers and artists.


ALA MIDWINTER 2019
IMAGE COMICS EVENT SCHEDULE (BOOTH #2048)Friday, January 25th, 20196:00 PM - 7:00 PM
– Exhibit Hall, Booth #2048
Creator Booth Time / Signing - Eric Shanower (
Age of Bronze
)
Saturday, January 26th, 201909:00 AM - 10:00 AM
– Exhibit Hall, Booth #2048
Creator Booth Time / Signing - Christopher Sebela (
Crowded, Shanghai Red
)
10:10 AM - 11:10 AM
– Exhibit Hall, Booth #2048
Creator Booth Time / Signing - Eric Shanower (
Age of Bronze
)
1:40 PM - 2:40 PM
– Exhibit Hall, Booth #2048
Creator Booth Time / Signing - Joseph Keatinge (
Flavor, Stellar
)
2:50 PM - 3:50 PM
– Exhibit Hall, Booth #2048
Creator Booth Time / Signing - Chelsea Cain & Lia Miternique (
Man-Eaters
)
4:00 PM – 4:50 PM
– Exhibit Hall, PopTop Stage
Adapting Graphic Novels for Programming and Lesson Planning - Chloe Ramos-Peterson, Eric Shanower (
Age of Bronze
)
Sunday, January 27th, 20197:00 AM - 8:00 AM
– WSCC, Room 303 – RSVP Required
GNCRT Publisher's Breakfast - Chloe Ramos-Peterson, Chelsea Cain (
Man-Eaters
), Christopher Sebela (
Crowded, Shanghai Red
)
10:00 AM - 11:00 AM
– Exhibit Hall, Booth #2048
Creator Booth Time / Signing - Christopher Sebela (
Crowded, Shanghai Red
)
1:00 PM - 2:00 PM
– Exhibit Hall, Booth #2048
Creator Booth Time / Signing - Emily Powell & Eliza Fantastic Mohan (
Man-Eaters
)
Monday, January 28th, 2019
11:10 AM - 11:40 AM – Exhibit Hall, Book Buzz Theater
Image Comics - 2019 Book Buzz Preview
FEMINIST TEEN GRAPHIC NOVEL MAN-EATERS, VOL. 1 WILL HIT BOOKSTORES WITH EXCLUSIVE SIGNED EDITION FOR INDEPENDENT BOOKSTORE DAY 2019
01/22/19 @ 7:31 pm EST
Source:
Image
| Categories:
Image
|
Comments
(0) |
E-mail Article
|
Add a Comment
Eisner-nominated and
New York Times
bestselling thriller writer Chelsea Cain, artist Kate Niemczyk, colorist Rachelle Rosenberg, and letterer Joe Caramagna of the controversial and buzzed about comic
Mockingbird
team with Lia Miternique and Stella Greenvoss to launch a hot new feminist sci-fi series for teens this March with
Man-Eaters, Vol. 1
. In celebration of the new series, an additional, exclusive, signed edition will be available for Independent Bookstore Day on Saturday, April 27.
On the heels of Marvel's unexpected cancellation of Cain's The Vision series, support of
Man-Eaters
went viral across the social media sphere with signal blasts from mainstream media covering the Marvel slight and ironic timing with her new series,
Man-Eaters
. The hot new title can best be described as Kelly Sue DeConnick and Valentine DeLandro's
Bitch Planet
meets Margaret Atwood's
The Handmaid's Tale
.
In
Man-Eaters
, readers are introduced to a world where a mutation in Toxoplasmosis causes menstruating women to turn into ferocious killer wildcats—easily provoked and extremely dangerous. As panic spreads and paranoia takes root, the fate of the world rides on the shoulders of one 12-year-old girl. Part
Cat People
, part Naomi Alderman's
The Power
,
Man-Eaters
has an all pro-feline agenda.
Bookstores interested in submitting Independent Bookstore Day orders must do so by Friday, February 1, 2019.
Man-Eaters, Vol. 1
(ISBN: 978-1-5343-1143-5, Diamond Code DEC180123) hits comic book stores on Wednesday, Feb 27 and bookstores on Tuesday, March 5. The final order cutoff deadline for comics retailers is Monday, Jan 14.
It is available for pre-order on Amazon, Barnes & Noble, Books-a-Million, IndieBound, and Indigo. Fans can also subscribe to receive the series delivered by mail within the domestic U.S. on Image Direct.
For digital readers,
Man-Eaters
is available for purchase across many digital platforms, including the official Image Comics iOS app, Amazon Kindle, Apple Books, comiXology, and Google Play.
FILMMAKER MACON BLAIR BRINGS YOU 'LONG ROAD TO LIQUOR CITY'
01/22/19 @ 7:27 pm EST
Source:
Oni Press
| Categories:
MIsc
|
Comments
(0) |
E-mail Article
|
Add a Comment
Jumping trains and throwing pies! The oogles have nothing on Oni Press's new original graphic novel,
Long Road to Liquor City
. Written by Macon Blair, Gotham Independent Film Award Breakthrough Actor nominee and director of the Portland-based film, I Don't Feel at Home in This World Anymore, with art by Eisner-nominated author and illustrator of Science Comics, Joe Flood, comes a Great Depression-era adventure comedy about love, friendship, and the pursuit of happiness.

As jaunty hobos Jed and Thanny crisscross the country in search of the fabled Liquor City, they are pursued relentlessly by fearsome rail yard sergeant Ronan O'Feathers, who wrongly blames them for his wife's death. With the the law on their tails and a succession of colorful characters along the way, the only constant is the absurdity and mayhem they leave in their wake on the Long Road to Liquor City.

"Long Road to Liquor City has been a passion project of ours for ten years, with Joe and I chipping away at it bit by bit in between our day jobs," said Macon Blair. "Hard to believe it's actually coming out! It began as a 'hobo comedy adventure,' but with time I've come to see it as a love story. All our train-hopping heroes have in the world is each other, no amount of moonshine or hot dogs can change that, but being road partners is hard stuff and the fun of this book is putting their relationship to the test in increasingly dangerous ways. We always wanted to balance the laughs with heart."

"Creating the art for Long Road to Liquor City was a metaphorical road that stretches across most of my career to this point," said Joe Flood. "Macon handed me the script shortly after finishing our first graphic novel project together and I might have bitten off more than I could chew, but the persistence of both myself, Macon, and our editor resulted in a book that I'm not only proud of, but I find is an excellent cross-section of my growth as a comic artist."

Long Road to Liquor City lands in bookstores and comic shops on February 19th.


KISS ROCKS ON UNTIL THE END
01/22/19 @ 7:22 pm EST
Source:
Dynamite
| Categories:
Kiss
|
Comments
(0) |
E-mail Article
|
Add a Comment
All good things must come to an end... and having a great build up helps! Dynamite Entertainment announces
KISS: THE END
, a rocking new series to celebrate the legendary eponymous band's upcoming history-making farewell "End of the Road Tour."
A young man finds himself possibly dead and wrangling with some of life's most eternal questions. It's a good thing he runs into Death, who sets him on a path to track down their own demon offspring. His prophetic guides in this quest are none other than the otherworldly KISS - The Starchild, The Demon, The Spaceman and The Catman. Their help will be needed, with plenty of peril along the way.
Writer Amy Chu (
Red Sonja, Poison Ivy
) returns to the franchise that she helped Dynamite launch with the breakout hit 2016 ongoing series. Joining her is electrifying artist Edu Menna (
Twilight Zone, ZNation
) and letterer Troy Peteri (
Amazing Spider-Man, Witchblade
)!
Fans have a choice between multiple show stopping covers. Stuart Sayger
(Vampirella vs.
Reanimator) returns following his jaw-dropping pieces for Bryan Edward Hill's
KISS: Blood and Stardust.
Joining him is recent rising star Jorge Fornés (
Batman, Magnus
). Denis Medri (
Red Hood/Arsenal)
rounds out this setlist of cover artists. Plus of course a fourth option of classic KISS photos from their incredible library!
"I'm totally stoked to be back on KISS, especially for the final tour. And to be working with Edu Menna who drew my friend Craig Engler's ZNation, it's pretty awesome!," said writer Amy Chu. "I'll be incorporating parts of the actual tour and KISS history into the storyline, and expect lots of Easter eggs, just like in the previous Elder run!"
Artist Edu Menna shared, "I've listened to KISS since my teenage years and their Unplugged album is a favorite. I've followed Amy's work and have had 'envy' of artists who partnered with her...finally my turn arrived! I always try to bring something new for each project. In this work I want to use my style combined with the elegance of the European masters. I hope fans enjoy what we're putting together."
"A lot of books have rock and a lot of books have roll, but none of them are going to combine the two like we are with this one. This is the first comic that is going to make your ears ring," said editor Kevin Ketner. "So go hydrate, do some stretches, and get your LCS to pre-order your copy."
KISS: The End
#1 will be solicited in Diamond Comic Distributors' February 2019 Previews catalog, the premier source of merchandise for the comic book specialty market, and slated for release in April 2019. Comic book fans are encouraged to preorder copies of the issue with their local comic book retailers. It will also be available for individual customer purchase through digital platforms courtesy of Comixology, Kindle, iBooks, Google Play, Dynamite Digital, ComicsPlus, and more!