MARY JANE BUST SOLD-OUT!
First Collaboration With Sculptor Clayburn Moore a Smash Success
July 23, 2003, Runnemede, NJ – The first collaboration between Dynamic Forces, Inc. and Master Sculptor Clayburn Moore's Moore Collectibles has sold out from Dynamic Forces! The bust, depicting, for the first time ever, the classic John Romita Sr. version of Peter Parker's main squeeze Mary Jane Watson, is being released to comic shops across the country in the next few weeks.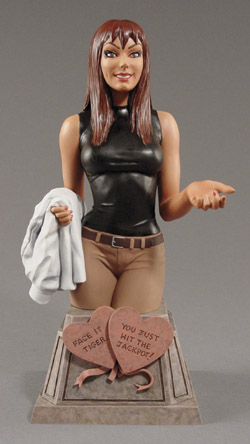 "So, I just find a Green Goblin Full-Sized Head Bust for myself on eBay, and now I've got to head back over and look for MJ," said Nick Barrucci, President of Dynamic Forces. "The secondary market is getting hot with these sell outs! And fans are loving the combined work of DF and Moore Collectibles!"
"Clay did such a beautiful job on this piece, that the news of this sell-out is not surprising in the least. We are looking forward to our next project [Clay's interpretation of Wolverine as depicted in the classic Uncanny X-Men #132] being an even bigger success. I'll make sure to snag a Wolverine the moment it comes off the dock!"
Standing 8" tall, atop a base inscribed with MJ's classic intro line "Face it Tiger, You just Hit the Jackpot", Mary Jane was limited to 1966 production units, and sculpted by Clayburn Moore, based on John Romita Sr.'s original designs of the character.
For more information on Dynamic Forces specialty merchandise, product art, exclusive creator interviews and upcoming releases - including more Marvel Comics Product, please visit the Dynamic Forces website at www.dynamicforces.com
------------------------
- Dynamic Forces is the comic book and collectible industry's top producer of limited edition comic books, lithographs, and more.
A licensee of DC Comics, Marvel Comics, Top Cow Comics, Dark Horse Comics, Universal Studios, Paramount Studios, Pressman Film's classic film "The Crow", Sony Pictures "Underworld", T2, Sandy Frank Productions "Battle of the Planets (G-Force)", Jim Starlin's "Dreadstar" and many other industry giants, DF continues to set the pace in the comic collector and comic memorabilia markets. Recent product line expansions includes: action figures, vinyl and poly resin statues, lunchboxes, trading cards, lithographs, giclees, apparel and much more!
- Founded in Austin, TX in 1993, Moore Creations, Inc. is a collectible sculpting company, specializing in the production and distribution of licensed sculptures of comic book and entertainment industry characters. We offer high-quality, limited edition sculptures (statues, busts, ornaments) available for wholesale and direct purchase.
Current licenses in the comic industry include Top Cow properties Fathom and Witchblade, and Eric Larsen's Savage Dragon, Terry Moore's Strangers in Paradise, and David Mack's Kabuki. Entertainment industry licenses include Fox Entertainment's popular television series, Angel and Buffy the Vampire Slayer.
Moore Creations, Inc. and Moore Action Collectibles, Inc. are partner corporations located in Fort Worth, TX. For more information regarding our companies and/or product lines, please visit our web sites at www.moorecreations.com and www.mooreaction.com.