NEW EXCLUSIVE MARVEL BUSTS!
Earth X and Enchantress Prepped For December Release!
August 27, 2003, Runnemede, NJ – Continuing the incredible line of Marvel Comics character Busts, Dioramas and Statues, Dynamic Forces unveils three new pieces this coming Holiday Season!
First up is the beautiful Enchantress, created for the first time-ever as a collectible bust. Next, we have two Earth X releases, each overseen by Alex Ross himself! Pre-Orders for these limited editions are now being taken, check with your local retailer or the Dynamic Forces website (www.dynamicforces.com) for more details!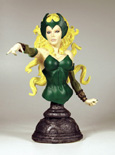 o ENCHANTRESS 9" BUST
http://www.dynamicforces.com/htmlfiles/p-C98595.html
From her first appearance in Journey Into Mystery #103, Amora the Enchantress has been a beautiful thorn in Thor's side…
Now, Dynamic Forces presents their first-ever Enchantress 9" Bust, capturing the deadly beauty as she prepares again to lure Thor into a lover's embrace. Sculpted and Painted by The Kucharek Bros., our Enchantress Bust captures the essence of this stunning Asgardian, and will be the jewel in your collection!
$89.99 Suggested Retail Price.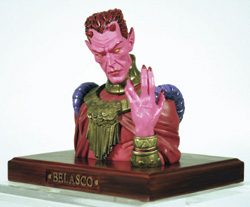 o EARTH X: BELASCO BUST (RESOLICITED)
http://www.dynamicforces.com/htmlfiles/p-C96489.html
Continuing our series of Earth X busts designed and overseen by Alex Ross himself Dynamic Forces now unleashes the "devil" himself -- Belasco!
Since he first menaced the X-Men and robbed Illyana Rasputin of her innocence and childhood the dread lord of the Netherworld has been a powerful force of evil in the Marvel Universe! Now he practices his devilish tricks in the world of Earth X and for the first time ever he comes fully to life as an Earth X Bust from Dynamic Forces! Designed by Alex Ross, sculpted by Pablo Viggiano and painted by Viggiano and Rodolfo Laborde Belasco, this bad boy stands just under 5" in height atop his uniform Earth X base and is full of the detail and quality you've come to expect from all of our Earth X releases!
$40.00 Suggested Retail Price.
Limited to only 500 units in the world!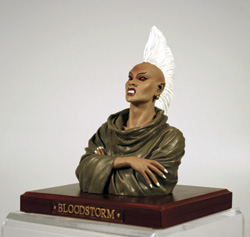 o EARTH X: BLOODSTORM VARIANT BUST
http://www.dynamicforces.com/htmlfiles/p-C97752.html
The twisted world of Earth X has yielded the most beautiful Storm bust of all time as Dynamic Forces presents Bloodstorm, now available in a special head sculpt variant edition!
Designed by Alex Ross and sculpted and painted by Gabriel Marquez the Earth X: Bloodstorm Bust measures approximately 6 1/2 high with the base and is seated atop the Earth X base to unify her with our previous Earth X releases.
This bust features Alex Ross' version of Storm with her Mohawk haircut and blood-red eyes. The detail is simply amazing as every deadly feature from the wrinkles in her brown cloak to her fingertips and sharpened nails and her 3 earrings with those haunted blood red eyes is unparalleled by any other previous Storm bust. The variant features Storm's exposed vampiric mouth, ready to strike! Strictly limited to only 450 units in the world, this beautiful bust will be adored throughout eternity by those who claim Bloodstorm's seductive and deadly beauty as their own.
$40.00 Suggested Retail Price.
Limited to only 450 units in the world!
Retailer Note – These items are Advance Solicited and will be shipping in December! Ordering Incentives also available -- please contact Dynamic Forces for more details!
For more information on Dynamic Forces specialty merchandise, product art, exclusive creator interviews and upcoming releases - including more Marvel Comics Product, please visit the Dynamic Forces website at www.dynamicforces.com
------------------------
Dynamic Forces is the comic book and collectible industry's top producer of limited edition comic books, lithographs, and more.
A licensee of DC Comics, Marvel Comics, Top Cow Comics, Dark Horse Comics, Universal Studios, Paramount Studios, Pressman Film's classic film "The Crow", Sony Pictures "Underworld", T2, Sandy Frank Productions "Battle of the Planets (G-Force)", Jim Starlin's "Dreadstar" and many other industry giants, DF continues to set the pace in the comic collector and comic memorabilia markets. Recent product line expansions includes: action figures, vinyl and poly resin statues, lunchboxes, trading cards, lithographs, giclees, apparel and much more!