AARON DURAN

SEND THIS TO A FRIEND!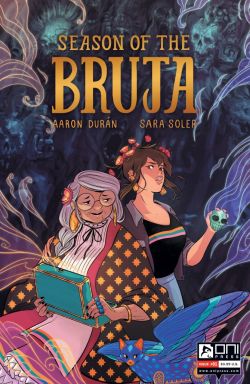 DF Interview: Aaron Durán places family magic and cultural lore centerstage in his new Latinx mini-series 'Season of the Bruja'
By Byron Brewer
Althalia Cabrera might seem like any other witchy Portland hipster whiling away her days behind the counter of a freaky occult museum, but there's more to her whole deal than a trendy pursuit of the craft. Althalia is a bruja by blood—the youngest in a long line of powerful magic users from a long-ago culture indigenous to Mexico. In her twenty years, Althalia has studied with her loving abuela by her side, supporting and mentoring her use of the family magic, and protecting her from the darkest parts of their practice's history. But just as Althalia's inner light and power begin to shine, the darkness of the past finds its way into her world and strikes a tragic blow, testing Althalia in ways she might not be prepared to survive.
From Oni Press comes Season of the Bruja, written by Aaron Durán, and illustrated and colored by artist Sara Soler (Us). As a true fan of magic and mysticism in comic tales, I was eager to discuss this coming five-issue mini-series with scribe Aaron Durán.
Byron Brewer: Aaron, Season of the Bruja seems to be a very personal project for you. Tell readers about its genesis as a comic and what it means to you as author.
Aaron Durán: It's honestly hard to pinpoint just exactly where the story began in my head. Like many personal discoveries, it started very small, like something as simple as making a family recipe – a recipe that none of my cousins knew anymore, which got me thinking just how much of our family history, our cultural history, was slipping away. Not out of some blatant force, but the slow erosion that can come with full assimilation. For generations, my family worked hard to be "100 percent American" and I think that unintentionally made certain traditions fall by the wayside. The Season of the Bruja is very much my attempt to reconnect those traditions and stories. I am legit learning what it means to be of mixed heritage and discovering my ancestral past right along with Althalia.
Byron: … Speaking of whom, introduce us to Althalia Cabrera as a character and as a sorceress. What can you tell us about her relationship with her grandmother?
Aaron Durán: Althalia has always had an interest in anything weird or odd. I like to imagine her being the kid who brought home bones and feathers she saw in the playground and wondering why everyone thought she was creepy. But she was also made aware at a very young age that it wasn't just her interests that separated her. She also looked a little different from her peers and the food she brought to school wasn't your typical PB&J; something I think a lot of immigrants or mixed-race kids can identify with. But even beyond that, her ability to see, manifest, and manipulate the spirits of the dead started early. Her grandmother saw those abilities within her and instead of telling Althalia to suppress them, she brought her into the family lineage. Having been separated from her parents at a very young age, Althalia sees her grandmother as her one and only connection to her family. They are very loving, open, and honest with each other.
Byron: Althalia in the book comes from a line of witches that have origins in a long-ago culture indigenous to Mexico. Is this an actual culture in our real world? If not, can you tell readers who the culture is modeled after? Fascinating.
Aaron Durán: It's a little bit from column A and column B. Bruja (or Brujo) means "witch" in Spanish, but that word carries a lot of historical weight. With the European colonization of Central and South America, indigenous beliefs became intertwined within Catholicism. You get these hybrid holidays like Day of the Dead that incorporates ancient Aztec thoughts on the dead with Catholic symbolism. Althalia herself is a living example of that mixture. Her powers draw upon pre-colonial ancestors and teachings, while trying to find the balance within the symbolism of modern brujas. Like many who call themselves brujas or brujos today, Althalia is seeking that balance and her place within it. But she also uses the term and teachings as a source of resistance against the status quo. Historically the spiritual beliefs and traditions of indigenous people was forbidden and needed to be practiced in secrecy. Althalia no longer needs to do that and with the discovery comes a sense of true power, but also danger.
Byron: What other characters come alive in this mini-series that readers should know about? Can you spotlight a few here?
Aaron Durán: I think readers will enjoy Althalia's coworkers at the Golden Rose Oddities Museum, both of whom are a part of Central and Northern American mythology. It's hard to delve too deep into them without giving a whole lot away, but I can say Althalia works in a strange environment where her bruja abilities might be the least weird thing there. I can give a special shout out to the familiars you'll meet in the books. Both Althalia and her abuela, Isadora, have their own companions. Unlike your standard familiars from European tales, they each have the own Alebrije, which are based on brightly colored folk sculptures and are made of two or three other animals. They aren't necessarily historically correct when it comes to the Aztecs, but they are a quintessentially Mexican form of art and culture, so they felt like a natural fit into our stories. And I must give artist Sara Soler 100 percent of the credit for their creations. She sent me some cute sketches of them, and I immediately fell in love and found a way to make them essential elements to the story.
Byron: If you would, give us an extended elevator pitch for the overall storyline of the book.
Aaron Durán: Althalia Cabrera just wants a normal life, even if her normal means working with shape changers and dusting creepy dolls possessed by horrific demons. Alas, when the teachings of her Aztec ancestors wake up ancient grudges between supernatural superpowers, normal takes a backseat to survival.
Byron: Althalia's grandmother has been shielding the young sorceress from the "Dark Side", as it were, of her magic. Does this darkness have any type of personification, a representative avatar we would perhaps call this series' big-bad?
Aaron Durán: Well, to say she is shielding Althalia isn't wholly correct. Her abuela has made sure Althalia learns and practices her gifts and powers in a way that's safe and responsible while at the same time making sure her granddaughter understands that her powers don't come from some 100 percent benevolent source. Like most things of the past, we tend to sugarcoat things or turn a blind eye to the truth. Her grandmother refuses to do that. As for this power having a personification, it very much does. But those are one of those secrets readers will have to learn in the series. I can promise, one big-bad is never enough and Althalia has really stirred the pot.
Byron: Talk about working with artist Sara Soler. What has she brought to your script?
Aaron Durán: Sara is a dream to work with and I couldn't be happier (or lucky) to have her on Season of the Bruja. Her art style for this book wasn't what I initially had in mind when I was first writing the story, but now I can't imagine any other style or artist working on the book. I've been reading and writing comics in one form or another for so long it would be easy for me to fall into a stale form of storytelling and Sara is the exact opposite. Her art is so full of life and energy, it is truly the power that fuels the entire series. As for what she brought, apart from her amazing skill, are the two Alebrije she created. Those creations sent the story in a wonderful direction and helped create a stronger narrative.
Byron: Aaron, are there any other projects inside or outside comics in which you are involved that you can tell readers about?
Aaron Durán: Within the world of comics, I am writing a new creator-owned series called Dial F for Foodie from Chispa Comics, a new Latinx imprint from Scout Comics. If all goes as planned, you'll be seeing that in late 2022. Outside of comics, I continue to co-host and produce Geek in the City Radio, a pop culture podcast that is going on its 16th year. We try to cover the latest in geeky media as well as interview creators, creators like Kelly Sue DeConnick whom we interviewed in late November this year.
Dynamic Forces would like to thank Aaron Durán for taking time out of his busy schedule to answer our questions. Season of the Bruja #1 from Oni Press is slated to be on sale March 16th!
For more news and up-to-date announcements, join us here at Dynamic Forces, www.dynamicforces.com/htmlfiles/, "LIKE" us on Facebook, www.facebook.com/dynamicforcesinc, and follow us on Twitter, www.twitter.com/dynamicforces.
---
NEW! 1. 02/10/2022 - SIMON SPURRIER
4. 01/31/2022 - TIM SEELEY & AARON CAMPBELL
5. 01/27/2022 - TYLER BURTON SMITH