B. DAVE WALTERS

SEND THIS TO A FRIEND!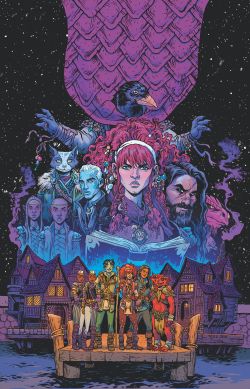 DF Interview: B. Dave Walters enters Forgotten Realms in 'Dungeons & Dragons: A Darkened Wish'
By Byron Brewer
When war threatens the Moonshae Isles, legendary heroes return to defeat the forces of an unthinkable foe. The Forgotten Realms are changed forever as young wizard Helene and her friends grow from raw recruits on the streets of Mintarn into powerful warriors.
Creators B. Dave Walters (Stream of Many Eyes, Geek & Sundry, The Rundown) and Tess Fowler (Kid Lobotomy, Critter) join forces to bring you an all-new D&D adventure of epic scope and flair! DF loves D&D, so we chatted up this latest comics offering with writer B. Dave Walters.
Dynamic Forces: You have said you've "been adventuring in Forgotten Realms for a long time." Can you elaborate on your history with Dungeons & Dragons as a fan and player?
B. Dave Walters: I've been playing for nearly 30 years, since 2nd Edition. I got into Forgotten Realms in particular with The Icewind Dale trilogy, and never looked back. Getting to set foot in Waterdeep and meet Elminster in the Yawning Portal at the Stream of Many Eyes event was something I'll never ever forget.
DF: From my college days, I know how intricate the dominions of D&D can be. Can you please tell us what is special to you about Forgotten Realms, and what should the uninitiated know about the setting as the backdrop for your mini-series?
B. Dave Walters: I think the real magic of Forgotten Realms is in its depth and complexity. As a high-fantasy setting, I think it's particularly good for providing a canvas to paint whatever sort of picture you want your game to be. While it so happens that the very first Forgotten Realms story was set in the Moonshae Isles, I specifically crafted this narrative to have everything you need built into it; any lore knowledge might come in handy for spotting Easter eggs and nods to other stories.
DF: Can you give readers an extended pitch for A Darkened Wish?
B. Dave Walters: A Darkened Wish is an intense epic centering around the journey of a group of friends from children to legendary heroes to mortal enemies with the fate of the Realms hanging in the balance.
DF: Who is Helene as a character, as a hero? What challenges does she face and why will readers soon care about her?
B. Dave Walters: Helene is everyone who's ever been told to sit down, be quiet, and do as you're told. She's a strong-willed visionary born into a community that lives through the lens of the past. She is trying to find herself in this world, but her face-first approach to life tends to cause her as many problems as it solves. I think seeing her struggle, fall, and get back up again in the face of all odds is the type of thing that will resonate with anyone who follows her story.
DF: Can you tell us about some of the other characters important to A Darkened Wish? Maybe give a capsule description of a few here?
B. Dave Walters: We knew early that we wanted to try and show a diverse cast of characters, often many who tend to be under represented. I'm particularly proud of Karrin and Kerrin the non-binary elven twins. Tess specifically requested a kenku, which is how Solivigant came to be. Xander is a human warrior and pillar of stability while Aiden the aasimar rogue is a scoundrel who speaks the truths when no one else will. Rayonde is a red dragonborn monk trying to find peace in the midst of the fire in his blood.
DF: What are your thoughts on the awesome art of Tess Fowler?
B. Dave Walters: I literally wouldn't be here without her! Her love for D&D and joy for this project shines through in every single panel. I have so much faith in her I intentionally wrote panels with no dialogue at all to make sure her art had room to breathe. She captures these characters with such love and expression that I think it will be very easy to get lost in the pages.
DF: Off the main trail right now, but you have some epic acting chops. Tell us just a bit about that aspect of your overall career, please!
B. Dave Walters: Hey, thanks! I've been very fortunate to have some of the opportunities I've had, especially We're Alive: Frontier and Vampire the Masquerade: LA By Night. I find it funny that I don't particularly care for horror, but my two biggest credits are horror shows! I'm also very proud of Theogony of Kairos, the level 20 Forgotten Realms stream I DM'd which helped me prove I can tell an effective high-level story, which played a big part in me getting to write this book. That show also lead directly to the creation of The Uncommon Trust, which is a group of performers that transcend any one stream or channel. I'm particularly excited about our upcoming fifth edition game: Dragon Slayers on Twitch.tv/QueueTimes!
DF: What other projects, current or near-future, are you involved with, inside or outside comics?
B. Dave Walters: I'm going to be doing more streaming work in the very near future, including a sci-fi show, and a streaming tie-in show for this very project! I'm also in talks to do more comics series, and more screenwriting opportunities are coming in, too, which I'm very grateful for.
But I think I'm MOST excited about headlining D&D in a Castle next July with Eric Campbell, Mark Meer, Kelly Lynne D'Angelo, Rick Budd, (Internet Sensation) Any Dallen, and my fellow members of the Uncommon Trust: Sam de Leve, Alcuin Gersh, Poisal, Ash Minnick, and D'Artagnan Mattaliano. As of this moment, there are still tickets available, so come kick it with us!
In the end, I am just a lucky guy who gets to spend my time telling stories and crafting epic D&D experiences. I am so grateful to everyone who's read or watched something I created, and sincerely hope you enjoy what's coming. I am going to do everything I can to blow your mind!
Dynamic Forces would like to thank B. Dave Waltersfor taking time out of his busy schedule to answer our questions. Dungeons & Dragons: A Darkened Wish #1 from IDW Publishing hits stores Feb. 27th!
For more news and up-to-date announcements, join us here at Dynamic Forces, www.dynamicforces.com/htmlfiles/, "LIKE" us on Facebook, www.facebook.com/dynamicforcesinc, and follow us on Twitter, www.twitter.com/dynamicforces.
---
NEW! 1. 11/25/2020 - STEVE SKROCE
4. 11/16/2020 - RYAN O'SULLIVAN
5. 11/16/2020 - RYAN O'SULLIVAN