ALEJANDRO ARBONA

SEND THIS TO A FRIEND!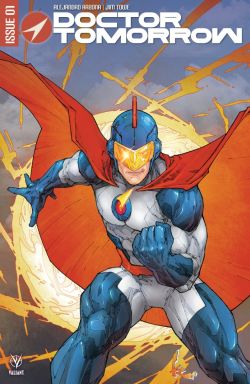 DF Interview: Alejandro Arbona introduces a hero fighting against the future in 'Doctor Tomorrow'
By Byron Brewer
Teen hothead and star athlete Bart Simms is about to meet the Valiant Universe' greatest hero… himself!
The can't-miss superhero adventure of 2020 starts here! From writer Alejandro Arbona and artist Jim Towe comes Doctor Tomorrow. DF wanted to get the full 411 for the coming miniseries, so we chatted up the book with scribe Alejandro Arbona.
Dynamic Forces: Alejandro, before we get into this great comic book proper, relate if you will the genesis of Doctor Tomorrow's return. Your lunch with Valiant Senior Editorial Director Robert Meyers is on its way to industry lore. LOL
Alejandro Arbona: Robert and I have been friends ever since I was an editor at Valiant and we were coworkers. We share a love of good food, and we do dinners and cookouts around wrestling events at Robert's place sometimes, and get delicious meals together from time to time. Last fall, I had been writing, and I'd been pitching ideas to Valiant for a couple of years. Pitching is all about timing; everything I would send them, it would turn out, a comic with that character was already being developed, or the company wanted to save that character for an event later, stuff like that. But they still liked my pitches enough to encourage me to keep trying. So one chilly fall Saturday, Robert and I met up for ramen, and Robert told me they wanted to get something up and running with Doctor Tomorrow. I'm usually the kind of writer and idea person who needs to hole up with a blank notebook for days and scribble out tons of notes and organize my thoughts before I put forth any idea in public. I freeze up, I'm no good on the spot. But luckily, that day I just blurted it out. I said, you know what could be cool…and I just pitched the story's big twist. We'll have to talk again after we're past spoilers to talk about what that was. Then there came weeks and months of outlining and notes and collaborating, but in the end, the comic that you're going to read still plays out exactly like the one sentence of an idea that I blurted out over my bowl of ramen.
DF: Right off the bat, let's introduce our star. Tell our readers what you can about Bart Simms AND Doctor Tomorrow: character, powers, backstory.
Alejandro Arbona: Bart Simms is Doctor Tomorrow…but he's not Doctor Tomorrow yet! Bart's fifteen years old when an adult version of him, the superhero Doctor Tomorrow, seeks him out for help to save the universe. A great battle is about to take place against the time-traveling, multiversal super-villain Hadrian, and Doctor Tomorrow has already lost this battle over and over and over again. Hadrian is just too powerful. This time, Doc needs the help of his younger self to back him up and stop Hadrian once and for all. For Bart, it's an experience in witnessing his adult self in action, and crucially, an opportunity to fight a future that he already knows can't be stopped.
DF: I know you've said this limited series is spoiler-heavy, but dancing around that (we have to say SOMETHING in the interview) what is the overall storyline for the book? Give readers an extended elevator pitch for Doctor Tomorrow.
Alejandro Arbona: Hadrian is coming to the Valiant Universe. At first all we know about him is that he's completely unstoppable and he kills virtually every superhero who tries to fight him. He can travel between multiple universes, and every universe he's gone before this one, he has destroyed it. Doctor Tomorrow fought him in universe after universe, trying to stop him once and for all, and failed repeatedly. Finally, they come to our world, the Valiant Universe. Doctor Tomorrow realizes he needs an assist, and he goes to the only hero who can help him out…Bart Simms, who is the same person as him but still only fifteen years old. That's a lot of pressure to put on a kid.
DF: The storyline is a big, bold and important one, that is certain, and yet there are touches of comedy everywhere. The more you know about the denizens of the Valiant Universe and its history, the more amusing each page is. Why the comedy in what appears to be a straight superhero yarn?
Alejandro Arbona: This is a comic about two things, mainly, and both of them are weird and surreal. It's a comic about a fifteen-year-old, and life is so strange when you're fifteen. All your feelings are so intense and melodramatic, and adults are so messed up, and you can see yourself already starting to turn into one, you feel like one, but at the same time, maybe you don't want to turn out anything like the adults you know. And it's a comic about superheroes and villains who travel through time and hop from parallel universe to parallel universe. When those two things crash together, well, it's just a really funny situation to me. The stakes are so high, our entire universe might be destroyed, but at the same time, it's all so confusing and bizarre. I didn't tell myself that I wanted to write a funny comic, but when I started committing words to the screen, it just felt right. The characters came alive, and this was how they talked. Humor also drives the characterization, in a way which drives the plot in turn. The misunderstandings and misguided assumptions and mistakes that characters make are not only funny, they're telling on themselves.
DF: Speaking of the VU, it would probably be easier to say who ISN'T in the first leg of this tale than who is. Care to name a few of the guest stars for readers here?
Alejandro Arbona: In just the opening pages of issue one, you will see most of Valiant's major heroes, including Ninjak, X-O Manowar, Doctor Mirage, Eternal Warrior, Faith, and Shadowman, plus lots of others, and a few you've never seen before. And they all die!
DF: Woah! … What more can you tell us about Doctor Tomorrow's nemesis, Hadrian?
Alejandro Arbona: I think if you look at Jim's depictions of Hadrian, you'll get everything you need to know about this guy. Just look at the splash page of Hadrian fighting the Valiant heroes. This comic is about an adult man meeting himself as a fifteen-year-old kid, right? Well, when I look at Hadrian, I feel like I'm meeting myself as a fifteen-year-old kid, and that kid's mind is blown. His eyeballs are popping out of his cranium. It's a total Total Recall thing going on. That guy looks so badass and evil! No one can stop him or even slow him down, and nothing but death and destruction follow him everywhere he goes.
DF: Talk about the eye-popping art of Jim Towe.
Alejandro Arbona: Jim didn't just perfectly capture the fun spirit of this comic, he actually did the heaviest lifting to create it. His art is such a perfect combo of explosive comic book bombast, all action and dynamism, with earnest, humorous emotiveness. His characters have a sunny openness that really sells the relationships, and a bright goofiness that really makes the humor work. And his action sequences are explosive! Issue #3 is a wall-to-wall battle amidst flames and wreckage and debris, and Jim never lets up the pace for a second.
DF: Alejandro, besides you day job at Valiant and this book, what other projects, inside or outside comics, can you tell our readers about?
Alejandro Arbona: I've been a comic book editor for almost fifteen years, and that isn't stopping anytime soon just because I'm writing comics now, too. I work very closely with Greg Rucka on all the Image Comics he writes, plus a couple of top-secret new ones coming up. Our comic The Old Guard is back with a sequel kicking off in December, and volume one is being made into a movie starring Charlize Theron, KiKi Layne, and Chiwetel Ejiofor. I also had a rare and exciting chance to work on Ghost in the Shell with an all-new anthology I edited, Global Neural Network, and I'm helping a few writers develop new projects to launch in the next couple of years that I'm really happy with. So I keep busy! And I wrote a couple of kids' non-fic books that I'm really proud of. They're for readers eight and up, but I poured so much of my personal passion and my interests into those books that I've been told adult readers like them a lot, too. One is Awesome Minds: Video Game Creators and it's about the history of video games, starting at their birth deep in the labs of the military-industrial complex, and the other one is Awesome Minds: Comic Book Creators, a book about some of the men and women around the world who influenced the direction of comic book history from the birth of the medium until today. Finally, you'll see me writing more comics in the near future that I can't talk about yet!
Dynamic Forces would like to thank Alejandro Arbona for taking time out of his busy schedule to answer our questions. Doctor Tomorrow #1 from Valiant Comics hits stores on February 19th!
---
NEW! 1. 11/30/2020 - SKYLAR PATRIDGE
5. 11/16/2020 - RYAN O'SULLIVAN