JOSHUA WILLIAMSON

SEND THIS TO A FRIEND!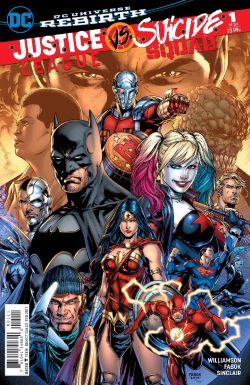 DF Interview: Rebirth DCU explodes with Joshua Williamson's Justice League vs. Suicide Squad
By Byron Brewer
The first major event storyline of DC's Rebirth era begins with a day Amanda Waller always knew would come: the Justice League discovers the existence of the Suicide Squad!
This government-sponsored black-ops team of super-villains with bombs implanted in their brains is obviously a deal-breaker for Earth's paragons of truth and justice. But you can bet that the Wall and her Task Force X won't go down without the fight to end all fights as this weekly series gets underway!
DF wanted to get to the heart of this crossover, so we took Uber downtown to the Hall of Justice and there quizzed writer Joshua Williamson.
Dynamic Forces: Moviegoers know it, but what does this team-up between the Justice League, always a prominent cornerstone of the DCU, with the Suicide Squad say about the latter's position in this world of Rebirth? Josh, just how strong a position does the Squad hold in the Rebirth DCU?
Joshua Williamson: Very strong. And rightfully so. I've been a big fan of Suicide Squad since the original series that spun out of Legends. So to me this is where they should be. They're an amazing team. Also I love the DCU villains so a team of them is right up my alley.
The Squad has been elevated over the years and gained popularity so a match up between the two teams makes a lot of sense. It's a sign of how much faith DC has in the property.
DF: However it happens, this first event in the Rebirth DCU brings Amanda Waller's little secret sect into the light of day for the iconic heroes and everyone else to view. What does that portend for Suicide Squad adventures, post-event?
Joshua Williamson: It will have a lasting impact on the Suicide Squad. But as for what the public thinks of the Squad … it's a complicated answer that gets too much into spoilers for the series.
I will say that just because the League is fighting a team of villains … you think the world will know the difference this time? Or will they already have a lot of other things to worry about?
DF: Will the Justice League's discovery of the Squad equally reveal that Batman has known of its existence all along? What will the others, especially Superman, think of Bats' decision to stay "mum," if so?
Joshua Williamson: In the past, Batman has kept secrets from the League and they have had to find out the hard way. But in our story, the knowledge is coming directly from Batman. It's a sign of trust between Batman and the team. It was important that I not tell another "Batman keeps secrets" story.
Once the Justice League find out about the Squad, they know they have a responsibility to head in that direction. The Squad is their focus … their target.
DF: I am hoping within this two-month adventure (plus tie-ins!) we get some good ol' hero/arch-enemy action. (I'm thinking classic: Batman v. Deadshot, Wonder Woman v. Harley Quinn, The Flash v. Boomerang, et al!) Thoughts?
Joshua Williamson: One of my favorite parts of writing this series has been pairing off the characters in the expected fan favorite match-ups … but also finding new clashes between the two teams. Flash and Boomerang was fun to write. And I think Aquaman vs. Killer Croc will surprise people.
And yeah, I spent a lot of time writing the fights scenes to make them fun and big.
DF: DCE Prez/CCO Geoff Johns has hinted that not only is this the first crossover event of Rebirth (Are we not counting "Night of the Monster Men"?), but that the happenings within will set the stage for Rebirth Phase 2. Non-spoilery, can you tell readers clues for which they might be on the look-out?
Joshua Williamson: "Night of the Monster Men" was for sure an amazing crossover but it was set in the Batman books and focused on that section of the DCU. While Justice League vs. Suicide Squad touches on all of the DCU and has direct ties into the Rebirth story we're building.
It is hard to get into its connections without spoiling things. It sets the tone going forward. It showcases where the DCU is, how the Justice League works as a team and inspires people to do better. It reintroduces some villains to the DCU that haven't been seen in a while and it'll hint at some people knowing more than they ever let on.
DF: Josh, I know you are writing the main event book, but can you tell us what the Suicide Squad and Justice League tie-in books may focus on?
Joshua Williamson: The tie-in issues help build on the story that we're telling in the main book by adding depth to some key characters' pasts and motivations. And Suicide Squad #10 actually acts as an epilogue for the whole event.
DF: This Rebirth crossover is a fanboy's dream book! How does it feel to be writing something so monumental to the DC brand?
Joshua Williamson: It's been one of the most challenging and intense projects I've ever worked on, but I would totally do it again. It was a blast working on so many characters I've always loved. I've been a fan of the DCU since I was a little kid so getting to be a part of such a huge storyline that is so important for the DCU … as you said … it's been a dream come true.
DF: How is it working with artists like Jason Fabok and Tony S. Daniel? Ya got the cream of the crop there!
Joshua Williamson: It's terrific! There is also Jesus Merino, Fernando Pasarin and Robon Rocha … with Howard Porter doing the last issue. They've all really brought their A game to this event. It's awesome getting a chance to work with a wide variety of artists who each bring their own experience and talents to the story. I've learned a lot working with these artists.
And an opportunity to work with Howard Porter has been amazing. I've been a fan of his work since the Ray series from the '90s. And of course his JLA issues with Grant, which I think are some of the most important comics of the modern era of DC.
DF: Josh, eventually, this war between heroes and villains will become a team-up, I take it. What can you tell us about the other "deadly strike team lurking in the shadows" and what that foretells for our heroes – and for the Rebirth DCU – going forward?
Joshua Williamson: The other team of villains consists of Johnny Sorrow, Doctor Polaris, Emerald Empress, Lobo and Rustam, lead by Max Lord. It's a team of powerful heavy hitters who have taken on teams of heroes by themselves in the past. But here, working together, they are more than just deadly … they are sadistic.
It sets up a few players on the stage for the next year in ways that I don't think people will expect.
Dynamic Forces would like to thank Joshua Williamson for taking time out of his busy schedule to answer our questions. Justice League vs. Suicide Squad #1 from DC Comics is in stores now!
For more news and up-to-date announcements, join us here at Dynamic Forces, www.dynamicforces.com/htmlfiles/, "LIKE" us on Facebook, www.facebook.com/dynamicforcesinc, and follow us on Twitter, www.twitter.com/dynamicforces
JUSTICE LEAGUE VS SUICIDE SQUAD #1 SIGNED BY JOSHUA WILLIAMSON
JUSTICE LEAGUE VS SUICIDE SQUAD #1 GOLD ELITE SIGNATURE SERIES SIGNED BY JOSHUA WILLIAMSON
JUSTICE LEAGUE VS SUICIDE SQUAD #2 SIGNED BY JOSHUA WILLIAMSON
JUSTICE LEAGUE VS SUICIDE SQUAD #2 GOLD ELITE SIGNATURE SERIES SIGNED BY JOSHUA WILLIAMSON
FLASH #1 ULTRA-LIMITED EDITION SIGNED IN SCARLET SPEEDSTER RED BY JOSHUA WILLIAMSON!
FLASH REBIRTH #1 SIGNED BY JOSHUA WILLIAMSON!
BIRTHRIGHT #1 SIGNED BY JOSHUA WILLIAMSON
NAILBITER #1 SIGNED IN BLOOD RED BY JOSHUA WILLIAMSON!
---
NEW! 1. 11/25/2020 - STEVE SKROCE
4. 11/16/2020 - RYAN O'SULLIVAN
5. 11/16/2020 - RYAN O'SULLIVAN