BRIAN WOOD & GARRY BROWN

SEND THIS TO A FRIEND!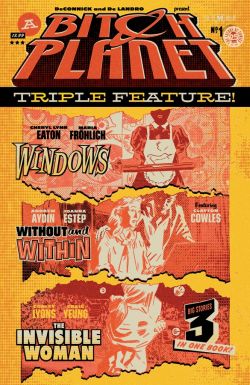 DF Interview: Brian Wood & Garry Brown walk a Black Road
By Byron Brewer
Magnus stalks the mysterious Christian compound on the northern coast, and the full extent of Julia's treachery becomes known. Religious conversions are historically bloody affairs, but this one's looking especially bad.
As Image Comics' Black Road returns for a new arc, DF caught up with creators Brian Wood and Garry Brown to get the 411 on this popular series.
Dynamic Forces: Brian, what back story info does the valued new reader need to know to begin reading the second arc of Black Road, coming in January?
Brian Wood: Not too much. We recap within the story of #6, all the basic info you need. That said, the first volume of the story is already out in trade, and as per normal its less than ten bucks. That's honestly the best way to get up to speed.
More broadly, Black Road is a story about a somewhat disgraced Viking warrior who's freelancing for the incoming Christian army. He's a fixer, to use a modern term. And he uncovers a secret so big that he can barely wrap his mind around it, but it's clear the future course of all of Europe will depend on him.
DF: Tell us about the new arc that begins with issue #6.
Brian Wood: The first ten issues of Black Road are a complete story, so this second half is just that: the second half of the story. If you think of it as a feature length film, we're heading into the third and final act now.
DF: Can you tell us a little how this series came about? Is it something you pitched to Image?
Brian Wood: Yeah, that's pretty much the beginning and the end of it. Garry and I wanted to do something for Image, so I dug around in the ideas folder and this is what we went with. Black Road was originally something called The Death Black, which started its life as a prose novel, and was then repurposed as a pitch for a TV show I was asked to write that never got off the ground. Now we're here.
DF: Anyone familiar with your work knows you never take an "easy way out." What challenges are present for you in handling religion in a comic book, and how do you as a writer meet those challenges?
Brian Wood: It's easy because this specific version of Christianity… it's from the Dark Ages, and bears no resemblance to its modern version. I would also challenge anyone to step up and defend it, this defunct strain based on cultural erasure, torture, hate and discrimination. It makes for a pretty great villain, to be honest. I can write it, and do write it, differently than I would another era. I was raised in a pretty devout household – I can see the difference between the good and the bad.
DF: Tell us about Magnus and Julia as characters.
Brian Wood: Magnus is a loser, heartbroken, lost and bitter. Life dealt him some pretty sh*tty blows, and no one around him stepped up to help. He's able to look through the extremist haze surrounding the Christian faith and see some basic truths deep within in, and they surprisingly give him comfort. So he's fallen into this role as fixer, recognizing the Christian take-over of the pagan lands as inevitable, so he aims to help his native people as best he can with it.
Julia is a servant girl from Rome whose arrival in Norssk is tied to her adopted father's death. She attaches herself to Magnus out of a desire to avenge this death and find closure. Magnus can appreciate that, so he lets her tag along, even as he's oblivious of what may be her true agenda.
DF: Garry, your artwork is very intricate in Black Road and certainly reflects Brian's scripts. What visual reference research did you do, if any, for this series?
Garry Brown: Brian has a lot of photos from when he visited Norway a few years back. So that's been helpful as a visual aid attached to the scripts. I also have large folders full of landscape references, building types, ships, etc. from that era. It helps to have a lot of references but to not be a slave to them. Since this is a fictional story, we have that flexibility.
DF: It isn't easy for the art alone to establish a "mood" in a comic, but yours certainly does. How do you meet this challenge?
Garry Brown: Thanks. I think a lot of it comes from Brian's descriptions. He's good at getting the mood across in the scripts. Plus the weather/environment in Scotland is pretty moody all the time. So I have 30 years of that in my head too.
DF: I take it you designed most of the characters for Black Road? If so, was this a collaborative effort with Brian, who is also an artist, or were you given carte blanche? Who is your favorite character to draw thus far?
Garry Brown: Magnus went through a few iterations until we hit the spot we liked. I knew he was supposed to be big and a bit psychologically broken so I played with that a little. I think my original sketches were a bit too barbarian and not Viking enough. It was helpful to get all that out of the way so we could get to the real Magnus. I think he's described as a stone brick of a man, or as we say in Scotland, built like a brick sh*t house.
Julia was also interesting to get to. I think originally she was older and Arabic back when we were talking about the project. We went back and redid issue #1 and altered her age. It works much better for the story with her younger.
DF: Do you have a favorite scene visually in the issue we are discussing, January's #6?
Garry Brown: It has to be the first few pages. There's a lot of tension and mood in that scene, it's also literally a dark scene. It was fun to do some reverse silhouettes.
DF: Guys, do either of you have projects current or near-future you can share with us?
Brian Wood: Right now I'm working on Aliens: Defiance and Briggs Land at Dark Horse, and co-writing a John Carter miniseries for Dynamite. I'm working on the Briggs Land TV show for AMC. There's a couple of more things lined up for the future.
Garry Brown: Right now, aside from covers, I'm only on Black Road. I usually do two projects at once so I'm sure I'll be back on that schedule after too long.
Dynamic Forces would like to thank Brian Wood and Garry Brown for taking time out of their busy schedules to answer our questions. Black Road #6 from Image Comics hits stores Jan. 18th!
For more news and up-to-date announcements, join us here at Dynamic Forces, www.dynamicforces.com/htmlfiles/, "LIKE" us on Facebook, www.facebook.com/dynamicforcesinc, and follow us on Twitter, www.twitter.com/dynamicforces
JOHN CARTER: THE END #1 - SIGNED BY BRIAN WOOD
JOHN CARTER: THE END #1 RARE GABRIEL HARDMAN "VIRGIN ART" EDITION Written by Brian Wood
X-MEN #1 DEADPOOL VARIANT SILVER SIGNATURE SERIES SIGNED BY BRIAN WOOD!
X-MEN #1 DF EXCLUSIVE GOLD SIGNATURE SERIES SIGNED BY BRIAN WOOD!
X-MEN #1 DF EXCLUSIVE SILVER SIGNATURE SERIES SIGNED BY BRIAN WOOD!
X-MEN #1 DF EXCLUSIVE SIGNED BY BRIAN WOOD!
SOLAR: MAN OF THE ATOM #4 HIGH-END GARRY BROWN "VIRGIN ART" ULTRA-LIMITED
SOLAR: MAN OF THE ATOM #2 HIGH-END GARRY BROWN "VIRGIN ART" ULTRA-LIMITED
SOLAR: MAN OF THE ATOM #1 HIGH-END GARRY BROWN "VIRGIN ART" ULTRA-LIMITED
---
NEW! 1. 11/25/2020 - STEVE SKROCE
4. 11/16/2020 - RYAN O'SULLIVAN
5. 11/16/2020 - RYAN O'SULLIVAN