ADAM GLASS

SEND THIS TO A FRIEND!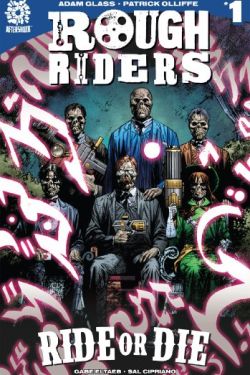 DF Interview: Adam Glass reassembles the Rough Riders for a supernatural romp
By Byron Brewer
From writer Adam Glass and artist Patrick Olliffe, the third volume of AfterShock's series Rough Riders is coming!
It's 1906 and Theodore Roosevelt is the sitting president when a familiar face from his past asks him once again to call upon the Rough Riders to save the world. But this time it's not anarchists or aliens—no, it's something from the great beyond. Something so ancient and inherently evil that the Rough Riders will need to add to their ranks in hopes of defeating it.
Who will be the newest historical figure to have the honor to call themselves a Rough Rider? DF wanted to find out the answer to that question and more, so we sat down with writer Adam Glass to get the 411.
Dynamic Forces: Adam, before we get started on the comic proper, I have just finished the biographical novel River of Doubt, one of Theodore Roosevelt's greatest – and last – adventures. Tell us about your interest in TR and how this period series began.
Adam Glass: I love Candice Millard's River of Doubt. One of my favorite books about Theodore Roosevelt. I always say if I wrote a movie about him, that adventure would be the spine of the story.
My fascination with TR starts growing up in NY and on a school trip to the American Museum of Natural History, I saw out front that Equestrian Statue of Theodore Roosevelt by James Earle Fraser and was always fascinated by him. But it was my love of another figure of that time, Harry Houdini, who really got me hooked on him. While studying up on Houdini, I saw a picture he took on a ship crossing the Atlantic with TR and was reminded this was the same guy in the statue and I went to the public library and just started reading everything I could on him. I like to say that Houdini and Roosevelt were my first superheroes, so after my Suicide Squad run I had a chance to do whatever I wanted and Rough Riders was something I always dreamt of and I'm so glad AfterShock gave me a chance to do it.
DF: Even though this is the Rough Riders' third adventure under your pen, for the uninitiated tell us about history's most infamous team of heroes. Who are they (I love each is an actual historic figure)? Why are they?
Adam Glass: The Rough Riders are five historical figures that come together during the Spanish American War to battle the real threat, which happen to not be Spain but Aliens instead. The team consists of their leader, future president, THEODORE ROOSEVELT. The first black Heavyweight Champion of the world, JACK JOHNSON. A young circus entertainer who will go on to become the most famous magician ever, HARRY HOUDINI. The Wizard of Menlo Park, America's greatest inventor, THOMAS EDISON. America's sweetheart and best shot, ANNIE OAKLEY and finally the first gangster to rise from the pack and make the headlines, MONK EASTMAN.
DF: Tell us about your iteration of Roosevelt. Who is he as a character in Rough Riders?
Adam Glass: I really tried to stay true to Teddy (a nickname he hated, by the way). He was a complicated man. He was this brash, vibrant young president who was macho before Americans even knew what macho was, and yet he was also a serious writer, scientist and historian. He battled depression, uncertainness and could control Congress but not his oldest daughter, Alice. I try to show all those sides in my book.
DF: The group has faced aliens and anarchists. What can you tell us about the challenge they face in Ride or Die?
Adam Glass: Each chapter of Rough Riders has allowed me to dive into different genres. And play with them. Chapter One was most definitely a SCI FI ADVENTURE. Chapter Two was the thriller adventure, and this latest book takes me back to my supernatural roots as I explore the horror genre.
DF: I love this period in time, the turn of the century (these days, you have to say "turn of the 20th century, laughs). America is still young and soon to step up onto the world stage. What type of research, if any, do you do for this type of period adventure?
Adam Glass: When I was a boy I saw the movie The Wild Bunch by Sam Peckinpah. That idea of time changing and men being lost in it always stuck with me. I just fell in love with that time both in literature, Sherlock Holmes, HG Welles, and historically, Theodore Roosevelt, the robber barons, etc… I minored in history in college, read about it ferociously. One day, I would even love to teach it.
DF: Aside from Roosevelt, which I think goes without saying, which Rider has been most enjoyable and/or most challenging to write?
Adam Glass: I love writing Annie Oakley, she's so bold and honest. She's also the funniest. She just says it the way it is. It's so refreshing. Edison can be hard because he's so arrogant and speaks in a certain way. And I really enjoy writing Houdini and Jack together.
DF: How is it working with your Rough Riders artist, Patrick Olliffe? What does his particular artistry bring to this iconic table?
Adam Glass: There is no Rough Riders comic book without Pat, he breaths life into my words and goes way beyond all our expectations with his incredible artistry. But two other unsung heroes of this book are our colorist, Gabe Eltaeb, and letterer, Sal Cipriano. Much like the Rough Riders, I ride or die with this team.
DF: Adam, what else can readers look forward to seeing from you – in and out of comics – in the near-future?
Adam Glass: I have a show that I worked on and ran the writer's room on called the Chi on Showtime. And a big announcement coming up in the spring about a new series I'm working on.
Dynamic Forces would like to thank Adam Glass for taking time out of his busy schedule to answer our questions. Rough Riders: Ride or Die #1 from AfterShock hits stores Feb. 28!
For more news and up-to-date announcements, join us here at Dynamic Forces, www.dynamicforces.com/htmlfiles/, "LIKE" us on Facebook, www.facebook.com/dynamicforcesinc, and follow us on Twitter, www.twitter.com/dynamicforces.
---
NEW! 1. 05/24/2023 - DOUG WAGNER
3. 02/10/2022 - SIMON SPURRIER