SIMON SPURRIER

SEND THIS TO A FRIEND!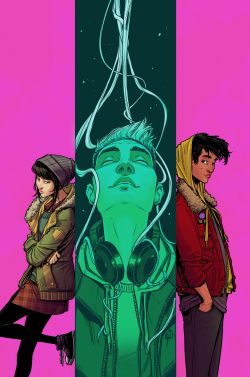 DF Interview: Simon Spurrier tells a coming-of-age story wherein absolute power corrupts absolutely in 'Alienated'
By Byron Brewer
Three teenagers, each an outcast in their own way, stumble upon an unearthly entity as it's born. As they bond over this shared secret and the creature's incredible abilities, it becomes clear to the teenagers that their cute little pet is a super-predator in the making – and it's in need of prey. Guided by the best intentions at first, the teens' decisions soon become corrupted by adolescent desires, small town jealousies, and internal rivalries, sending them into a catastrophic spiral of their own making.
Writer Simon Spurrier (John Constantine: Hellblazer, Coda) and artist Chris Wildgoose (Batgirl, Batman: Nightwalker) present Alienated, a subversive coming-of-age story about having all the power to change the world but the unready hands to truly wield it. To learn more, DF spoke with acclaimed scribe Simon Spurrier.
Dynamic Forces: Si, this is quite the take on the usual movie coming-of-age story. Tell readers a little bit about Alienated.
Simon Spurrier: Short version: One day three high school outcasts stumble upon something otherworldly and insanely powerful in the woods. Before they know it, their minds are telepathically entangled and they've accidentally committed a murder. Shenanigans ensue.
DF: What was your muse for this sci-fi/horror adventure?
Simon Spurrier: I think the cheap and simple elevator pitch is that it's something like Heathers meets E.T. by way of Alien. But that doesn't really sell the sheer alien-ness of the setup. The entity discovered by our heroes isn't some dull little spaceman looking for a way home, but something genuinely beyond human ken, which twists everything it encounters. Including what these kids think they know about each other, and themselves.
DF: Can you introduce readers to your three prime protagonists here, the teens who are the focus of the story?
Simon Spurrier: Sure. I've always had a daft desire to do a story where two of the characters coincidentally have the same name. Probably because the world is literally heaving with other Simons, but you never see double-ups in fiction. This seemed like a good chance to not only do that, but to up the ante a bit further. So our three characters are called Samuel, Samantha and Samir. Or, as the title of the first issue has it: Three kids called Sam went walking in the woods…
Samuel's a relative newcomer to the little suburban sprawl where our action happens. He's a complicated soul with deep but dangerous ambitions towards the limelight. Samantha's a former it-girl, who's had a really traumatic year and is now just trying to keep her head down and stay out of trouble. Samir's an overcompensatory extrovert, determined to conceal his anxieties and miseries behind a blast of chameleonic popularity.
They each represent a different form of outcast life, whether the alienation is literal or emotional; accidental or self-imposed.
DF: What other characters in the book are important as we begin the Alienated adventure in February? Can you give us a capsule intro to a few here?
Simon Spurrier: We lean almost exclusively into our trio's lives and minds -- this books delves deeper into its heroes' brains than pretty much anything you've read before -- but there are a few secondary players whose lives intersect and complicate our heroes'. To give a couple of examples, there's the school's resident surly loner, Leon, whose seething teenage attitude problems mask deep reservoirs of anger. There's Chelsea, everyone's favorite all-American girl, whose good deeds can't possibly be as selfless as they seem -- right? And then there's Waxy, America's most popular online celebrity. Poet, prankster, pundit – a superstar of the vlog generation whose touring show is due in town any day now…
DF: No spoilers, but what can you tell us about the unearthly entity the teens discover that is eventually destined to be a predator?
Simon Spurrier: Unknowable. Ineffable. Ravenous. Deadly.
Likes cuddles.
DF: Talk a little bit about the art of Chris Wildgoose.
Simon Spurrier: He's ridiculous. No matter how hard I challenge him, how dense the pages, how insane the psychedelia, he breezes through it with a delicious melding of realism, detail and simplicity. It's some of the most cinematic work I've ever seen, and that's no mean feat when a good chunk of it is mind-melting alien strangeness. He makes the most fiddly teenage drama feel airy and perfectly paced. It's just great, great stuff.
This dude invented an entire iconographic language to signify the alien's moods. That's dedication.
DF: In many of these coming-of-age dramas, the teens are quite innocent … and vanilla. But in Alienated, they are very human, with rage and uncertainty and insecurity and big ideas, waiting to be tested. "A teenager, basically," as you say in solicits. Talk about what this shift of trope added to the storytelling.
Simon Spurrier: I mean, what it adds is verisimilitude, basically. Teenagers are like all of us: complicated, conflicted, contradictory. Just a little moreso, in the case of youngsters. These three kids each has their own issues, their own secrets, but they're able to meet somewhere in the middle in the context of the defining questions of the whole story: How much do you want to be seen? How much do you want to be known? And how far is too far?
I guess one of the things that makes Alienated a little different from your regular high school tale -- extra-dimensional lifeform notwithstanding -- is that whereas we're invited to like these three kids, and have sympathy with their journeys, they are all nonetheless very capable of cruelty. Just like all of us.
Incidentally, I'm unreasonably pleased that we've created this really neat story about three kids which isn't just a big hormonal love-triangle. I'm sick of how requisite it is that any story about youngsters MUST revolve around Who Wants To Screw Who. Today's youth has plenty of other big stuff on its mind too, as Alienated reveals.
DF: Si, what other projects, current or near-future, involving you can you tell readers about?
Simon Spurrier: Oh, heck... A lot going on, and a bunch of it I can't talk about. Hellblazer is a dream to write, with the remarkable Aaron Campbell drawing the first arc and my Coda-partner visionary Matias Bergara on the next. I'll keep doing that as long as they'll let me. I'm wrapping up The Dreaming with issue #20 and Star Wars: Doctor Aphra with issue #40 -- in both cases because I've told the story I set out to tell, and I need some space on the slate to launch new and exciting stuff.
I've got, let's see, three creator-owned gigs waiting in the wings, at different stages of development, and one or two "Big 2" things coming too. More news on that front soon.
Dynamic Forces would like to thank Simon Spurrier for taking time out of his busy schedule to answer our questions. Alienated #1 from BOOM! Studios hits stores Feb. 12th!
For more news and up-to-date announcements, join us here at Dynamic Forces, www.dynamicforces.com/htmlfiles/, "LIKE" us on Facebook, www.facebook.com/dynamicforcesinc, and follow us on Twitter, www.twitter.com/dynamicforces.
THE SHADOW: LEVIATHAN TRADE PAPERBACK
THE SHADOW VOL. 3 #1 - NEAL ADAMS EDITION SIGNED BY NEAL ADAMS
---
NEW! 1. 11/30/2020 - SKYLAR PATRIDGE
5. 11/16/2020 - RYAN O'SULLIVAN