PETER DAVID

SEND THIS TO A FRIEND!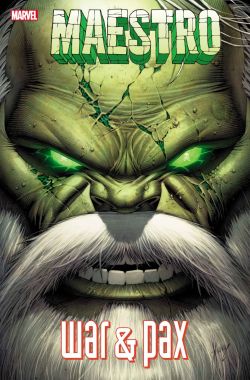 DF Interview: Peter David continues the saga of the jade giant who would be a god in 'Maestro: War and Pax'
By Byron Brewer
The man once known as the Hulk is now neither man, nor Hulk – call him only the Maestro! After deposing Dystopia's ancient ruler, the Maestro sets his sights even bigger. It's time the entire planet Earth recognized their one true god! But the Maestro isn't the only immortal left… and if he wants to truly dominate the planet, he'll have to face the most powerful beings in creation!
Write Peter David continues the tale that began decades ago in the legendary Future Imperfect! Art on this new Marvel limited series is by Javier Pina. DF has been following the Maestro for years and was anxious to talk with scribe Peter David about this latest project.
Dynamic Forces: Peter, what do you think of the popularity of your alt-future iteration of the Hulk these days? When you created the Maestro with George Perez in 1992's Future Imperfect, did you ever think he would be one of the "hot things" of 2020?
Peter David: I absolutely did not. I'm always surprised when my characters have this kind of shelf life. Honestly, I thought by the end of Future Imperfect, that would be the end of it. Two issues and done. But something about the character caught on, and suddenly he was in a series of comics Marvel was producing, and then he was in video games and in animated series. And now there's a whole new video world being produced where, when they were set up at New York Comic Con last year, they had a nine foot tall statue of the damned guy at their booth and I had my picture taken on his throne. Something about him has captured everyone's imagination and they keep putting him out there, and the fans keep loving it.
DF: Can you tell readers how this future-Hulk came to be, the genesis behind his creation as a character for Future Imperfect?
Peter David: When I was devising Future Imperfect, I had developed the basic premise: to flip Terminator. Instead of coming to modern day in order to impact the future, I'd have the Hulk be transported into the future to handle a problem that only he was equipped to take on. And I reasoned, what could possibly exist in a Dystopian future that the Hulk would be uniquely suited to battle. The Maestro was the result.
DF: For the uninitiated, give us your take on the Maestro as a character and how he has evolved (and greatly) over the years. How has your own approach to this character, which has been written by other Marvel scribes, evolved as well?
Peter David: My take on him was that it's said the son eventually becomes the father. That no matter what you do, as you age you take on personality traits of your dad. Brian Banner, Bruce's father, was an abusive monster who was only one power away from being a supervillain. So that was who I crafted as I developed his personality. He's extremely strong, but he's also capable of thinking outside the box. And he has no moral compass. If he wants to take somebody down, he'll kill them without hesitation, and he'll devise the simplest means of doing so. If he has to do it by hand, fine. If he needs to have someone do it for him, also fine.
DF: As Maestro: War and Pax begins its five-issue run, where do we find the jade giant? What is his state – of mind, of situation?
Peter David: He's consolidating his rule. He truly believes he's doing the right thing. After all, he's seen what mankind inevitably does if left to its own devices. He thinks that free will has proven to be a noble experiment but ultimately didn't work out. So now it's time to try something new, and he's what's new. He's setting up a world where he rules over everything, and to him it's going to be a world of peace and contentment. And if some people's noses are out of joint over it, then they should keep it to themselves.
DF: Give readers the basic storyline about what we will be entering when we pick up War and Pax #1 in January.
Peter David: The Maestro has determined that life must go on in the world he's living in, and that he should be the center of government. He begins a new movement: Post Apocalyptic eXistence. Or Pax for short. It's pure "1984" Newspeak, because "pax" is the Latin word for peace. He's basically advertising it's going to be a peace movement, which it isn't, because his soldiers are going to steamroll over anyone standing in their way. So it's actually a war movement masquerading as a peaceful one. His first step will be returning to Washington, DC, to bring Machine Man's followers into line, and then he'll look elsewhere.
DF: Any other alt-future versions of Marvel heroes (or villains) appearing in the limited series?
Peter David: Why yes, there are.
DF: Talk about the art of Javier Pina.
Peter David: I was a little nervous, because I thought German had done such a good job on the first one. I needn't have been concerned; Javier's work is amazing. I've seen the first pages where the Maestro confronts a resistance movement in Connecticut and it's breathtaking.
DF: Peter, a two-parter for you: I know you've had health problems over the years (haven't we all? LOL). How are you doing these days, especially in this pandemic? Also: What other projects coming in the near-future can you tell readers about here?
Peter David: Before the pandemic, I would sit at home most days and work on my computer. Now during the pandemic, I sit at home most days and work on my computer. It's a massive adjustment in my life and very tough to adopt to. As for other projects, I'm working on another Spider-Man symbiote miniseries, and another several issue project that I will simply say is mutant related. Can't announce more than that.
Dynamic Forces would like to thank Peter David for taking time out of his busy schedule to answer our questions. Maestro: War and Pax #1 from Marvel Comics is slated to hit stores Jan. 20th, 2021!
For more news and up-to-date announcements, join us here at Dynamic Forces, www.dynamicforces.com/htmlfiles/, "LIKE" us on Facebook, www.facebook.com/dynamicforcesinc, and follow us on Twitter, www.twitter.com/dynamicforces.
MAESTRO: WAR AND PAX #1 SIGNED BY PETER DAVID PLUS 1
MAESTRO: WAR AND PAX #1 SIGNED BY PETER DAVID
MAESTRO: WAR AND PAX #1 SIGNED BY PETER DAVID DUAL PACK!
MAESTRO #2 GEORGE PEREZ VARIANT SIGNED BY PETER DAVID
MAESTRO #1 SIGNED BY PETER DAVID
TRUE BELIEVERS: KING IN BLACK - THUNDERBOLTS #1 REPRINTING INCREDIBLE HULK #449 SILVER SIGNATURE SERIES SIGNED BY PETER DAVID
FUTURE IMPERFECT #1 ELITE GOLD SIGNATURE SERIES SIGNED BY GREG LAND
FUTURE IMPERFECT #1 SIGNED BY GREG LAND
SYMBIOTE SPIDER-MAN: KING IN BLACK #3 SIGNED BY PETER DAVID
SYMBIOTE SPIDER-MAN KING IN BLACK #2 SIGNED BY PETER DAVID
SYMBIOTE SPIDER-MAN KING IN BLACK #1 SIGNED BY PETER DAVID
IMMORTAL HULK #0 SIGNED BY PETER DAVID
ABSOLUTE CARNAGE: SYMBIOTE SPIDER-MAN #1 SIGNED BY PETER DAVID DUAL PACK!
---
NEW! 1. 04/15/2021 - BRIAN HABERLIN
5. 04/01/2021 - DARICK ROBERTSON