MIKE HAWTHORNE

SEND THIS TO A FRIEND!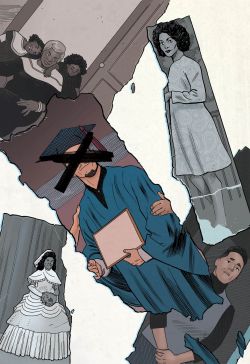 DF Interview: Mike Hawthorne pens a memoir on survival, being Puerto Rican in America in 'Happiness Will Follow'
By Byron Brewer
A new graphic novel, Happiness Will Follow, from Eisner and Harvey Award-nominated cartoonist Mike Hawthorne (Deadpool, Superior Spider-Man), is the true and tragic story of enduring abuse and discovering a love of art which helped him to build the home he never had. It is a vivid memoir about family, survival and what it means to be Puerto Rican in America.
Mike's mother, Blanca Otero, was a proud though atypical Puerto Rican woman from Santurce, San Juan, who moved to the mainland, where she became a single mother and struggled to raise her son alone in New York City, a place that tormented them both with its unforgiving nature. But when Mike falls victim to a death curse—a haunting sign of the old country that his mother could never truly escape—she begins a series of events that drive him away from her both physically and emotionally, leaving him to grapple with his complicated relationships with his mother, identity and heritage.
To learn more of this autobiography in OGN form, DF went straight to the source: writer/artist Mike Hawthorne.
Dynamic Forces: Mike, they say that all art is autobiographical. That is really the case with your coming graphic novel, Happiness Will Follow. Why was it time to tell your story?
Mike Hawthorne: I think you're right, as I've found myself sneaking many personal touches into my "mainstream" work. Deadpool is more me than I care to admit. I even made his daughter Ellie look like my oldest and her grandmother looks like my mother.
As for this being the right time to tell my own story, the irony is that the book has been floating around for almost ten years! It was meant to come out of Vertigo before the New 52 and their subsequent struggles.
I held onto the book, feeling guarded about it and never sure I was ready to let it out into the world. I think now is the right time because the place that Puerto Ricans hold in the greater American experience is something people (outside of Puerto Ricans themselves) are finally thinking about seriously. Puerto Ricans have their own unique culture, but make no mistake -- they are Americans! I thought a story illustrating that is in order, and the folks at BOOM! Studios understood my goals and quickly set my mind at ease about publishing it.
DF: Tell readers a little bit about the book's storyline. As they say on TV, how much was "dramatized for content" about your life for the OGN?
Mike Hawthorne: The story focuses mostly on my mother, Blanca Otero, as she struggled to both raise me alone, while pursuing the "American dream" she mythologized. As a child, she nurtured this dream back in her native Puerto Rico, and you'll see the ugly truth of how that pursuit can poison a person's life and lead to some very low points.
DF: I really have to admire your mother for what it seemed she had to do, and she, as they say, took the bull by the horns and met many of life's challenges. What can you tell readers about your evolving relationship with your mother?
Mike Hawthorne: I admired her greatly too, and genuinely think she did her absolute best in some pretty horrible situations. However, our relationship was fraught with anger and discontent. She was immensely unhappy, and could be violently abusive. I grew to see myself as the reason behind how hard her life had become, and often wished she could be relieved of me in some way. Something I think she felt herself sometimes, though I could be projecting.
So, we grew apart as I got older. We never severed our ties, but we never resolved our conflicts. She died around the time I graduated college, and we left a lot unsaid.
DF: I know some things have to be left for the book, but can you clue us in about this "death curse"?
Mike Hawthorne: Well, my mother had a belief that someone put a Death-curse of some sort on me as a child. She had enough belief in "Brujería" that she took it seriously. She never explained who put the curse on me, though later she would hint at people who may have wanted me gone. I came to think of The Curse as an abstract thing that followed, and maybe still follows, me chasing away happiness. I don't know that it ever really mattered if it was real, she made me believe it was real and that was enough to dramatically change the course of my life.
DF: Obviously one of the elements at the heart of this novel is what it means to be Puerto Rican in America. Can you kind of summarize what it was like for you, without spoilers for the novel?
Mike Hawthorne: Well, I have to stress that I can't speak for ALL Puerto Ricans. I wouldn't presume to be the face of Borinqueños here on the "mainland". But, for me, being Puerto Rican in America meant feeling like "the other". It means being an American in name only to many folks. My mother's African ancestry made her experience that much more fraught here and she faced blatant racism, which I got to see up close. She felt like an American, but I could see how segments of this country would never accept her as such despite being a native-born American. Puerto Rico being a part of the U.S. was something some folks just can't wrap their heads around, and just won't accept.
On the flip side, with a name like Hawthorne and growing up in the Northeast, I didn't ever feel truly Puerto Rican enough. I only ever knew the Puerto Rican side of my family, and desperately wanted to be accepted but always felt apart from them. I was the lone Hawthorne in a sea of Oteros.
I try to illustrate how that feels in the book. You can state that in words, but it's easily glossed over. I'm hoping I can show-not-tell how this affects people like me with my book.
DF: I'm not sure if this is a part of your story or not as related in Happiness Will Follow, but share with readers where your love of art and storytelling originated please.
Mike Hawthorne: It actually is, and for me it began with comics and graffiti. To me, the combination of words and pictures made the two art-forms kissing cousins, so to speak. I fell in love with the way people would write their names on walls and with how comics could tell a longer story and it's never left me.
DF: Having not seen the OGN, I was wondering if this will be something that may someday have a sequel?
Mike Hawthorne: Man... that's a tough one. Years ago, I'd have emphatically said "NO!"... but now, so much has happened since I first made this book that I can see a road to a follow-up book. I think my sister's story is compelling as hell, and would make a great book. Her experiences being a gay Puerto Rican in New York in the 70's and 80's, serving in the military, and how she's made her life about helping the under-served as a social worker... it's an amazing story!
So, I won't close the door to a related book. Who knows?
DF: Mike, what other projects are you involved with that you can tell readers about?
Mike Hawthorne: Well... lots! I just finished a short story with comic legends Walter Simonson and Sal Buscema. I'm returning to the character I'm most associated with, Deadpool, for a 30-page event book! I've also started self-publishing again, with a new Anatomy book and an experimental horror short story called "Lost by Monday", with more planned soon!
Dynamic Forces would like to thank Mike Hawthorne for taking time out of his busy schedule to answer our questions. The Happiness Will Follow OGN from BOOM! Studios hits stores in May 2020!
For more news and up-to-date announcements, join us here at Dynamic Forces, www.dynamicforces.com/htmlfiles/, "LIKE" us on Facebook, www.facebook.com/dynamicforcesinc, and follow us on Twitter, www.twitter.com/dynamicforces.
THOR: THE WORTHY #1 SIGNED BY WALTER SIMONSON
DEADPOOL #1 - SIGNED BY DEADPOOL CO-CREATOR FABIAN NICIEZA AND REMARKED WITH A DEADPOOL SKETCH BY KEN HAESER
DEADPOOL #1 SIGNED IN BLOOD RED BY DEADPOOL CO-CREATOR FABIAN NICIEZA
DEADPOOL #1 FIRST PRINTING CANDY RETAILER VARIANT!
DEADPOOL #27 WEDDING ISSUE - GOLD SIGNATURE ELITE SERIES - SIGNED BY CO-CREATOR FABIAN NICIEZA!
---
NEW! 1. 11/30/2020 - SKYLAR PATRIDGE
5. 11/16/2020 - RYAN O'SULLIVAN