CAITLIN KITTREDGE

SEND THIS TO A FRIEND!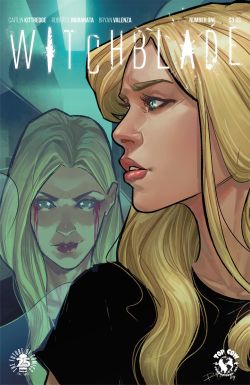 DF Interview: Caitlin Kittredge brings us the tale of a brave new wielder of the Witchblade
By Byron Brewer
Gunned down and left for dead on a New York rooftop, Alex Underwood's life should have ended there. Instead, at the moment of death, she became host to the Witchblade, a mystical artifact that grants the woman wielding it extraordinary powers. But the power comes with a heavy cost, and Alex finds herself thrust into the center of an unseen battle raging on the snowy streets of NYC. Demons are real and walking among humans, and every one of them is intent on taking out the Witchblade's newest host before she becomes too strong to kill. But the artifact chose Alex for a reason, and she's not going down without a fight.
An all-female creative team—writer Caitlin Kittredge (Throwaways, Coffin Hill) and artist Roberta Ingranata—join forces for a new story of the iconic mystic artifact. So excited was DF to learn this news that we went to scribe Kittredge for more info. Here's what she told us.
DF: Right off the bat, Caitlin, I have to ask you how fun and/or challenging is it to be taking on a title first co-created by Image Comics co-founder and partner, Marc Silvestri, along with Brian Haberlin, Michael Turner and David Wohl?
Caitlin Kittredge: I'm not embarrassed to admit I about passed out when Image first invited me to pitch a Witchblade reboot—in terms of dream jobs this is pretty high on my list. I also felt incredibly honored to be able to re-imagine this character and story in a truly modern mold that's inclusive of everyone who reads comics today, in 2017, and design a new heroine who reflects the fans. Marc, Matt Hawkins, Eric Stephenson and everyone at Image and Top Cow could not have been more supportive, and allowed me to forge ahead and make a really special book with Roberta Ingranata, our amazing artist. Yes, it's slightly terrifying to be handed such a legacy book, it's also pinch-yourself exciting to think I get to work on it as my day job.
DF: And, continuing with the above, in this age of awareness and diversity, how great is it to represent with an all-female creative team on a series about the coming of age, so to speak, of a woman who decides to be selfless, to be a hero?
Caitlin Kittredge: It feels awesome. When I was fifteen and doing basically nothing but reading comics and trying to create my own stories, Witchblade was one of the few female-led books out there and I remember thinking that if I ever got lucky enough to work in this business, I would make sure I added at least one more voice for readers out there who felt like I did, hungry for more stories that add representation and inclusivity to the medium, rather than making us feel alienated. I was thrilled to find Roberta to work with—she's one of the most talented artists working in comics today, and she's got big things ahead of her. And Alex, the heroine we created, is my best attempt to keep my promise to my fifteen-year-old self—she's far from perfect, but she is very, very human and, like all true heroines, strong not in spite of her flaws but because of them.
DF: Now THAT is awesome, Caitlin! … Okay, for the uninitiated, please explain what the Witchblade is and does.
Caitlin Kittredge: The Witchblade is a mystical artifact created along with twelve others to aid humans in combating demons, black magic and the forces of darkness. Some of the artifacts are good, some are bad, some just are, but the Witchblade is meant to be a defender of humanity and wielded by a worthy woman at any point in history when darkness and evil threaten to tip the balance of the universe out of scale.
DF: Introduce us to Alex Underwood please. Why did the Witchblade choose her?
Caitlin Kittredge: When we meet Alex, she's given up a career as a war correspondent for a major news network—a career track that was leading straight to the top spot—to work as a victim's advocate in the NYC district attorney's office. Alex has had some true darkness in her past, and it was one such incident that made her decide fame wasn't the path she wanted to walk—she wants to get her hands dirty helping the helpless. The Witchblade chooses Alex at the worst moment of her life—as she's been left for dead on a New York rooftop. And whether she's ready or not, she's been chosen to defend humanity from the worst Hell has to offer, because the universe is seriously off kilter and demons are running the show.
DF: What can you tell us about the first storyline in this new series?
Caitlin Kittredge: The title is "Life After", and it's very much that—a story of learning to recover, repair yourself and live again after unimaginable trauma, both physical and mental. Alex isn't the only broken person trying to heal herself in this first arc, and the real backbone of the story is her learning to trust the other survivors around her—including the Witchblade—so she can look outward and face off against the dark shadow that's fallen over her world.
DF: Any non-spoilery clues you can give us about Alex's first foe?
Caitlin Kittredge: We picked an epic, iconic figure that's not from Top Cow lore as our first big bad, so we could start fresh and let new readers jump on board with everyone else—I guarantee you'll recognize the name when they appear, but they're a new foe for the Witchblade.
DF: How is it working with artist Roberta Ingranata?
It's been a dream! Roberta is so engaged and creative, and has such a distinctive visual style I really can't say enough good things. I first came across her art in a Kickstarter project and I was so blown away I forwarded her samples to Image and begged them to invite her on board Witchblade. She's a massive talent and I know someday she'll be a household name among comic fans. I feel incredibly fortunate she agreed to join me on this book!
DF: Caitlin, do you have any other projects, current or near-future, you can tell our readers about?
Caitlin Kittredge: My ongoing creator-owned series with Image, Throwaways, with Steven Sanders on art, is still going strong. If you like spy thrillers with a psychic assassin twist, we've got two trades and a third story arc going. I'm also thrilled to say that I've re-partnered with Kurt Sutter of Sons of Anarchy fame on a second volume of his demon-hunting revenge epic Lucas Stand at BOOM! Studios.
Dynamic Forces would like to thank Caitlin Kittredge for taking time out of her busy schedule to answer our questions. Witchblade #1 from Image Comics/Top Cow hits stores Dec. 6th … TODAY!
For more news and up-to-date announcements, join us here at Dynamic Forces, www.dynamicforces.com/htmlfiles/, "LIKE" us on Facebook, www.facebook.com/dynamicforcesinc, and follow us on Twitter, www.twitter.com/dynamicforces.
---
NEW! 1. 11/25/2020 - STEVE SKROCE
4. 11/16/2020 - RYAN O'SULLIVAN
5. 11/16/2020 - RYAN O'SULLIVAN