JEFF LEMIRE

SEND THIS TO A FRIEND!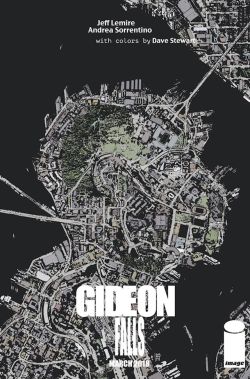 DF Interview: Jeff Lemire brings suspense and horror to readers with Gideon Falls
By Byron Brewer
In Gideon Falls, the lives of a reclusive young man obsessed with a conspiracy in the city's trash, and a washed-up Catholic priest arriving in a small town full of dark secrets become intertwined around the mysterious legend of the Black Barn, an otherworldly building that is alleged to have appeared in both the city and the small town throughout history, bringing death and madness in its wake.
Rural mystery and urban horror collide in this character-driven meditation on obsession, mental illness and faith.
From the creative team behind Green Arrow and Old Man Logan -- New York Times bestselling and Eisner Award-winning writer Jeff Lemire (Royal City, Descender) and critically-acclaimed artist Andrea Sorrentino – comes Gideon Falls, an Image comic.
DF needed to collect more of the 411 for you, so we sat down with scribe Jeff Lemire.
Dynamic Forces: Jeff, you and artist Andrea Sorrentino have become quite the team supreme (Green Arrow, Old Man Logan). How did you two get together for Gideon Falls, and (knowing how you work) how long has this been peculating in the ol' Lemire noggin?
Jeff Lemire: Andrea and I love working together and I REALLY wanted to do a creator-owned book with him. We actually started talking about Gideon Falls about two years ago and I started writing it then. I've had the first six scripts done for well over a year now.
But Andrea had other commitments to finish up so we waited to start working on Gideon Falls in earnest this year.
DF: What can you tell us about the world you will be building here?
Jeff Lemire: At the risk of sounding evasive, I don't want to say too much because the world is filled with so much mystery that I would rather the reader experience it all first hand when they read the book. Having said that, I can say that we are juxtaposing two very different settings in Gideon Falls. We have a very rural, small town setting and a dense urban center/city setting. And both of these worlds have a common link, primarily an urban/rural legend known as THE BLACK BARN. A mysterious building said to portent madness and doom.
DF: Introduce us to your protagonist, the "reclusive young man obsessed with a conspiracy in the city's trash". (City's trash??)
Jeff Lemire: Yep. Norton Sinclair is the very first character of my own I ever came up with, way back in 1996. I was in film school at the time and I had just moved to the city and Norton was a character I came up with for a few short films I made back then. Later, when I really started drawing comics a lot, Norton was the character that I used in my earliest comics that I was drawing myself. Stuff that was never published.
He's an obsessive young man who collects and catalogues samples of the city's trash, convinced that the keys to a mysterious conspiracy are hidden somewhere in the city's garbage.
DF: … AND the down-on-his-luck Catholic priest.
Jeff Lemire: Father Fred Quinn is our other protagonist. A disgraced priest sent to a new parish in a small town. And he soon learns he may be there to not only preach to the people, but to exorcise the evils of the Black Barn that have taken the small town into its grasp. And he may not be the first priest to have attempted this.
DF: Speaking of which, as we have, what can you tell us about this Black Barn? (Non-spoilery. C'mon!)
Jeff Lemire: Nothing! Sorry. It's the central mystery. I'm not spoiling anything!
DF: Can't blame a guy for tryin'. Sheesh! ... Knowing you are also an artist, Jeff, tell me how you and Andrea (I assume there is teamwork here) have worked to design the characters and the settings for Gideon Falls, because in your books the backdrops usually become characters.
Jeff Lemire: I did draw much earlier versions of some of these characters in my own early comics. But I didn't show these to Andrea. I wanted him to come in without anything influencing his own imagination. I'll probably show him later. So visually, I am leaving it all in his more than capable hands.
DF: Since we've been discussing your Italian art partner, let's ask here about the hues of the incomparable multi-Eisner Award-winning Dave Stewart and the importance of his palette to the book.
Jeff Lemire: Dave is a master. He was Andrea's first choice to do the book. They have never worked together and I can't wait to see what the combo looks like!
DF: Readers should try Gideon Falls because … ?
Jeff Lemire: Because it's scary, mysterious, funny and weird as hell. Unlike anything else either Andrea or I have ever done before. And his artwork on the series is INCREDIBLE.
DF: Jeff, what else is going on with you project-wise?
Jeff Lemire: Right now, I am writing and drawing Royal City monthly for Image as well as writing Descender, Black Hammer and The Terrifics, and Inferior Five for DC. I'm also going to be drawing 5-page Peacemaker back-up stories in Inferior Five.
Dynamic Forces would like to thank Jeff Lemire for taking time out of his busy schedule to answer our questions. Gideon Falls #1 from Image Comics hits stores in March 2018!
For more news and up-to-date announcements, join us here at Dynamic Forces, www.dynamicforces.com/htmlfiles/, "LIKE" us on Facebook, www.facebook.com/dynamicforcesinc, and follow us on Twitter, www.twitter.com/dynamicforces.
---
NEW! 1. 11/25/2020 - STEVE SKROCE
4. 11/16/2020 - RYAN O'SULLIVAN
5. 11/16/2020 - RYAN O'SULLIVAN