TODD ROBBINS

SEND THIS TO A FRIEND!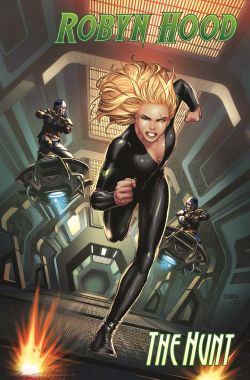 DF Interview: Todd Robbins brings magic, more to ID's True Nightmares
By Byron Brewer
He is known in different roles in diverse areas of entertainment: magician, lecturer, actor, author. But for the past few years, Todd Robbins has become known as the glib, mysterious and on-camera host of Investigation Discovery network's True Nightmares.
DF caught up with the ID host to interview him about the unique TV treatment of odd true-crimes tales. What we got in exchange was more, much more. Join us for a very interesting, entertaining session with the indefinable Todd Robbins.
Dynamic Forces: Todd, True Nightmares is one of the most entertaining shows on the air, IMHO, and certainly unlike anything else on Investigation Discovery. Tell us about the show, your involvement with it, and how you see your role as "host."
Todd Robbins: True Nightmares grew out of a theater show called Play Dead. I created that show with Teller (of Penn & Teller) and he directed me in it. That show was filled with stories of people, some good and some not so good, that had a relationship with death during their lives. We used magic as special effects to give a sense that these dead people were gone but they were not far away and when they came back to visit the living, the resulting spectacle was terrifying. I was approached by Discovery Studios to develop a TV project along these lines and Investigation Discovery saw that I told true stories of dark people with a twist that was complimentary to the content of their channel but also an expansion of that they currently present. In the first meeting with the network I brought up the idea of have me "ghosted" in the scenes and with Executive Producer Eddie Barbini developed the concept into a series. The result is a show that presents quirky stories of murder and mayhem that all have an ironic twist to them. I look upon my role not so much as a host or narrator, but much more of a storyteller. This lifts the series out of the docu-drama genre and puts it into a whole different field.
DF: While dramatized, all three of the stories offered on each episode of True Nightmares are, in fact, based in reality. I know you are a performer and a student of the macabre, but does any of these stories you narrate/"appear" in ever make you think, "WTF?!"?
Todd Robbins: Having walked down some shadowy streets and seen some of the twisted things found there, there is not much that shocks or surprises me. It's amazing what humans are capable of doing, and we need to look no further than our [most recent] presidential race to find proof of this.
DF: What have been your favorites among the stories thus far, and why? Give a little description of them, if you would.
Todd Robbins: I love all these sinister tales as if they are my children, and they are all different so it is hard to say which is my favorite. Having said that, the story of Marie Joseph is particularly interesting. She was a woman that went to a community pool for a swim and ended up drowning, even though there were seven lifeguards on duty that day. What makes it intriguing is that the water in the pool was very cloudy due to a malfunction in the filtration system and Marie's body lied on the bottom of the deep end undiscovered for three days before her bloated corpse finally floated to the surface. The pool had been open during those days and dozens of people had cavorted in the water not realizing there was a dead woman floating just a few feet below them.
DF: Ooooh, gives me the shivers! … Todd, I knew you had an interest in both magic and carnivals, but is it true you have, in your day, performed classic old-time acts like sword swallowing, eating fire, hammering nails into your nose (ouch!) …? Have you actually eaten more than 5,000 light bulbs during your career?!
Todd Robbins: Yes, I have a background in studying and performing all sorts of arcane forms of popular entertainment. I came upon the world of the sideshow when I was a teenager and was lucky to have learned how to do all the classic stunts like sword swallowing and fire eating from performers that were the last generation of true carnival and circus sideshow entertainers. It's true that I have devoured somewhere in the neighborhood of 5,000 light bulbs. I learned it from a fellow that did an act called The Human Ostrich and it consisted of him consuming things like lit matches and cigarettes, razor blades and tin cans.
DF: What is Monday Night Magic?
Todd Robbins: I am one of the producers of NYC's longest-running magic show Monday Night Magic. We are currently in our 19th season and every week present a lineup of some the finest magicians on the scene today. The show is at the Players Theatre in Greenwich Village.
DF: And if you would, tell us more about Play Dead, your theater collaboration with Teller that was the inspiration of True Nightmares.
Todd Robbins: Play Dead grew out of a séance project that I created and performed in the NY International Fringe Festival and at several theaters. I wanted to expand upon it and approached Teller, asking him to become involved in this. It has been a great experience in the various productions of the show, and there is talk about creating a touring company of the show and developing it into a dramatic TV series that would be a cross between True Blood and Breaking Bad.
DF: Right now, your role on True Nightmares is that of the Hitchcock, the Serling, the omnipresent host. Would you like to perform in one of the stories as a character, and have you written/directed any of the episodes?
Todd Robbins: I don't have any desire to play a character in the stories on True Nightmares. I like the function I have and look upon it as almost a dark puppet master in these tales, moving them along to their disturbing conclusions. Though I don't actually write or direct the episodes, I have a great deal of input and help shape the storytelling and tone of the show.
DF: Todd, what other projects current or near-future might you be involved with that you can tell us about?
Todd Robbins: I am currently in the early stages of developing a couple of TV projects, but there is nothing concrete to talk about yet. I'm also putting together a storytelling podcast that will be up and available around the end of the year. It is presently titled Dark Illusions, Darker Reality. Anyone that likes what I have done so far in my career will enjoy this podcast. And I am developing some new performance material based upon the evil that I find fascinating. Right now, I am working on some routines that explore the idea that there are only two kinds of people: predators and prey. It should be fun.
Dynamic Forces would like to thank Todd Robbins for taking time out of his busy schedule to answer our questions. True Nightmares airs on the Investigation Discovery television network.
For more news and up-to-date announcements, join us here at Dynamic Forces, www.dynamicforces.com/htmlfiles/, "LIKE" us on Facebook, www.facebook.com/dynamicforcesinc, and follow us on Twitter, www.twitter.com/dynamicforces
---
NEW! 1. 11/25/2020 - STEVE SKROCE
4. 11/16/2020 - RYAN O'SULLIVAN
5. 11/16/2020 - RYAN O'SULLIVAN