M.L. MILLER

SEND THIS TO A FRIEND!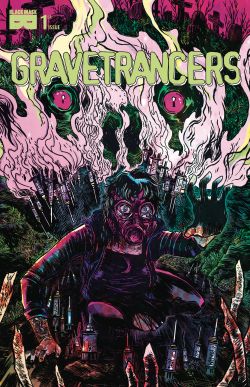 DF Interview: M.L. Miller delivers a grisly grindhouse tale of taboo and terror in Gravetrancers
By Byron Brewer
On a journey to track down the grave of their estranged father, Maribel and Anthony find their way to the Malort Cemetery, a strange, seemingly abandoned field of mostly unmarked tombs. There they encounter an eccentric clan of grave-robbers who've devised a highly-addictive drug made from human remains – and the fresher the corpse, the stronger the dose. What started out as an attempt to reconnect with the past becomes a descent into a psychedelic, neon-colored nightmare. Will Maribel and Anthony find their way through the hallucinogens or will they become the next hit?


Gravetrancers is written by M.L. Miller (Pirouette) and featuring mind-shredding artwork by new artist James Michael Whynot. DF needed to know more, so we pulled up a tombstone and had a chat with scribe Miller.
Dynamic Forces: Mark, this certainly is a throwback to the grand ol' grindhouse films all we horror lovers remember. Can you tell us about your inspiration for Gravetrancers? I heard it was based on true events? Do tell.
M.L. Miller: I've watched so much horror films and read so many horror books and comics in my life, I'm sure I am lifting a little here and there from all of them. I am a huge fan of the original Texas Chainsaw Massacre and given that this is about a family of eccentric psychopaths, I'm sure there will be comparisons. I'm also a huge fan of Clive Barker, especially his tendency to not necessarily have straight-up heroes, rather he has layers of bad guys that vary in different degrees. There are bad guys and then there are really bad guys. I like the idea that no one is simply pure and heroic. Everyone has demons, and I think horror is a good genre to explore those demons. Grindhousey films like Last House on the Left, Silent Night Bloody Night, Motel Hell, Bloodsucking Freaks, early Cronenberg stuff like Shivers: all of them inspired me as they have a dangerous and sometimes icky feeling to them.
The initial seed this story blossomed from is true. There was a graveyard south of Chicago that was busted a few years ago for reselling plots and tossing the bodies in a pit behind the graves. I heard that story and knew I'd write something about it one day. Later I had some conversations with a friend who was going through drug rehab and we talked about some of his experiences in the program. He talked about one person he met who would smoke just about anything to get some kind of high. My morbid mind put two and two together and came up with the setting for this story: a graveyard that resells plots and uses the bodies to make a new type of addictive drug with pretty unique and devastating results.
DF: In a non-spoilery manner, what can you tell us about Maribel and Anthony?
MLM: Maribel and Anthony Fallon are siblings in search of the grave of their estranged father. Both remember their father differently, but they love and support one another, so they are sort of doing this for the benefit of each other. That's basically the premise of the series, motivating these two characters to enter this twisted setting. Maribel, the older sister, has been through rehab herself and has done a lot of soul searching. Anthony, being the younger brother, is a bit more idealistic. Those aspects of their personalities become important as they enter the Burwood Memorial Park where the entirety of the series pretty much takes place.
DF: Tell us about the folks ('clan") who are the big-bads of the miniseries … and their "drug of choice." (Ew.)
MLM: The Malort Family is kind of a weird well-functioning unit in a lot of ways. They have been the owners of this graveyard for many years. The family consists of Mamm (the elderly matriarch of the family), her eldest son Godfrey (who has a lot of eccentricities that are sure to make some folks cringe), Shovel (the silent work horse who wears a bandana over his face and pretty much does all the dirty work that no one else wants to do), Priber (who lives in the back of the cemetery, has a dramatic and grandiose personality, and is pretty much pure evil), and finally Prim (who will be introduced in the second issue). All of them have experienced the drug in one way or another and play their own integral part in the "factory" that is the graveyard and all of them will factor very much into the fates of Maribel and Anthony.
DF: What other supporting characters might readers need to know about? If any, can you introduce them please?
MLM: Police officer Elena Valdez is a rookie cop who is unlucky enough to be closest to the graveyard on the night Maribel and Anthony arrive there. There are also a pair of not-so-nice cops named Nyess and Pinto who show up later and are a lot of fun to write. I don't want to say too much as to how they fit into the story. One thing I will say is that one thing that always bothered me was that you always see the cops swarming in at the very end of horror movies after the horror has been vanquished. That's not the case here as they matter greatly to the story and show up pretty early on.
DF: Can you give us a thumbnail sketch of what kinds of grizzly goings-on we will encounter in this tale of terror?
MLM: I don't want to ruin it by going into specifics as seeing them occur in the story is what makes it so much fun. But there will be drug use. There will be ghoulish behavior. There will be gory, bloody murder. There will be perversion and you might feel like you need to take a shower after reading each issue. All the stuff that makes you feel uneasy and maybe even a little queasy show up here.
DF: How is it working with artist James Michael Whynot? What does he bring to this horror-filled table?
MLM: James is an amazing artist. He's got a style that I really haven't seen before. He's super-detailed, yet his characters are fluid and sort of surreal. They all seem to fit into the story. James has a really deep tone to his inks and our colorist Dee Cunniff really makes those images pop in psychedelic ways. The most fun I have had is seeing the hallucinations the characters experience on the drugs come to life with James' images and Dee's colors. It's something you really haven't seen before.
DF: Mark, what is it about this genre (horror, and especially this grindhouse – don't mean to overuse the word, but this type of scare-um is very distinct) you love?
MLM: I think grindhouse horror is more than just scratchy filters and rough edits. There was a fearlessness in the grindhouse era that I think is missing in a lot of horror these days. I remember renting old horror movies on VHS at a way too young age and really feeling like I was watching something dangerous. I wanted to try to harness that unpredictable and dangerous nature in Gravetrancers. One thing I love about the films is that you can never really predict the ending or where the story goes with those old grindhouse films. I really put a lot of thought into every direction the story goes and tried hard to not follow an expected path. Hopefully, people will be able to feel that danger and unpredictability in the first issue and stick around for the rest of the miniseries.
DF: What other projects, current or near-future, can readers look forward to from you?
MLM: Well, at long last, my miniseries Pirouette will be published in 2018. This book was a labor of love for artist Carlos Granda and myself. It's a story of a young circus clown who wants to run away from the circus, but her clown parents don't want to let her go. It's got colorful spectacle, scary clowns, sad clowns, wild animals, wild people, clowny crime, bloody murder, and other horrors under the big top. The first issue was released a while back, but because of one thing or another, the rest of the series was never published. Black Mask will be publishing it hopefully in the spring after Gravetrancers wraps up. I also have another project coming out through Black Mask that I can't really talk about yet, but it's another horror series with another sickly talented artist.
Thanks for taking the time to chat with me about Gravetrancers. I really hope folks, especially folks who like to be surprised and scared, will take a chance with the comic. It's been so much fun to make and I'm excited to see what people think of this dark story.
Dynamic Forces would like to thank M.L. Miller for taking time out of his busy schedule to answer our questions. Gravetrancers #1 from Black Mask Comics hits stores Dec. 13th!
For more news and up-to-date announcements, join us here at Dynamic Forces, www.dynamicforces.com/htmlfiles/, "LIKE" us on Facebook, www.facebook.com/dynamicforcesinc, and follow us on Twitter, www.twitter.com/dynamicforces.
---
NEW! 1. 11/25/2020 - STEVE SKROCE
4. 11/16/2020 - RYAN O'SULLIVAN
5. 11/16/2020 - RYAN O'SULLIVAN