SKYLAR PATRIDGE

SEND THIS TO A FRIEND!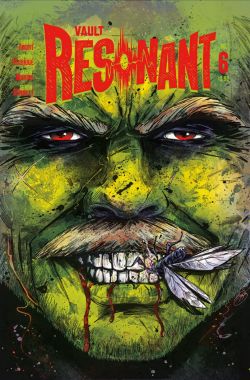 DF Interview: Skylar Patridge joins 'Resonant' team as comic returns with issue #6
By Byron Brewer
Paxton, Claire and Miki enact their plan to escape Honcho's island, but they won't get away without a fight! The arrival of Preacher, Maw and their followers interrupts Ty's new life with the Congregation, while Bec struggles to protect the family homestead from other hungry visitors.
Say what?!
If you are a regular reader of Vault Comics' Resonant from writer David Andry, you followed that. If not, just hang on as the book's new artist Skylar Patridge hits the ground running – discussing the returning series, a new arc upcoming in Resonant #6, and more with DF in our latest deep dive.
Dynamic Forces: Skylar, how does it feel to be joining the Resonant creative team as artist as the book returns to monthly publication?
Skylar Patridge: I couldn't be more excited! Resonant was one of my favorite books of the last couple of years so when I had the opportunity to not only work with Vault again but also join this incredible team, I was elated.
DF: Before we get into the book, tell readers a little about how you became interested in art, and comic book art.
Skylar Patridge: Art (specifically drawing) was something that I did from a very early age. I don't remember a time when it wasn't part of my life, really. And I think I was naturally drawn to trying to tell stories with my drawings, even before I understood what comics were. Communicating through pictures just made sense to me. And as I got a little older, I was exposed to comics, graphic novels & some choice superhero cartoons (Hello, X-Men & Batman: The Animated Series!). All of which fueled my interest in illustrative storytelling and helped shape the way I drew.
DF: Man, talk about good toons! You had great taste! … So, any artists that you particularly admire or were great influences (asked with the understanding you cannot name everyone or prioritize your muses)?
Skylar Patridge: Oh god, so many! Steve Ditko, John Buscema, Jim Lee and Joe Madureira were some of my first encounters with comics, and their work was very foundational for me. I practiced emulating their styles a lot as a kid, pen and paper spread out across the living room floor with a stack of comics for reference.
But like a lot of creators, my relationship with comics has spanned most of my life, and I've found that my enduring influences have come from artists whose work challenged my understanding of what comics could look like. Alex Toth and Bernie Wrightson as well as illustrators like Andrew Loomis & Bob Peak have been big influences as well as many contemporary artists working today. Phil Noto, Becky Cloonan, Joëlle Jones & Chris Samnee are a few of my favorite creators whose work not only inspired me, but also pulled me back into comics at various points in my life when art-making had fallen to the margins.
DF: For the uninitiated, tell us just a little bit about what Resonant is all about in general, and then more specifically about the coming arc with #6.
Skylar Patridge: Resonant explores a post-apocalyptic, near-future in which the world is inundated with sound waves that drive people to their most violent instincts. The story follows a family working to survive in this harrowing world of violence with all its emerging monsters. This upcoming arc continues right where the first arc left off, and follows Paxton, Bec, Ty and Steph on their now-fractured battles to survive and return to one another with new and frightening threats on the horizon.
DF: As an artist, coming onto an already-established book, how do you approach the property? Is it a matter of emulating what has gone before with your twist or totally unleashing your own creative vibes (in conjunction with writer David Andry, natch!) onto the pages for this new iteration?
Skylar Patridge: The Resonant creative team built such a unique and kinetic experience in arc one that it was important to me to keep some of that energy moving forward while hopefully bringing something new to the table. David (and the entire Resonant team) has been such an encouraging and supportive collaborator. It's been a joy to experiment with my own artistic process to create something familiar but still altogether different for readers.
DF: How have you and colorist Jason Wordie meshed as far as mood and palette on the book goes?
Skylar Patridge: Jason is incredible. I've been a long-time admirer of his work so I'm thrilled to be working with him on Resonant. His creativity and skill never fails to elevate every project he tackles and it's been stunning to see him work his magic on my line art.
DF: Skylar, what other current or near-future projects might you be involved with that you can tell readers about?
Skylar Patridge: In addition to Resonant, I'm developing a young adult graphic novel with Alex DeCampi & Kelly Fitzpatrick. It's a modern fantasy influenced by Romanian folklore that explores what a contemporary world would look like if magic suddenly returned to a society unprepared to handle it. There are dragons flying down Main Street and harpies wreaking havoc. And at its heart, it explores family, perspective and what it's like to live in the shadow of conflict between the world you know and something unknown.
I'm also developing a miniseries with Christof Bogacs & Nadia Shammas called Volume from Scout Comics. The story explores a bleak dystopian future and the kids who decide to fight back against the strict regime that controls their city, armed with teen angst and one killer punk track. It is basically our love letter to punk music, self-discovery, friendship and resistance to the rise of fascism.
Dynamic Forces would like to thank Skylar Patridge for taking time out of her busy schedule to answer our questions. Resonant #6 from Vault Comics is slated to hit stores Dec. 2nd!
For more news and up-to-date announcements, join us here at Dynamic Forces, www.dynamicforces.com/htmlfiles/, "LIKE" us on Facebook, www.facebook.com/dynamicforcesinc, and follow us on Twitter, www.twitter.com/dynamicforces.
---
NEW! 1. 01/25/2021 - MATTHEW ERMAN & LISA STERLE
2. 01/21/2021 - RORY MCCONVILLE