RAM V & DEV PRAMANIK

SEND THIS TO A FRIEND!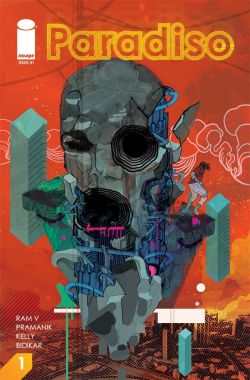 DF Interview: Ram V & Dev Pramanik explore a city which explores its citizens in Paradiso
By Byron Brewer
The Midnight Event forever changed the world. Now, centuries later, Jack Kryznan arrives on the outskirts of Paradiso City, haunted by fragments of childhood memories and in possession of a mysterious device – one with the power to change the destiny of this living, breathing metropolis, the people who dwell within, and the guardians who strive for and against it.
This is Paradiso, a new Image comic brought to readers by writer Ram V and artist Dev Pramanik. To get the full 411 for you, DF sat down with this dynamic duo creative team for a chat.
Dynamic Forces: Ram, give me the elevator pitch for Paradiso.
Ram V: Paradiso is a dystopian sci-fi adventure set inside a living, breathing metropolis in a world where a cataclysmic event known as The Midnight ended civilization. Now centuries after that event, survivors try to build a new life inside this sentient city even as the city herself tries to understand life by observing and manipulating the people who live within her.
If you've played Sim City – imagine the city was the player and the game was to manipulate the lives of the people within her.
DF: What was the inspiration for this new series from Image Comics? Is this something that you have been contemplating for some time now?
Ram V: As a concept, Paradiso had been created long before I even started making comics. My good friend and architect, Rajiv Bhakat, and I first came up with the idea of setting a story inside a living city. We wrote little bits and pieces of prose to lend shape and solidity to the world. This was back before I had started writing professionally. Dev and I began talking about Paradiso in 2016 shortly after we'd finished working on Black Mumba.
That is really my favourite part of starting a new project. When the possibilities are near infinite and you pick a direction to work in. We pitched Paradiso to Image in 2016 at Thought Bubble and got the nod shortly after.
DF: Who is Jack Kryznan as a character? Why should readers care about him?
Ram V: Jack Kryznan is a relatively ordinary guy thrown to the wind, caught in the currents of events larger than himself. All he's trying to do is stay afloat and maybe stand his ground but life's hardly ever that easy, is it? I think we've all been there at some point, just trying to keep things together while the world turns. I think that makes Jack instantly relatable. He's not heroic. He's not a champion. I mean, he's "Runaway" Jack, which is a reference to him being a coward as a kid. But I think characters like that are more interesting – especially when they find unexpected fonts of courage and audacity. I like my characters to pick up scars along the way. I like them to be shaped by the story rather than arriving fully formed. So, beyond what I've already said, I'd prefer that the readers discover who Jack Kryznan is.
DF: Dev, what was it like designing the characters for this book? Did you work closely with Ram on this, or were you given carte blanche?
Dev Pramanik: Designing the characters in this book was a blast. Ram and I worked together on the character designs. We had a lot of back on forth on some characters till we hit the right note. We basically started the book together. Ever since Ram brought up the idea while we were working on Black Mumba, we have been developing the world for Paradiso. He told me the concepts he and Rajiv had come up with and I added my own ideas onto them and together we built this world ground up. I had a lot of fun doing it
DF: Describe, if you can, how you use your art to reflect a writer's script. How do you establish a strong atmosphere for this new world? How do you use your tools to reflect emotion, conversation, etc.?
Dev Pramanik: Once Ram sends me the script, I read it once over and then take it apart, page by page. As I do this, I'm making mental notes of the tones in different segments of the script. And then when I thumbnail the pages, we sit down and decide what the best shots are to convey the right atmosphere and emotion. And then I decide how to render the scene to optimize the portrayal of that emotion. For example, the double page spread showing Paradiso for the first time, I took my time detailing the buildings and the whole panorama to make sure the readers get the sense of wonder and amazement. But then there are some panels where you want a melancholy feel, I use brushes a lot and reduce the number of characters in the panel to focus the emotion. For action, I make sure the focus is on the movement.
DF: What character or set piece has proven the most difficult/enjoyable thus far? Is there a favorite character for you?
Dev Pramanik: Dandy was the toughest character for me to pin down and the Aquarius point was the hardest set piece for me to create. I remember me and Ram going back and forth on the design for Dandy till we locked him down. And as for Aquarius, I remember doing a whole layout and then deciding it wasn't working because the massive scale and impressiveness of the structure wasn't coming through. So, I really had to re-do it before I could hit the right spot of grandeur and storytelling.
DF: Ram & Dev, how has it been working as collaborators?
Ram V: I can honestly say that it has been an absolute trip. I love working with Dev. As much as I am amazed by his work and his art, it's also the fact that he's just a great guy on a personal level. Very easy to collaborate with and someone that I can have an honest discussion with about the work. I think that's very important-- being able to preserve both the camaraderie and honesty when collaborating.
I also tend to script for my artists. So, Paradiso wouldn't be what it is without Dev's involvement even before the script is usually done. We work very closely on layouts and designs. I'll often find that Dev and I are already thinking along the same lines even before he puts pencil to paper. That's always a good sign. But there are also times where I am surprised by the changes he makes to the script and when I get a finished page back, it's often something exciting and unexpected.
Dev Pramanik: Both awesome and evolutionary. Collaborating with Ram on Paradiso has been a lot of fun and has helped me evolve into a better artist. Also, Ram and I are usually on the same page with everything. Even when we have disagreements about story points or layout choices or artistic decisions, we always help each other grow with discussions.
DF: What projects, in or out of comics, can each of you tell us about which may be of interest to readers?
Ram V: I've got a few things brewing. Apart from continuing work on Paradiso, I'm working with artist Anand Radhakrishnan on my second graphic novel, Grafity's Wall. I'm also working with artists Sumit Kumar & Rosh on Ruin of Thieves, the second arc of my fantasy series Brigands which should be out in early 2018.
Besides these I've got another book, as yet unannounced, scheduled for a mid-2018 release and a few things that I'm currently working on that I can't talk about!
I'm also hoping to have more prose work out next year as well.
Dev Pramanik: Right now, Paradiso is the only project I'm focusing on. But in the background, I'm chipping away at something that I have been trying to build. Let's see how that goes! I'd definitely love to do more covers and variants for projects from other creators that I admire.
Dynamic Forces would like to thank Ram V and Dev Pramanik for taking time out of their busy schedules to answer our questions. Paradiso #1 from Image Comics hits stores in Dec. 6!
---
NEW! 1. 11/25/2020 - STEVE SKROCE
4. 11/16/2020 - RYAN O'SULLIVAN
5. 11/16/2020 - RYAN O'SULLIVAN