ALEX PAKNADEL

SEND THIS TO A FRIEND!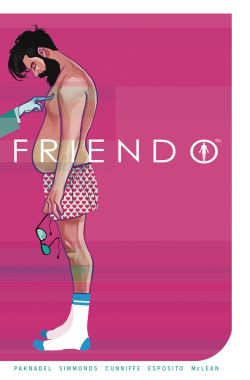 DF Interview: Alex Paknadel creates a story of power, protection and the great Beyond in 'Incursion'
By Byron Brewer
Beyond the margins of human reason lies a realm known as the Deadside, where the souls of the dearly departed linger -- and where demons wait for us in the dark. For countless ages, Earth's chosen protectors have guarded the veil between both worlds -- but there are other doors to the Deadside, through which gruesome terrors from galaxies untold can trespass.
With the planet's freedom at stake, can the reigning Geomancer and her steadfast Eternal Warrior stand together against an invasion unlike any they've ever witnessed?
From writers Alex Paknadel (Friendo) and Andy Diggle (Shadowman), and legendary artist Doug Braithwaite (X-O Manowar) comes Incursion, a story that will rock the Valiant Universe across dimensions! DF sat down with Alex Paknadel to discuss it.
Dynamic Forces: Alex, why should readers be excited about this new limited series?
Alex Paknadel: They should be excited because it's breathless and bananas! The core of this thing is a burgeoning father-daughter relationship between Gilad, the Eternal Warrior, and Tama, Earth's current Geomancer. When Tama gets infected with a necromantic virus designed to take both her and the planet out at the same time, we get to kind of let Gilad off the leash for the first time in a long while. The stakes, in terms of both Gilad's duty to the Earth and his mission to protect the Geomancer, could not be higher. It's a freakin' bloodbath, frankly.
DF: Imperatrix Virago is a brand-new character in the Valiant Universe. And, from what little I have been told, quite a powerful being she is. Is she your creation?
Alex Paknadel: She's a co-creation. Andy [Diggle] came up with the initial idea, Doug [Braithwaite] nailed her look, and I worked up her backstory with Andy and Valiant Editorial. She has many parents. The name and the plan, though? That's all Andy.
DF: What can you tell readers about Imperatrix Virago's relationship with the living, breathing ecosystem known as the Deadside?
Alex Paknadel: Okay, so Imperatrix Virago is the most powerful necromancer in the universe. Seriously, she makes Master Darque look like a party magician. Anyway, she maintains her immortality by feeding on the necromantic energy of entire worlds. To achieve this, she has to rely on this young girl called Syntilla, whose unique gift is to essentially convert the life energy of planets into necromantic energy. Think of planets as raw ingredients and Syntilla as Virago's personal chef, then you're about there.
Also, because Virago's a necromantic creature, she's free to enter the Deadside; however, she doesn't treat the place with respect. Instead she uses it as a conduit to all the inhabited worlds in the universe, and as a place to harbor her army of xenoghasts: undead warriors culled from all the worlds she's consumed. It's in the Deadside that Virago heard rumors about the Geomancer of Earth – a being of immense power who, once infected with Syntilla's gift, would provide Virago with enough converted necromantic energy to slake her thirst for immortality forever.
DF: For those who have been under a rock, can you please introduce our VU heroes, the Eternal Warrior and Geomancer? Why is this THEIR battle?
Alex Paknadel: Gilad Anni-Padda -- the Eternal Warrior -- is five thousand years old and some change. Along with his brothers Aram and Ivar, he was granted immortality by a mystical device called The Boon. He is the sworn protector of the Geomancers and he's very, very good at it.
Tama is Earth's current Geomancer – someone selected by the Earth to wield its power and act as its interface with all life. She's also the custodian of the Book of the Geomancer, a book written in an alien tongue that only Geomancers understand, and which foretells the entire past and future of the Valiant. Tama's phenomenally powerful in her own right, but she needs to be trained in the use of her phenomenal powers and she needs an anchor in the human world. That's where Gilad comes in.
DF: I really like Valiant's idea of an exploration into its comics universe's hidden depths with the BEYOND initiative, of which Incursion is a part. So many other companies are constantly destroying, reinventing, going back to basics and then re-destroying their comic book worldscapes. Thoughts?
Alex Paknadel: Look, I think comics is a broad church so there's no right or wrong approach, only good and bad implementations of those approaches, you know? For me, Valiant is playing Beyond exactly right because they're trusting a group of hungry, puckish creators to deliver fresh takes on their IP. When the announcement dropped and I heard that a bunch of my friends were involved, it was just unreal. Valiant already had a crazy writers' bench with heavy hitters like Josh Dysart, Matt Kindt, Jody Houser and Jeff Lemire, but adding bold new voices like Vita Ayala, Zac Thompson and Lonnie Nadler struck me as being a real statement of intent. Valiant is changing things up in a very bold way, and they want you to know about it. I'm tremendously excited to be a part of it.
DF: You and Andy Diggle are co-writing this limited series, correct?
Alex Paknadel: Andy co-plotted the series with me – and Shadowman fans will know that means readers are in very safe hands – but Andy only co-wrote issue one, essentially to make sure the launch sequence went okay.
Andy and I actually go way back, and we still live in the same town. That means we can work on the book in a really organic and informal way, so if I have a dumb idea, I can call Andy up or even call in on him so he can tell me how dumb the idea is to my face.
To be honest, there's a weird sense of everything having come full circle with Incursion. Andy was kind enough to take me under his wing when I decided that comics was what I wanted to do, and he's been championing me ever since. Finally getting to work with him on a big book like this feels like a culmination.
DF: What can you say about the awesome art of the legendary Doug Braithwaite?
Alex Paknadel: Doug's art needs no introduction, but it's a high point of my career to date to be working with him, it really is. His acting is quite simply the best in the biz, so I know I can convey incredibly nuanced emotions in this book.
The best part of this job is seeing artists alchemically transmuting your barely literate scribblings into beautiful images, but with Doug I get to sit at the feet of a master.
DF: Alex, what other projects of your own, current or near-future, can you tell readers about?
Alex Paknadel: I have a dark satire called Friendo out through Vault Comics. It's about an out of work actor whose best friend is this AI marketing assistant that came free with a pair of augmented reality glasses. When the glasses begin malfunctioning, the relationship between the pair becomes really toxic and violent. It's had some crazy good reviews and we just got a second printing for #1, so that's been really gratifying.
I've also just taken over a Lion Forge Catalyst Prime superhero book called Kino. It's about this British astronaut called Alistair Meath who was granted superpowers by an asteroid of unknown origin. He was then placed into an artificially-induced coma by this deranged scientist called Aturo Assante and plugged into this uncomplicated, Kirby-esque virtual reality fantasy. Assante was trying to turn Meath into the ultimate superhero, but instead Meath escaped and went on a rampage through the lab where he was imprisoned. My run picks up with Meath months later, homeless on the streets of an England in the grip a nationalist populist insurgency. It's a really smart, really relevant book and I'm super-proud of it.
Obviously, I have a bunch of other stuff in the oven but I can't talk about it just yet. I can say that I'll be working on projects with my White Noise studio mates Ram V, Ryan O'Sullivan, Dan Watters and Caspar Wijngaard in some capacity over the next year. We all have big plans, so stay tuned.
Dynamic Forces would like to thank Alex Paknadel for taking time out of his busy schedule to answer our questions. Incursion #1 from Valiant Entertainment hits stores Feb. 20th!
---
NEW! 1. 11/30/2020 - SKYLAR PATRIDGE
5. 11/16/2020 - RYAN O'SULLIVAN