CHARLES SOULE

SEND THIS TO A FRIEND!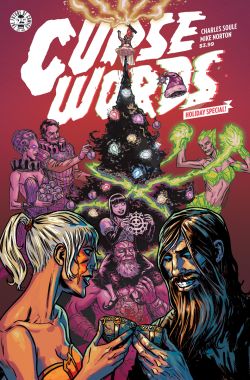 DF Interview: Charles Soule shows us how the wizard world observes a cool yule in the Curse Words Holiday Special
By Byron Brewer
'Tis the season … but not just on Earth! The Hole World has holidays too, and in this special Curse Words holiday event, you'll see how Wizord, Margaret, and their pals celebrate the season. With looks into the cast's pasts and visits from dearly departed wizard-y friends (hey there, Cornwall!), this one from writer Charles Soule and artist Mike Norton is not to be missed.
Of course, DF wanted more as always, but instead of hopping a reindeer to the North Pole, we went the hex to Hole World and caught up with writer Charles Soule. Here's what he told us.
Dynamic Forces: Charles, I have been a fan of this book since our initial interview on #1, but when I think of the spirits Curse Words invokes, those of the holiday variety are not among them. How did this "special" come about?
Charles Soule: There are two real reasons Ryan Browne and I decided to put out a holiday special – first, it lets the team take a one-month break from putting out the regular series. That's great for Ryan, since he can start working on the third arc, "The Hole Damned World," and get ahead on it to make sure it continues to come out monthly starting with issue #11 in February. Of course, it didn't help me much, since I still had to write it, but that brings me to the second reason we thought this would be fun – it lets us do something a little different with the characters than we usually do. A "holiday" can mean very different things to different groups of people, and the Curse Words wizard crew is a very different group of people.
DF: For the uninitiated (you know who you are), give us a thumbnail summary of the regular Curse Words title.
Charles Soule: Put simply, Curse Words is a wonderful comic about an evil wizard named Wizord who is sent to Earth from his hellscape home dimension with orders to destroy our world with a massive spell. Once he gets here, though, he decides he likes it, and can have much more fun pretending to be a magical hero … so he does that. Things go straight to hell from there. It's a (very) funny dark fantasy that is designed to be completely unpredictable. We love it. Sort of Lord of the Rings meets Breaking Bad, but with more laughs.
DF: What can you tell us about the overall storyline of the one-shot?
Charles Soule: The story is set in the Hole World – the evil place Wizord comes from, and it takes place in the time period before he was sent to wreak havoc here on Earth. It's a time period we haven't explored very much in the series, which is great for a number of reasons. First, it lets us do a purely fantasy story with monsters and so on, but it also lets us see a lot of the book's cast in a new light. We can see relationships forming between characters that we see fully developed in the main series, and of course, we get to see Wizord operating in full-on evil jerk mode, which doesn't happen in the main numbered issues very much either.
The story itself revolves around a holiday celebrated by the nine evil wizards who rule the Hole World alongside their demonic boss Sizzajee called a "MeatMeet." What a MeatMeet is, and how it works … you'll have to read to find out, but it is super weird and super wonderful. It was a blast to write, and hopefully a blast to read!
DF: Hey! Cornwall is back … ?
Charles Soule: Yup! Cornwall is one of the other wizardly characters in the book, an enemy of Wizord. They battled back in issue #1, and Wizord trounced him (and by "trounced" I mean "he set him on fire and burned him to ash.") So, we haven't seen Cornwall for a while, but he was always one of Ryan and my favorite characters in the whole series. He's something like an erotic Elizabethan dandy fop. Very, very fun. So, when an opportunity arose to set this holiday special in a time period where he was still alive, that was a no-brainer. Cornwall is back, and he is as magnificently skeezy as ever.
DF: I know there will be some background exploration into some of the characters as part of the issue. For new readers, can you introduce those focus characters to us and give a little intro?
Charles Soule: Sure. We've already talked about Wizord and Cornwall, but we also see a lot of Sizzajee. One nice thing is that we also get to see Cornwall's sister Lady Violet, who was a major part of the second arc of the main story, "Explosiontown." Cornwall and Violet interact in fun ways, and it gives a bit of extra dimension to the story we just saw wrap up in the second arc. Ruby Stitch, an extremely powerful sorceress and, incidentally, Wizord's ex-girlfriend, has a big role in the story too. Those are the big ones, but we see all your favorites, from Botchko to Silly Bee.
DF: As a creator of the series, which character were you most excited to embellish? Why?
Charles Soule: It was great to see Cornwall again, I have to say. He's sort of an underdog among the wizards, and despite his despicable nature, you sort of root for him. And of course, Evil Wizord was fun to write too. What a jerk he is!
DF: How was it working with artist Mike Norton on the special?
Charles Soule: Mike is a pro's pro's pro. This issue required him to draw a cast of about ten characters based on Ryan Browne's designs, make them do completely odd things, nail humor beats (which is very hard in comics – it's not just about the dialogue, but also about characters' "acting," background gags, all kinds of things), do action, all kinds of tricky things – and he nailed it all, perfectly on time. I had never worked with Mike before this point, although I've known him for a while and he's actually a studio mate of Ryan's… but I would do it again in a heartbeat.
DF: As one of the busiest writers in comics, tell readers what they can expect now and in the near-future from Charles Soule.
Charles Soule: Oh man, there's a bunch. More Curse Words, of course, but I'll also be continuing the "Mayor Fisk" story in Daredevil leading up to our big Daredevil #600 issue. Astonishing X-Men will keep rolling, delivering extremely intense, mutant-y action – issues #6 and #7 are big ones there. I'll keep writing my two ongoing Star Wars series, Poe Dameron and Darth Vader, with super cool stuff planned for both. The fifth volume of my series Letter 44 was just released, and the sixth and final volume should be out early in 2018. I have some other cool comics things on the way that I can't really talk about yet, but the other huge project on the horizon is my first novel, The Oracle Year. It'll be published by HarperCollins on April 3, 2018, and it's about a guy who can see the future and how that ability turns the world upside down. I am extremely proud of it, and if folks are interested in learning more about the book or pre-ordering it, you can go to www.oracleyear.com. For updates on that and all my other projects, you can always find me on Twitter at @charlessoule.
Dynamic Forces would like to thank Charles Soule for taking time out of his very busy schedule to answer our questions. The Curse Words Holiday Special one-shot from Image Comics hits stores in Dec. 20th!
For more news and up-to-date announcements, join us here at Dynamic Forces, www.dynamicforces.com/htmlfiles/, "LIKE" us on Facebook, www.facebook.com/dynamicforcesinc, and follow us on Twitter, www.twitter.com/dynamicforces.
ASTONISHING X-MEN #1 ULTRA-RARE VARIANT BY MARK BROOKS - SIGNED BY CHARLES SOULE
DARTH VADER #1 ULTRA-LIMITED EDITION SIGNED BY CHARLES SOULE
OBI-WAN & ANAKIN #1 LIGHTSABER SILVER SIGNATURE SERIES SIGNED BY CHARLES SOULE
STAR WARS: POE DAMERON #1 GOLD SIGNATURE SERIES SIGNED BY CHARLES SOULE
WOLVERINES #1 FIRST PRINTING SIGNED BY CHARLES SOULE!
DEATH OF WOLVERINE LOGAN LEGACY #1 SIGNED BY CHARLES SOULE!
---
NEW! 1. 11/25/2020 - STEVE SKROCE
4. 11/16/2020 - RYAN O'SULLIVAN
5. 11/16/2020 - RYAN O'SULLIVAN