ERIC HARBURN

SEND THIS TO A FRIEND!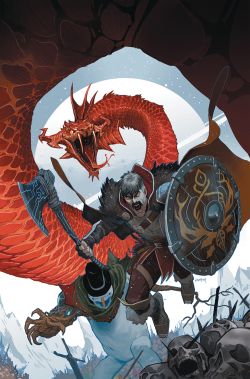 DF Interview: Eric Harburn lays out the Christmas caper for 2018's 'Klaus and the Crying Snowman'
By Byron Brewer
Klaus has to help an absentee dad-turned-snowman make amends before melting away for good. And probably before he's defeated by a pantheon of Norse Gods and their minions. All in a day's work for Santa Claus.
One of the best holiday traditions in comics returns in the next chapter of the epic Santa saga by visionary Grant Morrison and Eisner Award-nominated artist Dan Mora. And to give readers an extra-special pre-holiday treat, DF REALLY went behind the scenes on Klaus and chatted up the special with BOOM! Studios Senior Editor Eric Harburn.
Dynamic Forces: Eric, you are Senior Editor at BOOM! Studios. What is it about these yuletide releases on the adventures of a re-imagining of ol' Santa Claus by Grant Morrison and Dan Mora that keeps readers coming back year after year?
Eric Harburn: These annual Klaus specials have become one of our favorite traditions here at BOOM! Studios, and we're thrilled that readers have also welcomed Klaus and Lilli back into their homes year after year. I think it's a real testament to the world Grant and Dan have crafted together these past few years, and how many great stories are still left to tell.
DF: Before we talk about Klaus and the Crying Snowman, this year's installment, can you summarize just a little of what we have learned about the being called Klaus since his launch in 2015?
Eric Harburn: Our first Klaus series debuted in 2015, and was essentially "Santa Claus: Year One" -- the origin story of our shamanic Viking take on Kris Kringle. A gruff hunter with the lone wolf Lilli as his sidekick, Klaus was imbued with mystical powers by supernatural, elf-like beings that made him immortal. After saving the kingdom of Grimsvig from its corrupt ruler and the evil force Krampus, the annual specials have featured standalone adventures as Klaus has journeyed across time, up through the modern day.
DF: Can you give us some background on the "absentee dad-turned-snowman" [solicit copy]?
Eric Harburn: Like with past characters in the Klaus mythos, the Crying Snowman is a riff on the Jack Frost archetype with Grant's trademark spin. The Snowman is the heart of this year's tale, so without spoiling things, the crux of his story is coming to terms with who he was as a man, both good and bad, before getting his second chance as a snowman.
DF: What can you tell us about the storyline of Crying Snowman?
Eric Harburn: Klaus and Lilli embark on another modern-day adventure that takes them from the middle of suburbia to the outer reaches of Saturn, combating the forces of Ragnarok itself as they attempt to thwart the impending apocalypse.
DF: So we get some Norse Gods AND adventures around Saturn?
Eric Harburn: And MORE! There's one sneaky panel that is the first time we've shown the mythical Lunar Wars that have been hinted at in each special, and it needs to be seen to be believed.
DF: Any new characters coming on board for this adventure?
Eric Harburn: Last year's special, Klaus and the Crisis in Xmasville, featured Ded Moroz (Grandfather Frost) and his granddaughter Snowmaiden, and the supporting Santas this year are Romanian "Santa of the People" Mus Gerila and the oddball, goat-riding Joulepukka.
DF: Talk a little about the art of Dan Mora and the ever-fertile imagination of Grant Morrison.
Eric Harburn: Grant's unparalleled imagination is legendary, but Dan has quickly proven himself to be one of Grant's best collaborators. Even at its wildest, Klaus is always the product of Grant and Dan being completely in sync, and I think they've only gotten better with this year's special.
DF: Eric, DF always gives creators this chance. Anything you as Senior Editor want to promo while we're here?
Eric Harburn: We're working on too many great projects at BOOM! Studios to name-drop them all, so I'll just say thanks to all of our readers for continuing to support original material in the comics space, and to DF for the interview!
Dynamic Forces would like to thank Eric Harburn for taking time out of his busy schedule to answer our questions. Klaus and the Crying Snowman #1 from BOOM! Studios hits stores Dec. 19th!
For more news and up-to-date announcements, join us here at Dynamic Forces, www.dynamicforces.com/htmlfiles/, "LIKE" us on Facebook, www.facebook.com/dynamicforcesinc, and follow us on Twitter, www.twitter.com/dynamicforces.
GRANT MORRISON'S 18 DAYS ORIGINAL GRAPHIC NOVEL
GRANT MORRISON'S 18 DAYS ORIGINAL GRAPHIC NOVEL (NEW PRINTING)
THE BEST OF VAMPIRELLA MASTER SERIES OMNIBUS TRADE PAPERBACK
ALL NEW MIRACLEMAN ANNUAL #1 JEFF SMITH VARIANT CGC GRADED!
ALL NEW MIRACLEMAN ANNUAL #1 JOE QUESADA VARIANT CGC GRADED!
ACTION COMICS #0 - CGC GRADED 9.8!
BATMAN & ROBIN REBORN #1 - SIGNED BY FRANK QUITELY
BARRY SONNENFELD'S DINOSAURS VS. ALIENS HC
SEVEN SOLDIERS #0 - SIGNED BY JH WILLIAMS!
JLA: CLASSIFIED #1 - SIGNED AND RE-MARKED WITH A SUPER COOL SUPERMAN HEAD SKETCH BY ED MCGUINESS
VAMPIRELLA MASTERS SERIES VOL 1: GRANT MORRISON & MARK MILLAR TPB (NEW PRINTING)
---
NEW! 1. 11/25/2020 - STEVE SKROCE
4. 11/16/2020 - RYAN O'SULLIVAN
5. 11/16/2020 - RYAN O'SULLIVAN