KURT LUSTGARTEN & KIWI SMITH

SEND THIS TO A FRIEND!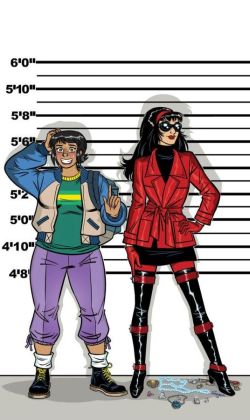 DF Interview: Kurt Lustgarten & Kiwi Smith unfreeze a female buddy heist in 'Smooth Criminals'
By Byron Brewer
There are certain things Brenda expects to find while hacking: money, secrets, occasional pictures of cats. She is NOT expecting to find a cryogenically frozen master thief from the 1960s. Mia is everything Brenda is not: cool, confident, beautiful. And utterly unprepared for the digital age. Despite their differences, the two will need to team up to find out what happened to Mia – and how to pull off the heist of the century.
Writers Kiwi Smith and Kurt Lustgarten (Misfit City) team with artist Leisha-Marie Riddel (Goldie Vance) in Smooth Criminals, a book about felonies and friendship. DF thought you'd like to know about it too, so we chatted it up with Kiwi and Kurt.
Dynamic Forces: Kiwi and Kurt, needless to say I really enjoyed your work on Misfit City. Tell us how Smooth Criminals came together for the two of you.
Kiwi Smith: Thank you. We always wanted to do a female buddy heist movie, teaming an older, more sophisticated female character with a slovenly young female hacker, but when we started talking to BOOM! Studios about it, it felt like we could embrace much bigger elements —time travel, cryostasis, '90s inspirations like the movies Hackers and Encino Man and put them all into a more high-concept blender.
DF: A lot of nostalgia these days for the 1990s, which I still think of as 10 years ago, LOL. What type of research did you do, if any, on both the 1990s and the also-involved 1960s for Smooth Criminals?
Kurt Lustgarten: Sixties crime movies like Topkapi and To Catch a Thief were big inspirations for Mia's character, and also the idea of having a female James Bond-esque catburglar character who gets plunked into the late '90s felt ripe for fish out of water fun.
Kiwi:Hackers is one of Kurt's favorite movies (and definitely the soundtrack). And I made him re-watch Encino Man, which, if you haven't seen it recently, I'd argue that it's a perfect first act. And just generally me coming into my 20s in the '90s and writing movies in the '90s gave me a pretty solid basis.
DF: What can you tell us about the overall storyline of the book?
Kurt:Smooth Criminals is going to mash-up a true odd couple in both their styles and worldviews, but they intersect at their love for stealing stuff. They're also both loners who haven't really had time for friends, so they're both in new territory here and it won't always be easy to keep their relationship going. What will bring them together and help them open up to each other is pulling off a massive heist. And it turns out there's one prize that Mia has had her sights set on her entire life: the Net of Indra, a famed Indian treasure that happens to be starting a new U.S. exhibition. Naturally, they're not the only ones interested in stealing it so they'll have some stiff competition. The question will always be if they can use their differences to get the most out of each other or will those differences just be too much to overcome.
DF: Tell the readers a little more about these intriguing characters, Brenda and Mia.
Kurt: Mia is a suave master jewel thief. She's elegant and debonair with charisma for days, although her career choice makes her a a bit of a loner. Long-term friendships or relationships would just get in the way of her work. Someone who feels in control in any situation -- but waking from a 30-year cryo-sleep is going to challenge that. I always picture Maggie Cheung in Irma Vep or Angelina Jolie in Hackers or Tomb Raider when I think of Mia.
Kiwi: Brenda is a brainiac college student who lives with her parents, and she hasn't really gotten a chance to shine yet, socially or professionally. She's a STEM girl in the late '90s, way ahead of her time, before that was accepted. Brenda really wants a partner in crime, and she's a bit overzealous when it comes to making friends and it's scared people away. You could say she's a bit on the spectrum, and this story gives her a place to fit in, exceed and shine. Not only is it a story about her finding her partner, but it's about her doing something radical and glamorous that no one expected her to do.
DF: Any other characters we need to know about who may be important to the series? If so, can you introduce some of them here please?
Kurt: Mia's arch-rival from the 1960s was this guy named Hatch Leonard. He was a big shot thief and criminal underworld figure for whom it was hard to swallow that he would never be the best as long as Mia Corsair was around.
Kiwi: His fiancee Astrid is also going to be an interesting character that we unfold. Let's just say she's not as innocent as she looks. She also happens to be the daughter of famed scientist and cryo-tech pioneer, Dr. Carsten Friese -- better known as "The Ice Man."
DF: Talk about the awesome art of Leisha Riddel.
Kurt: Leisha was another great introduction from our editor, Shannon Watters. From the very first pages we saw, we were just like, "oh, she GETS it..." As writers, we spend all this time imagining these characters and their world, but Leisha's work is when it finally feels real to us. The expressions and body postures of every character are so perfectly tailored that her drawings end up helping us understand our characters even more. It's like the healthiest feedback loop you could imagine.
Kiwi: We were so fortunate to work with Naomi Franquiz on our first book, Misfit City, and now with Leisha we feel like we've hit the jackpot again. Shannon Watters has such a gift for finding young female artists, so to be part of young female artists' evolution is exactly in line with my life's work — telling stories about empowering young women and inspiring them to break out as humans and artists.
DF: Kurt and Kiwi, are there any projects you can tell readers about in which you might be involved, inside or outside comics?
Kurt: We are developing a TV series together which might or might not have something to do with comics… and Kiwi is writing Legally Blonde 3 with her longtime writing partner Karen, and she's also producing a show for Netflix called Trinkets, based on her YA novel.
Kiwi: We're YA all the way.
Dynamic Forces would like to thank Kurt Lustgarten & Kiwi Smithfor taking time out of their busy schedule to answer our questions. Smooth Criminals #1 from BOOM! Studios is in stores NOW!
For more news and up-to-date announcements, join us here at Dynamic Forces, www.dynamicforces.com/htmlfiles/, "LIKE" us on Facebook, www.facebook.com/dynamicforcesinc, and follow us on Twitter, www.twitter.com/dynamicforces.
---
NEW! 1. 11/30/2020 - SKYLAR PATRIDGE
5. 11/16/2020 - RYAN O'SULLIVAN