TERRY MOORE

SEND THIS TO A FRIEND!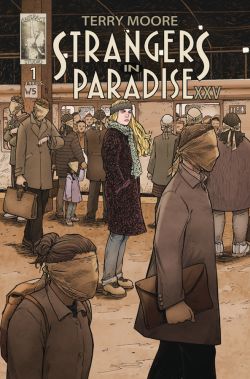 DF Interview: Terry Moore reopens the door on Strangers in Paradise XXV
By Byron Brewer
America's favorite couple is back! To celebrate its 25th anniversary, the Eisner Award-winning series Strangers in Paradise is back with an all-new story from writer/artist Terry Moore.
Francine and Katchoo are living the dream until they learn a former Parker Girl is in hiding and writing a tell-all book about the wicked empire Darcy Parker built with Katchoo at her side. Determined to stop her, Katchoo enlists the aid of her mercenary sister Tambi and the hunt is on!
DF wanted to know more, so we could pass it on to you. Thus, we sat down with creator Terry Moore and this is what he told us.
Dynamic Forces: First, Terry, for the uninitiated (you know who you are), tell us just a bit of the history of this Eisner Award-winning comic which dates, I believe, back to the self-publishing days of 1993.
Terry Moore: Strangers In Paradise is a series I wrote and drew from 1993-2007. The story focuses on the friendship between Francine and Katchoo but there is a lot of action and drama and comedy. None of us have ever been able to figure out a way to describe it really, it doesn't fit any one genre, it kind of just uses them all to get the story told.
DF: When Francine and Katchoo closed that door on the readers, seemingly forever, back in 2007, that seemed to be it for Strangers in Paradise. What is the genesis of this return? (Could the number 25 have anything to do with it?)
TM: True, I wanted to bring the story back for its 25th anniversary. But I've thought that for a long time and planned for it. The new story wraps all my other series together. Its all one Terryverse, SIP, Echo, Rachel Rising and now Motor Girl. So it's almost as if I told all those stories just so I could tell this next one.
DF: How much time has passed for our SIP gang since that door closed in issue #90? Real time? Can you catch us up on Francine and Katchoo since then?
TM: A few years have passed. Catching up on what they've done since then will be in the story.
DF: What can you tell us about the storyline for this new edition, coming from Abstract Studios?
TM: One of the girls Katchoo knew from her bad girl days in L.A. with Darcy Parker is writing a tell-all book. Katchoo is determined to stop that from happening.
DF: Aside from Francince and Katchoo, what other characters may be returning? Any new protagonists in this volume who might take a lead role?
TM: Expect all the gang from the first series, plus all the gangs from the others books. These people are so fascinating they have their own stories and books. I encourage everybody to read about them.
DF: Any involvement here by the Parker Girls or the Big Six? Again, for the uninitiated, can you explain what these organizations are also?
TM: Yes. But there isn't any old farts organized crime anymore. It's a different world today. Meaner, darker, anonymous. Trying to stop someone these days is nearly impossible. Nearly.
DF: Do you enjoy working as the only member of the creative team on your projects? As both artist and writer, are there any advantages? Disadvantages?
TM: The advantage is I can go with my instincts and reach for the most individual ideas I can think of. I don't have to ask permission or talk somebody else into it. The disadvantage is doing everything alone, without creative partners to amp up the good and tone down the bad.
DF: Terry, any other projects out there, in or out of comics, readers might want to watch out for?
TM: 2018 is all about Strangers In Paradise XXV. For me, that's the most important project.
Dynamic Forces would like to thank Terry Moore for taking time out of his busy schedule to answer our questions. Strangers in Paradise XXV #1 from Abstract Studios hits stores Jan. 31st!
For more news and up-to-date announcements, join us here at Dynamic Forces, www.dynamicforces.com/htmlfiles/, "LIKE" us on Facebook, www.facebook.com/dynamicforcesinc, and follow us on Twitter, www.twitter.com/dynamicforces.
---
NEW! 1. 11/30/2020 - SKYLAR PATRIDGE
5. 11/16/2020 - RYAN O'SULLIVAN