DAVE BAKER

SEND THIS TO A FRIEND!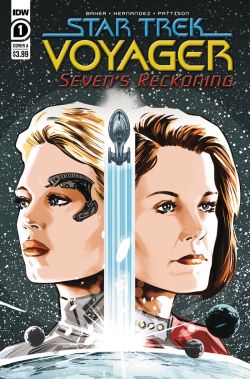 DF Interview: Dave Baker puts a beloved Borg's humanity to the test in 'Star Trek: Voyager – Seven's Reckoning'
By Byron Brewer
After Voyager encounters a damaged ship deep in the Delta quadrant, what at first seems to be a simple repair mission becomes much deeper as Seven of Nine becomes involved in an ancient conflict that will put her newfound humanity to the test.
From writer Dave Baker (Action Hospital, Star Trek: Waypoint) and artist Angel Hernandez (Star Trek: Picard Countdown, Star Trek/Green Lantern) comes IDW Publishing's very FIRST Voyager mini-series celebrating the 25th anniversary of that arm of the Star Trek franchise. DF wanted to get the 411 on this particular star trek, so we chatted it up with scribe Dave Baker.
Dynamic Forces: Dave, you have written Star Trek books before, but this 4-issue miniseries focusing on the Borg Seven of Nine seems especially personal and important to you. Can you tell readers what brought you to write this Seven of Nine spotlight story?
Dave Baker: I'm a massive Trek fan and Seven in specific. I find the idea that someone has their life stolen from them and then must reclaim it a deeply moving journey. Additionally, Seven's character arc ties into the central theme of our comic which is that "The stories we tell matter, and the stories we tell ourselves matter most of all." This is an idea that directly relates to Seven because she's been robbed of both her personal past and the fact that the main new aliens in our story have a culture that revolves exclusively around stories. Our book examines how these ideas of personal narrative and group narrative dovetail into one another and also how each of those can be manipulated.
DF: From your perspective, what makes Seven of Nine who she is, and what's appealing about her character? What did you want to explore about her in your story?
Dave Baker: Seven of Nine signifies the best of the human condition, in many respects. The fact that even after immeasurable trauma we still have a curiosity and a desire to better ourselves. The aspect of Seven's character where she's constantly attempting to grow and become 'more human' is also fascinating. It's a recurring theme in Star Trek for good reason. It's an enduring one. I think we're all trying to figure it out. Trying to be more understanding and empathetic and open. We, as an audience, can learn from Seven's trials and tribulations.
DF: What can you tell us about the challenges she will face during the 4-issue run?
Dave Baker: During their journey through the Delta quadrant back to Earth, Voyager discovers a large inter-generational colonizing vessel. It's stranded in deep space. Seven and some crew members go on board to offer assistance. What they discover is an alien race that is split into two classes, a distinctly upper and lower class hierarchy. Voyager strikes a deal, offering Seven's technological know-how in exchange for supplies. Seven is then sucked up into a class conflict where she will have to work with the aliens in order to not only repair the ship but advocate for a more humane quality of life.
DF: What other characters will we encounter in the mini? Are there any new characters, and what are their roles?
Dave Baker: Tuvok is my favorite Star Trek character, so I'd be lying if I said I didn't purposefully give him some really fun character moments. There's also Greeb, the main 'guest star' of the story. He's an alien worker on the ship that works with Seven and is eventually put in a place where he has to make a choice... fight for a brighter tomorrow or acquiesce to the status quo.
DF: Please let us know your thoughts about the contributions of artist Angel Hernandez and colorist Ronda Pattison.
Dave Baker: I'm so excited about the work Angel and Ronda have created. Angel's sequentials and his likenesses are so cool. I'm a big Star Trek comics fan so I'm deeply honored to have contributed something to the Trek canon with such a great artist. To put it bluntly, Angel draws the @#$% out of these aliens and this crazy alien technology. Ronda's colors really help flesh out the world. I'm so excited about the work she's doing. I hope the fans like this series as much as I do.
DF: Dave, what can you tell readers about coming projects, inside or outside comics, in which you may be involved?
Dave Baker: I have a creator-owned miniseries coming out through Floating World Comics titled Night Hunters, drawn by the amazing Alexis Ziritt. It's a cyberpunk dystopian crime comic about a world where if you want to have a child in a hospital, run for public office, or rent an apartment you have to serve as a police officer. That book comes out in comic book stores in November. For all my other comics, you can find them at www.heydavebaker.com
Dynamic Forces would like to thank Dave Baker for taking time out of his busy schedule to answer our questions. Star Trek: Voyager – Seven's Reckoning #1 from IDW Publishing is in stores now!
For more news and up-to-date announcements, join us here at Dynamic Forces, www.dynamicforces.com/htmlfiles/, "LIKE" us on Facebook, www.facebook.com/dynamicforcesinc, and follow us on Twitter, www.twitter.com/dynamicforces.
STAR TREK: THE MOTION PICTURE 20TH ANNIVERSARY LITHO - SIGNED VERSION
STAR TREK BOLDLY GO #1 MIDTOWN COMICS EXCLUSIVE COVER BY TONY SHASTEEN
STAR TREK/GREEN LANTERN #1 DYNAMIC FORCES EXCLUSIVE COVER BY JAE LEE PLUS 2 HOLIDAY PACKAGE
STAR TREK/GREEN LANTERN: THE SPECTRUM WAR #1 DYNAMIC FORCES EXCLUSIVE PURE LINE ART BLACK & WHITE COVER SIGNED BY JAE LEE
STAR TREK DOCTOR WHO #8 SIGNED BY GORDON PURCELL
STAR TREK 30 YEARS 23 KARAT GOLD SCULPTURED TRADING CARD
---
NEW! 1. 01/25/2021 - MATTHEW ERMAN & LISA STERLE
2. 01/21/2021 - RORY MCCONVILLE