MAT GROOM

SEND THIS TO A FRIEND!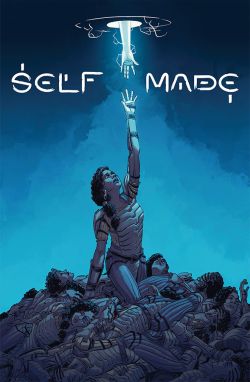 DF Interview: Mat Groom brings us an intimate, worlds-spanning story of self-discovery in Self/Made
By Byron Brewer
When chaos besieges the kingdom of Arcadia, warrior Amala Citlali sees it as her chance to escape her clearly-defined role – and to change her destiny. But she could never have predicted that it would also be her chance to confront her God.
From Image Comics comes Self/Made, brought to you by writer Mat Groom and artist Eduardo Ferigato. DF wanted to delve deeper into this saga, and so sat down with scribe Mat Groom.
Dynamic Forces: Mat, kudos on this new Image book, Self/Made. Is this something that has been on the Groom mental backburner awhile? Tell us the genesis of this unique comic.

Mat Groom: Thank you so much!

And it certainly has, at least in a primordial sort of form. It was one of those kept-in-my-back-pocket ideas for a long time. And when editor Kyle Higgins asked me to write a single-issue, self-contained comic script as a sort of demonstration of my skills, I pulled it out.

Kyle really dug it, and we decided to pitch it as a series. And that script I wrote, with the exception of a few small changes, is Self/Made #1. Of course, after I wrote that first script we brought artist Eduardo Ferigato, colorist Marcelo Costa and letter Troy Peteri on-board and we all shaped the direction of the series together from that point. But, y'know, if luck really is opportunity meeting preparation… having a reasonably-well-realized original concept handy was absolutely the 'preparation' half of my good fortune!
DF: Before we get into the book proper, and I realize it is still early, what's it like having a comics vet like Kyle Higgins as your guiding light … AND in his FIRST editorial role?
Mat Groom: It's actually not that early! We've got four issues completely finished and we're well into production on issue 5 and 6… and before that Kyle, Eduardo and Marcelo and I all worked for a decent chunk of time on the series development and the pitch.

But it's been great! I've known Kyle for about three years now, and we've been talking story pretty much that whole time. So it's a pretty natural relationship at this point. Kyle's experience and wisdom has been immensely helpful, though – he's written stories himself across many genres and for many publishers, and he has such a rigorous handle on structure and pacing. It's hard to stump him, that's for sure.

Basically, what I'm saying is – if you're launching your own creator-owned series, you should absolutely get yourself a Kyle Higgins. Not this one, though. He's spoken for.
DF: Tell readers about the world you and artist Eduardo Ferigato are building here. Is this Arcadia more toward the Grecian variety, or the unspoiled, harmonious wilderness of European Renaissance interest?
Mat Groom: You'll see influences from a few different historical societies (and other sources), but I think Arcadia is unique in that it's comprised of various different tribes, all with distinct cultures and traditions… but within the walls of the kingdom, it's very stable, very safe. It's a society that has known peace for a very long time.

But that harmony is only made possible because of some rather draconian strictures. This is a kingdom where you're born into a role, you perform that role, and then you die. There's no social mobility. There's no room to shape your own destiny.
DF: So tell readers the storyline behind this comic where a warrior woman actually confronts … GOD?
Mat Groom: Well, as I'm sure you can imagine, living in the sort of society I was just talking about, it's very stifling for someone with ambition, someone looking for a grander purpose. So when chaos comes to Arcadia and starts tearing down structures, our lead character Amala sees it as an opportunity to demonstrate her value outside of her pre-determined role.

And she does! But this earns her the attention of her God, as you mentioned… and for Amala, finding out there is an all-powerful creator out there, a higher authority dictating the destiny of this world… it shakes her to her core. Her agency is absolutely fundamental to her identity, so with that brought into question… everything starts to come unstuck for her.

And I think that's quite relatable, you know? We all have to grapple with these questions at some point in our lives. We all want to have a 'purpose'– but we also want to be masters of our own destiny, and those two desires, they really do contradict each other.
As it turns out, trying to square that circle sends Amala on a journey involving dragons and Ghost Kings and shoot-outs and flying cars. …that part is probably less relatable.
DF: Who is Amala Citlali? And who does she want to be?
Mat Groom: I think that's a really insightful question, actually – I don't think she truly knows. Not that she'd necessarily admit it to others, or herself.

Amala has spent so much of her life concerned with escaping from her role that I'm not sure she's ever considered, in concrete terms, what that might mean. What she could be. Largely because she doesn't have a frame of reference! A lion that grows up in captivity can't even conceive of what it would be like to live in the jungle.
All she knows is she wants to be important, she wants her life to mean something – so when she's actually given an outside chance at something like that… it's time to put up or shut up.
DF: Am I detecting any subtext here? If so, and not to spoil anything, can you discuss that from your own writer's point of view?
Mat Groom: Haha! Well, I feel like I wouldn't be doing my job if there wasn't some subtext, right?

I think, in particular, it's the explicit role of the sci-fi/fantasy genre to explore the fundamental issues of humanity or reframe elements of our society so we can consider them from a different perspective.

But this isn't a polemic, either. Crafting an intimate, personal and compelling story is our guiding light.
DF: Talk about the art of Eduardo!

Mat Groom: Honestly, I do not think I have the right vocabulary to properly articulate the specifics of Eduardo's immense talents.

I can tell you that, when Kyle and I were looking for an artist for this book, when we got to Eduardo… we knew immediately he was the one. I obviously hope Self/Made will help me grow my own profile as a creator, but… the comic world is just not ready for how hard it's going to be rocked by Eduardo Ferigato. He's going to be absolutely huge. And I'm immensely proud that Self/Made, with its huge scope and mix of traditional fantasy and science-fiction influences, serves as a great showcase for his soaring imagination, precise design and rock-solid storytelling.
And then, once you pair him with our colorist Marcelo Costa (who plays with light and contrast so well)… it's an indescribable experience getting new pages in my inbox almost every day.
So rather than me try to feebly describe his work with my words, I'd recommend people head to SelfMadeComic.com and check out Eduardo's work in our trailer.
DF: Mat, what other projects might you be able to tell readers about?

Mat Groom: Nothing I can talk about yet, unfortunately! We're pretty focused on introducing the world to Self/Made right now… but as I alluded to before, I'm pretty big on making sure I always have more stories ready to tell.
Dynamic Forces would like to thank Mat Groomfor taking time out of his busy schedule to answer our questions. Self/Made #1 from Image Comics hits stores Dec. 5th!
---
NEW! 1. 11/25/2020 - STEVE SKROCE
4. 11/16/2020 - RYAN O'SULLIVAN
5. 11/16/2020 - RYAN O'SULLIVAN