BRANDON THOMAS

SEND THIS TO A FRIEND!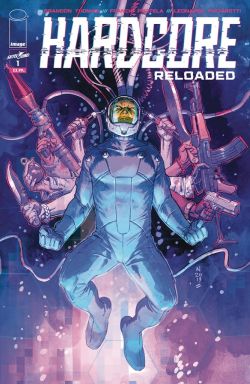 DF Interview: Brandon Thomas unleashes 'Hardcore Reloaded', with more bullets than John Wick
By Byron Brewer
Once, the Hardcore tech was used to protect our nation, but now that tech is out in the wild. And the only one who can help Agent Drake put the genie back in the bottle is his greatest enemy.

Skybound's action-thriller reloads with writer Brandon Thomas (Excellence), artist Francis Portela (Faith) and cover artist Nic Klein (Deadpool).
DF wanted to find out more about the return of this Kirkman/Silvestri brainchild, so we talked it up with writer Brandon Thomas.
Dynamic Forces: After reading Excellence, Brandon, I know you are capable of tremendous things as a writer, but what is it like playing in the sandbox of Image titans Robert Kirkman and Marc Silvestri with Hardcore Reloaded, and how did you come on the book?
Brandon Thomas: Thank you, that's much appreciated! As you know, I've been doing books with Skybound for awhile now, and I think they know how excited I get about figuring out cool action scenes and finding those amazing visual moments, so they knew a book like Hardcore was in my wheelhouse. It was an amazing opportunity to embrace that love for hyperviolence and over the top action that comics does better than anything else.
Even though this was all started by Kirkman and Silvestri, with Brian Stelfreeze on art way back when, think they knew I would approach it with the same kind of commitment and intent I've tried to display in my creator-owned projects with them. It's been a ton of fun working on this, and I'm so excited for people to see for themselves just how ridiculous and impossible and brazen the visuals (and explosions) are in this book. It's non-stop, and really takes advantage of the great premise, which sets up this environment where drone tech has taken a new, even more alarming turn, and science is just a few steps beyond our current world. Making it even scarier than our own, if you can believe that.
DF: For those living under a rock (and who can blame them these days, LOL?), can you summarize the last run of this book as presented by Andy Diggle and Alessandro Vitti and where we will find the saga as Reloaded hits stories in December?
Brandon Thomas: So imagine being able to take over the body of anyone on Earth. Sounds completely terrifying, right? That's what the Hardcore Program does -- turns any person into a human drone to perform assassinations on impossible targets. Agent Drake is the best there is, but when the Program is hijacked and he gets stranded inside a body with only 72 hours to live, he comes face-to-face with a former friend and colleague that's sold the country out to the highest bidder.
Drake beats the clock and saves the day in epic fashion, but the bad guy gets away, and that's when things get really interesting, which is where we pick up.
DF: What is the storyline this time 'round for Reloaded?
Brandon Thomas: Hardcore technology has now escaped into the world. Rogue operators and terrorist groups are creating their own crude hijacking rigs, and using them across the U.S. with deadly results. Drake helped create all this, and prove just how valuable Hardcore could be to protect America's interests, so now he's gotta lead the charge to put it all back.
Unfortunately, he's dealing with some serious physical issues, side effects from his extensive usage of the tech, which forces him to seek out some unexpected allies to keep everything from coming apart. And it does every single issue, which is anchored by a massive action sequence, that's more explosive and audacious than the one that came before it.
DF: Tell us about your take on Agent Drake.
Brandon Thomas: When we find Drake at the beginning of Reloaded, he's in a slightly different state than he was during the first series. Using the Hardcore tech has taken a physical and emotional toll on him, and when he's recalled, it's a whole different, more dangerous experience. One that seems to be unraveling his mind with every single mission, so you've got a guy who's being knocked to the floor over and over, having to get himself up, and find some way to get the job done. We really learn what Drake is made of in this series.
DF: What other characters do we need to know about going forward into this five-issue mini-series? Can you please introduce some of them here?
Brandon Thomas: Other than Drake, the character to keep an eye on is Markus, who was the big bad in the first series, but here his role is something different. He is responsible for the Hardcore tech getting out into the larger world, and Drake is holding him personally responsible for that, and keeping a running tally of all the lives lost because of him.
Also, because the President was killed during the previous series, his VP has been sworn in and is now President Stokes. I thought it would be cool to replace the departing Pres (who favored Obama visually) with another black man, so in the world of Hardcore, amongst other major differences, this world had black men serving as both President and Vice President. Stokes is a major player, and becomes a crucial ally to Drake and the Hardcore team.
DF: Talk about the art contributions of Francis Portela and Leonardo Paciarotti.
Brandon Thomas: This series features some of the most complex and glorious action I've ever thought up, and I couldn't have asked for better collaborators to bring it to life. There is something inherently epic about Francis' lines, and everything had a very European feel to it, with insane amounts of detail, and great camera movement. It feels like it should be oversized, and I knew it was going to be a ton of work for him, but he stepped up every single issue and delivered a sequence even more gorgeous and visceral than the one before it. Then Leo comes in and somehow takes it all to another level. They're a great team, and obviously having fun working together, which is what making comics is all about.
I'm proud of the stories, but the real star of this book is their artwork. It's jaw-dropping.
DF: Brandon, what else is simmering on the Thomas back-burner? What other projects are you involved with?
Brandon Thomas: Excellence will return in the spring for our second arc, and I'm currently writing the third. I'm also working on some brand new things, both creator-owned and work-for-hire that'll be emerging in 2020. Happy to report that the goodwill Excellence has been met with is turning into a flood of exciting projects I'll be able to talk about soon. Exciting times, and grateful for all the love!
Dynamic Forces would like to thank Brandon Thomas for taking time out of his busy schedule to answer our questions. Hardcore Reloaded #1 from Skybound & Image Comics hits stores Dec. 18th!
For more news and up-to-date announcements, join us here at Dynamic Forces, www.dynamicforces.com/htmlfiles/, "LIKE" us on Facebook, www.facebook.com/dynamicforcesinc, and follow us on Twitter, www.twitter.com/dynamicforces.
VOLTRON VOL. 1: THE SIXTH PILOT TP
---
NEW! 1. 11/30/2020 - SKYLAR PATRIDGE
5. 11/16/2020 - RYAN O'SULLIVAN