JOE CASEY

SEND THIS TO A FRIEND!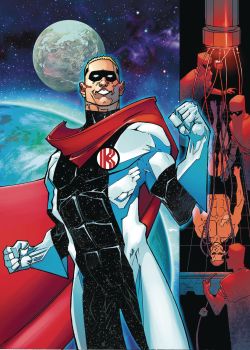 DF Interview: Joe Casey continues building of Catalyst Prime universe in Kino
By Byron Brewer
Major Alistair Meath of Britain's Royal Air Force sacrificed his life to save Earth from an approaching asteroid on the night of "The Event". Seven months later, Meath has resurfaced as the colorful, kinetic energy-powered superhero Kino, but something is very wrong with the world. Britain's MI6 is on the hunt for Meath, and the terrible secret behind his return is revealed in this mind-bending thriller.
From Lion Forge Comics comes Kino! Brought to you by writer Joe Casey and artist Jefte Palo, the series continues a building of the brand-new Catalyst Prime universe!
DF as always needed to know more because YOU needed to know more. So we caught up with veteran writer Joe Casey and put the Qs to him.
Dynamic Forces: Joe, your series Kino is the penultimate book from the Catalyst Prime series. How does it feel having a hand in bringing this new comics universe into existence?
Joe Casey: Writing superhero comic books is always a good time for me. It's such a deep part of my DNA that diving into something like Kino is practically second nature. On a macro level, it's fun to be on the ground floor of something that could potentially become a massive construct.
DF: For the uninitiated, can you tell us just a summary of the CP Universe "Event" and how it relates to this series?
JC: It's simple: there was a meteor that was headed to Earth. A planet-killer. It ended up exploding in our atmosphere and the debris had significant effects not only on the population below, but on the four astronauts sent up to deal with it. Alistair Meath was one of those astronauts.
DF: What can you tell us about your protagonist Kino? Who is he as a character?
JC: Superheroes usually fall into certain archetypes. Kino certainly fits into that "Superman" model, in terms of his abilities and his overall vibe. He's an officer in the British Royal Air Force, so he's got a bit of boy scout to him. He's got a wife and kids at home. He starts out with a very strong moral center. Whether or not he can maintain that in the face of what he ends up going through, that's still up for debate…
DF: For those following the creation of Catalyst Prime over the many books, what would you say are the major differences those readers will find between the super-powered Kino and Major Meath, whom we met "seven months ago"?
JC: There's definitely a difference, but I can't go too deeply into it without spoiling a major conceit of the first story arc. Needless to say, things are a lot more complex than simply a Meath/Kino dichotomy.
DF: What is the storyline of the first arc of this book? What can you tell us in a non-spoilery manner?
JC: Not much, unfortunately. But I can tell you that we delve into the history of superhero comics in a very unique way, using Kino as a lens through which we see it.
DF: Wow, that DOES sound cool! … Talk about the art of Jefte Palo. What does this artist bring to the cosmic CPU table?
JC: I've been a big fan of Jefte's work, so I was thrilled to have him climb on board. He's doing great work. This is not an easy book to draw, either. I'm asking a lot from the artist. We're selling certain things, certain ideas, attempting certain storytelling approaches… and Jefte hasn't shied away from any of it.
DF: Joe, I have never known you not to be a busy man. What other projects, current or near-future, can you tell readers about?
JC: Too much to list here, believe me. A lot of time lately has been taken up with multiple animated television series that Man of Action have a strong hand in making. Ben 10, Mega Man and several others are in active production as we speak. Having said that, I've got a handful of comic book projects in the pipeline, all of them creator-owned Image comics. My work in that area tends to come in waves, and I think this latest wave is going to be pretty incendiary. That's okay, though. Comics can fall into certain lulls. They can sometimes get a little boring. I'm talking about the content, not the medium itself. But I think it's time to shake things up again and see what kind of trouble we're still capable of causing. The ones I can actually call out by name are the return of SEX with artist Piotr Kowalski and a new series with artist Ulises Farinas called New Lieutenants of Metal. But those two are just the tip of the iceberg.
Dynamic Forces would like to thank Joe Casey for taking time out of his busy schedule to answer our questions. Kino #1 from Lion Forge Comics hits stores Nov. 29th!
For more news and up-to-date announcements, join us here at Dynamic Forces, www.dynamicforces.com/htmlfiles/, "LIKE" us on Facebook, www.facebook.com/dynamicforcesinc, and follow us on Twitter, www.twitter.com/dynamicforces.
THE DEATH-DEFYING 'DEVIL #1 - SIGNED BY JOE CASEY
CAPTAIN VICTORY AND THE GALACTIC RANGERS TRADE PAPERBACK
CAPTAIN VICTORY AND THE GALACTIC RANGERS #1
PROJECT SUPERPOWERS MEET THE BAD GUYS TPB
PROJECT SUPERPOWERS: MEET THE BAD GUYS #1 (OF 4)
THE DEATH DEFYING 'DEVIL TRADE PAPERBACK
THE DEATH DEFYING 'DEVIL #2 - SIGNED BY ALEX ROSS
THE DEATH-DEFYING 'DEVIL #1 - HIGH END FOIL (ROSS COVER)
---
NEW! 1. 01/21/2021 - RORY MCCONVILLE
5. 01/07/2021 - DARICK ROBERTSON