TIM SEELEY

SEND THIS TO A FRIEND!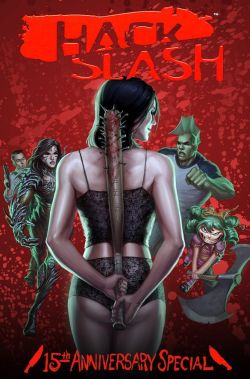 DF Interview: Tim Seeley celebrates 15th anniversary of 'Hack/Slash' with special one-shot
By Byron Brewer
Celebrate the 15th anniversary of a bloody tale about a slasher victim who fought back as Image Comics publishes a very special issue spotlighting Hack/Slash.
On the occasion, DF talked with creator Tim Seeley, who in the one-shot (written by and featuring him) makes a wish for Cassie Hack to become real... and then becomes a victim himself when his creation swears to kill him.
We'd better make this interview fast!
Dynamic Forces: Tim, congratulations on 15 years of Hack/Slash, and certainly well deserved! But before we discuss the great one-shot celebration book coming from Image Comics in December, let's talk Hack/Slash! What has the creation of Cassie & Crew meant to you as a creator, as a writer, and to your career?
Tim Seeley: To some degree, Hack/Slash has defined my career. It was my first independent success, and I think it came at a time when readers were hungry for this kind of book… or at least were looking for something new in the horror genre. H/S paid my bills when other books didn't, and to some degree, it's made me a "horror writer", for better or for worse.
DF: Having watched it develop myself, Cassie is one of the few characters in mainstream comics, to my knowledge, that has actually grown, matured and the trials that she has been through have actually had lasting effects. Talk a little about Cassie as a character.
Tim Seeley: Yeah, that long-term development was always built into the character, and I think it what's made the omnibus versions of the books so successful. It's the story of a life (albeit a f*cked-up life) and that appeals to readers, especially those who grew up on long form manga books. I think there was a fearlessness to me when I started the book… I wanted to do a genre I thought was underrepresented in comics (slasher) starring a kind of person I thought was underrepresented (goth girls), and I ended up finding a pretty cool little niche. It's kind of a bummer this industry has kind of beaten that fearlessness out of me! In doing horror, I have discovered the true horror… the comics biz!
DF: If I ask about Cassie, gotta ask about Vlad. Tell us a little about his part in 15 years of adventures.
Tim Seeley: Vlad was designed to be this tragic character, who, in the end, wasn't really that tragic. He had accepted his lot in life, and dealt with it, and then attempted to bring that acceptance to Cassie. Vlad looks like a monster, but he's actually a pretty well-rounded guy. He's kind of what we all wish we could be, I think. He's pretty great. I wish I had created 10 characters as good as him.
DF: The comic started off at Devil's Due, then at Image and has been in mash-ups all over comicdom. Some you have written and some you haven't, but your creative hand, I believe, was always there guiding. Talk about this unique and very personal maintaining of the property … and what did it feel like seeing others handle your creation?
Tim Seeley: Having other people write Cassie has always largely been a business decision, when I didn't have enough time to do it. And I really do like working with other creators, so it's always fun for me. But it's also pretty weird… I have difficulty reading other people's takes on Cas and Vlad, even when I'm the one who did the hiring. But each and every creator, writer or artist I worked with brought something to them that I took with me. Stefano added so much to the design and attitude. Nate Bellegarde came up with her most iconic outfit. Mike and Steve added new neuroses. Tini Howard added this great millennial angst. The list goes on and on.
DF: Rightfully so, Image Comics has a one-shot coming out in December celebrating all things Hack/Slash. What can you tell us about the lead story? I understand she has a very familiar victim (LOL). Are you handling script AND art chores on this one?
Tim Seeley: I'm writing it with classic H/S artist Dan Leister on art. It's a story about living with H/S for 15 years and what it's done to my life… and what I in turn have done to Cassie's life. It's dark and funny and really personal, which I think are the kind of H/S stories that appeal to people the most.
DF: Nice to see some Hack/Slash alumni like Stefano Caselli, Emily Stone and Dan Leister coming back to share the celebration. Is it possible to give readers some capsule summaries of the other tale(s) in the one-shot?
Tim Seeley: There are two other stories, one about the FUTURE of H/S, and another which is just a small, cool slice-of-life tale. Stefano, Emily and a bunch of others contribute pinup pieces!
DF: What's next for Cassie and Vlad?
Tim Seeley: Honestly… I don't know. You guys tell me! Hit me on twitter and tell me what you want to see. @hackintimseeley
DF: Tim, what other projects loom on the back burner of your creative fires? Any you can share?
Tim Seeley: I'm working right now on Money Shot for Vault Comics, which is about scientists crowdfunding their scientific exploration with a porn website, as Dark Red, about the misadventures of a rural vampire from AfterShock. I've got lots of ideas simmering, and hopefully I'll be doing an interview about one of them in 15 years!
Dynamic Forces would like to thank Tim Seeley for taking time out of his busy schedule to answer our questions and to congratulate him on 15 years of Hack/Slash! The Hack/Slash 15th Anniversary Celebration one-shot from Image Comics hits stores on Dec. 11th!
For more news and up-to-date announcements, join us here at Dynamic Forces, www.dynamicforces.com/htmlfiles/, "LIKE" us on Facebook, www.facebook.com/dynamicforcesinc, and follow us on Twitter, www.twitter.com/dynamicforces.
TALES FROM THE DARK MULTIVERSE: BLACKEST NIGHT #1 SIGNED BY TIM SEELEY
HE-MAN AND THE MASTERS OF THE MULTIVERSE #1 SIGNED BY TIM SEELEY
HACK/SLASH VS. CHAOS #1 SIGNED ATLAS EDITION - SIGNED BY TIM SEELEY
INJUSTICE VS. HE-MAN AND THE MASTERS OF THE UNIVERSE #1 SIGNED BY TIM SEELEY
HACK/SLASH VS VAMPIRELLA #1 (OF 5) ATLAS COMICS SIGNATURE SERIES - SIGNED TIM SEELEY EDITION
NIGHTWING #1 ULTRA-LIMITED NIGHTWING BLUE SIGNATURE EDITION SIGNED BY TIM SEELEY
NIGHTWING: REBIRTH #1 SIGNED BY TIM SEELEY
GRAYSON #1 BLANK VARIANT SIGNED BY TIM SEELEY AND REMARKED BY KEN HAESER WITH A NIGHTWING SKETCH (BVS)
BLADE #1 ULTRA-LIMITED BLOOD RED EDITION SIGNED BY TIM SEELEY AND LOGAN FAERBER
DEADPOOL VS. THANOS #1 ULTRA-LIMITED BLOOD RED SIGNATURE SERIES EDITION SIGNED BY TIM SEELEY
DEADPOOL VS. THANOS #1 SIGNED BY TIM SEELEY
VAMPIRELLA ARMY OF DARKNESS #2 COVER E HIGH END - TIM SEELEY "BLOOD RED" EDITION
---
NEW! 1. 11/30/2020 - SKYLAR PATRIDGE
5. 11/16/2020 - RYAN O'SULLIVAN